Gig review: Michael Schenker Group at Nakano Sunplaza
Is this the best version of MSG ever? Quite possibly so.
Michael Schenker Group at Nakano Sunplaza, Tokyo, Japan on 21st November 2022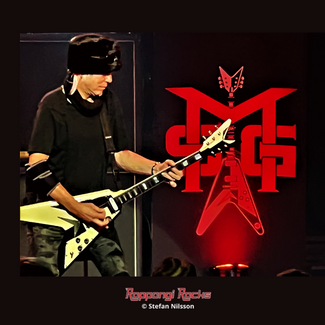 I have seen Michael Schenker live many times. He always has fab musicians around him and he always delivers. In recent years, during the pre-pandemic Japan tours, the focus has been a bit more on celebrating the past. Bringing back old MSG members such as Gardy Barden, Robin McAuley, Graham Bonnet, Chris Glen and the late Ted McKenna was a great and appreciated move that worked very well for a few tours. As good as that was, it was very much a celebration of the past. But Monday's Michael Schenker Group show at Nakano Sunplaza in Tokyo, the first of a three-show Japan tour,  was something different. With a classic band, a classic venue and a guitar hero marking 50 years on the road, one could easily have expected another celebration of the past. But what we got was not a backwards-looking show. it wasn't built on nostalgia. The new version of MSG feels very different. What we got to experience was a hungry hard rock band that has come to Japan to rock. They gave us everything and more during a terrific 90-minute set. Relevant, here and now. Sure, in the current line-up of MSG, Michael has his old MSG bandmates Bodo Schopf on drums and Steve Mann who is still there playing guitar and keyboards. But they are not there as some kind of celebration of MSG's past. They are there because they are MSG of today. There is also Dutch bassist Barend Courbois (ex-Blind Guardian, Tank) and lead vocalist Ronnie Romero, who is best known as the most recent frontman for Ritchie Blackmore's Rainbow. It feels very much like a proper band. It's Michael's name on the band and he is the star. But unlike some other guitar heroes, Michael performs as a band member. He is not taking over the stage or the songs all the time and he lets his band members be both seen and heard. The new MSG is a roaring hard rock monster overflowing with energy and eager to entertain. 41-year-old Ronnie wasn't even born when MSG was founded, but he is the right man to lead MSG into the future. He is not only a powerhouse vocalist that interacts well with Michael and the band. He is also a very good entertainer on stage who knows how to keep the audience engaged. These musicians are not stuck in the past. Yes, we got a heap of old classics but performed with a different attitude and they were mixed up with newer material. MSG opened the show, of course, with the instrumental classic "Into the Arena". In addition to excellent MSG songs, we got to hear UFO classics such as "Doctor Doctor", "Lights Out", "Let It Roll", "Rock Bottom", "Shoot Shoot" and "Only You Can Rock Me". The 1983 MSG song "Red Sky" was one of the evening's highlights with its fabulous twin guitars and a heaviness demonstrating how good of a hard rock band this is. The current version of "Assault Attack" from 1982 was fabulous. The newer MSG song "Emergency" stood out well in the pack. In "Rock Bottom", the rhythm section really got to shine and Michael performed an extended out-of-this-world guitar solo. He truly is a very special guitarist that plays the guitar like no one else. Speaking of guitar solos, Steve Mann got to shine with a fab solo of his own on UFO's "Natural Thing". Being "the other guitarist" in MSG isn't an easy gig, but Steve is a rock that first started to play with Michael in 1986. Having world-class musicians backing him up means that Michael can focus on his guitar playing. He knows the band will deliver their part. The energy and chemistry of this version of MSG are very obvious. This was by far the best Michael Schenker show I have ever seen. Based on this show, Michael Schenker can probably keep performing for another 50 years.
www.facebook.com/michaelschenkerrocks