Mantas at Wild Side Tokyo
Venom legend Mantas crushed Tokyo with a set of metal classics.
Mantas and Metalucifer at Wild Side, Shinjuku, Tokyo, Japan on 20th March 2023
On Monday evening in Shinjuku, Tokyo metalheads united in a celebration of heavy metal when the mighty Mantas returned to Japan. The opening act this evening was local band Metalucifer who delivered a great warm-up set of shout-along heavy metal anthems combining influences from Judas Priest and Manowar with a Japanese twist.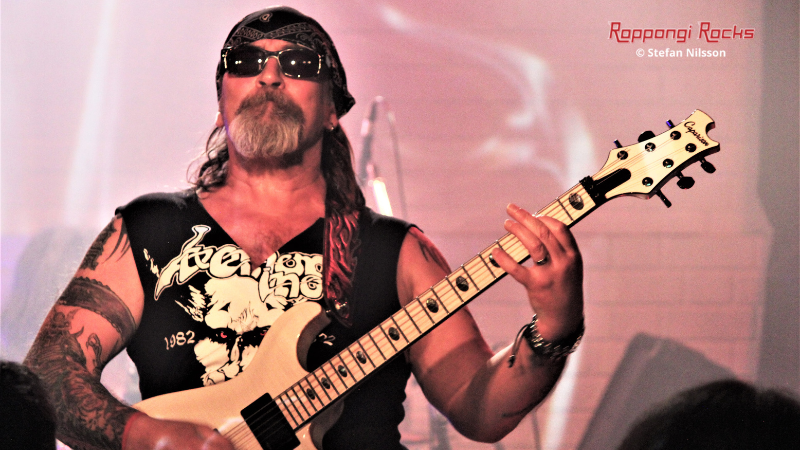 Jeff "Mantas" Dunn was not only a founding member but also the lead guitarist and main songwriter for the pioneering British heavy metal band Venom. Currently, he continues to build on his Venom legacy with the band Venom Inc where he is reunited with former vocalist/bassist Tony "Demolition Man" Dolan. Venom Inc has toured Japan three times in recent years, but on this occasion, Mantas has turned up in Japan solo. At Monday's gig, he was supported by well-known metalheads from the Japanese underground scene: Mirai Kawashima (Sigh) on vocals, Gezol (Sabbat, Metalucifer) on bass, Shinji Tachi (Metalucifer) on drums and Jero (Abigail) on guitar. What we got served up was a terrific set of Venom classics. Mantas and his Japanese metalheads started the show with "Black Metal" and "Welcome to Hell". The crowd was on fire even before the first note was heard. It was a non-stop heavy metal love-fest as the set continued with Venom favourites such as "Live Like an Angel (Die Like a Devil)", "Countess Bathory", "In League with Satan" and many more. The Japanese musicians clearly enjoyed performing classic Venom songs with Venom's founder. Mantas was on form and delivered just like he did at Hammersmith Odeon in the mid-80s. He is not only a terrific guitarist and songwriter. He's also a world-class performer. For the encore, vocalist George Itoh (Risingfall) joined the band for a couple of fun Judas Priest covers before the evening came to a close with a cover of Alice Cooper's "School's Out". This was a great night where the musicians on stage and the audience members united in the love of heavy metal.
www.facebook.com/jeffmantasdunn