Gig review: Classic Bay Area thrash metal attack in Tokyo by Death Angel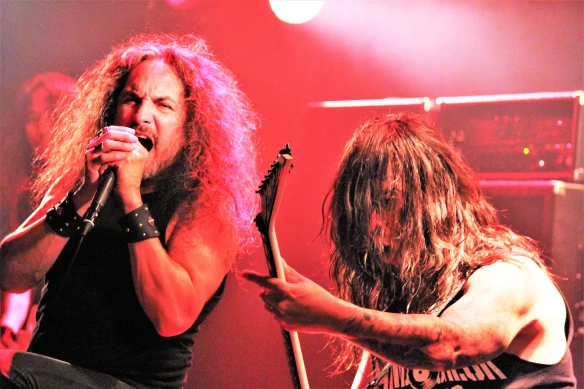 Death Angel slays Tokyo with a fine evening of classic Bay Area thrash metal.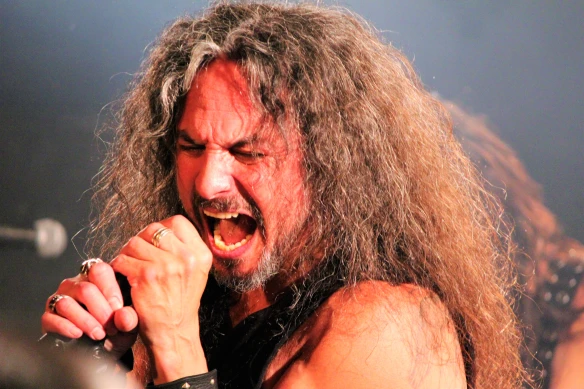 Death Angel, Neuroticos, Pornostate at Unit, Daikanyama, Tokyo, 9th May 2018
This was a lesson in how it's done. Death Angel not only knows how to do it, the band gets on with it and delivers a splendid evening of world-class thrash metal. I had high expectations of this fine band, but the band's show in Tokyo exceeds them.
Following warm-up sets by opening acts Pornostate and Neuroticos, the Tokyo audience was fired up and ready to thrash. Neuroticos is a Japanese-Brazilian death metal band which is a reliable act to warm up an audience eager to crowd surf and mosh. I have previously seen Neuroticos open for Krisiun and Venom Inc and they always deliver the goods. This evening is no exception.
How do you like your metal cooked? When it comes to thrash metal, I want it uncooked, raw. Well, this evening in Tokyo, the gentlemen in Death Angel serve up a raw feast of Bay Area thrash metal of the best kind. Formed in 1982, Death Angel was a vital part of the early Bay Area thrash metal scene which also included bands such as Exodus, Testament and Trauma as well as Metallica whose members relocated to the Bay Area before hitting it big after recruiting Cliff Burton from Trauma and Kirk Hammett from Exodus. Hammett was also the producer of the first Death Angel demo in 1985. From the first notes to the very end of this evening's gig, Death Angel delivers flawlessly. This is a band in such fine form it is remarkable. They arrived in Japan the same day as the gig, but if they are tired or jetlagged, they're certainly not showing it. There is so much energy on stage that it spills over to the audience who feeds on and recycles that energy right back to the band.
They kick off the set in style with "Father of Lies" from their latest studio album (2016's "The Evil Divide") and proceed with giving Tokyo a lesson in how thrash metal is done. We get the classics – such as "Seemingly Endless Time", "Voracious Souls" "The Ultra-Violence", "Mistress of Pain" and "3rd Floor" – but also a lot of newer material, including "The Dream Calls for Blood", "Caster of Shame" "The Moth", "Breakaway" and "Lost". The band proves that it can still create terrific new music. Actually, as much as I like the old-school thrash of the 80s, I think that Death Angel's newer material beats the crap out of its earlier songs.
The current line-up of Death Angel – which features founding member Rob Cavestany on guitar and legendary vocalist Mark Osegueda as well as newer additions Ted Aguilar on guitar, Damien Sisson on bass and Will Carroll on drums – is ridiculously good. They're in such fine form and so full of energy that it reminds me of a volcano eruption. The band has a fine back catalogue of music which they clearly love to perform. They are loved by the Japanese fans and will no doubt be back. Thrash metal and Japan has a long tradition of friendship and love.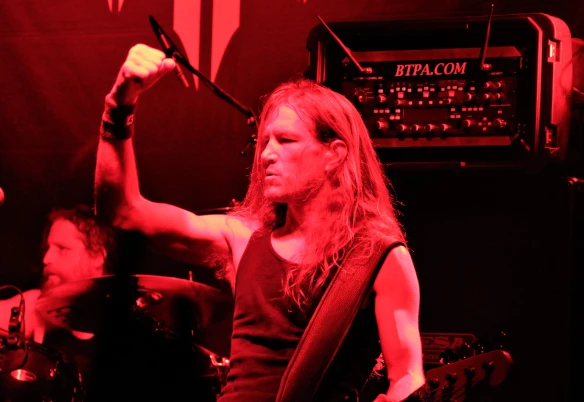 Death Angel finishes its gig with an encore consisting of two favourites from "Ultra-Violence", the band's 1987 debut album; "Evil Priest" and "Kill as One". What an enjoyable evening in the name of thrash metal. Thank you for the music and entertainment, Death Angel.