Dynazty vocalist Nils Molin officially joins Amaranthe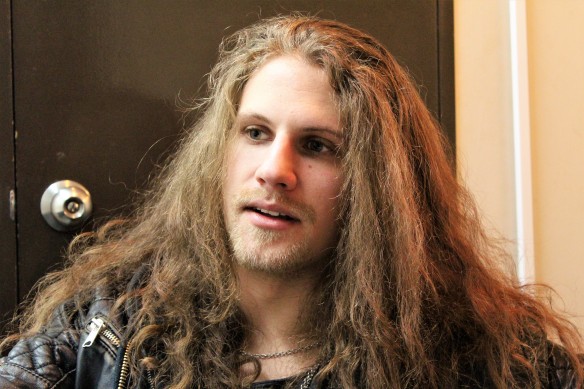 Dynazty vocalist Nils Molin has become an official member of Amaranthe.
Hardly a surprise, but now Dynazty vocalist Nils Molin has officially joined Amaranthe. He joins the band as one of its three lead vocalists and replaces the band's co-founder Jake E who departed the group earlier this year. Roppongi Rocks learnt already early this year of Amaranthe's interest in Nils Molin's services. When Molin was in Tokyo in February with Dynazty, he smiled when we mentioned Amaranthe to him ("we know that you know that we know", kind of) but without revealing what was coming up.
Having earlier used Chris Adam from the band Smash Into Pieces as a stand in for Jake E, in March Amaranthe started using Nils Molin for gigs in Europe.
When Amaranthe's Elize Ryd played in Japan with Gus G in March, she said of Molin who had then done his first few gigs with Amaranthe: "Nils is top of the list. We had fun with these gigs in Sweden. It was so much fun! He's a cool and great guy. Thus it would be great to have him in the band. Exciting! It's great with some new blood. He's awesome. It sounded really great. His voice fits us really well. He can even reach the high octaves together with me. That was cool! We want him! We obviously would like to have him. We'll see what happens. We'll find out." Now we have found out. Nils Molin is now a permanent member of Amaranthe. What remains unclear is his future with Dynazty. Officially it seems he will do both bands, but with the kind of schedule Amaranthe normally has, there is bound to be very little time left over for Dynazty.
www.facebook.com/amarantheband