Hotter than hell: the H.E.A.T is on in Tokyo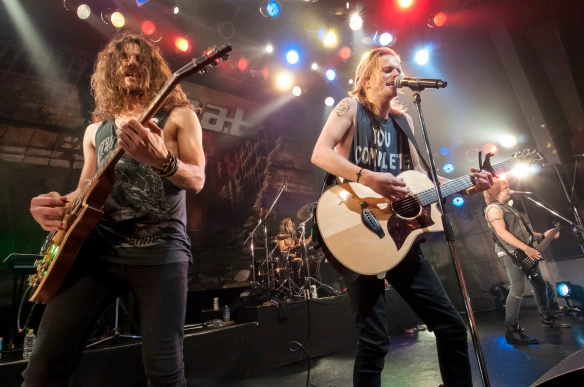 As Swedish melodic rockers H.E.A.T returned to Japan for the first time in six years, they gave their Japanese fans an almost two-hour long set of smoking melodic hard rock in Shibuya on 17th September.
As I enter the venue I immediately spot a few Europe band shirts in the audience – which makes a lot of sense as the two bands are not just from the same town, there are more than a few hints of Europe in H.E.A.T's music. As could be heard on H.E.A.T's recent "Live in London" album, H.E.A.T is a band that is a lot rockier and heavier live than in the studio.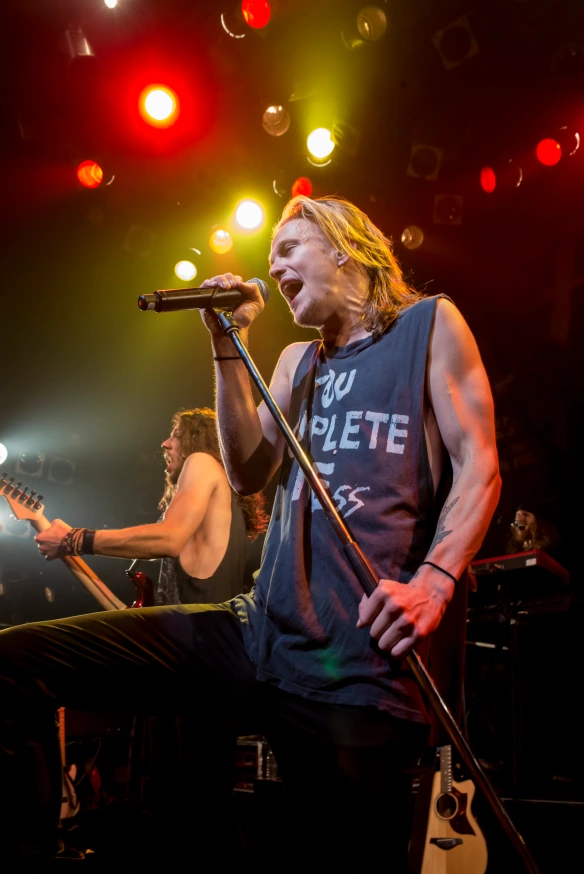 This evening in Tokyo, when the band plays to a packed club in Shibuya, marks the final gig on their "Touring Down the Walls" tour that has kept the band on the road since they released their latest album "Tearing Down the Walls" in April 2014.
The band kicks off the Tokyo gig with a smoking "Point of No Return" followed by "A Shot at Redemption". The crowd loves it and the band loves the crowd loving them. It quickly turns into a love fest and great rock party with an energetic band that gets more energy from a crowd who adores them.
H.E.A.T has great songs and they're a tight band. But more than anything else, the have a great singer and front man. Vocalist Erik Grönwall has a great, rather unique voice with a distinctive rough edge that gives H.E.A.T a rockier tone than they had in the early years prior to Grönwall joining the band in 2010. Grönwall is not only a great vocalist, he's also a born front man and his enthusiasm seems to rub off on the rest of the band. Together they seem to have a lot of fun on stage. Apart from a few slower songs in the set, the band keeps rocking out on the stage like there is no tomorrow. Grönwall's only 27 years old and wasn't even born when Joey Tempest and the boys in Europe released "The Final Countdown" in 1986. But, oh boy, he's one of the best front men to have emerged on the Nordic rock scene in many years.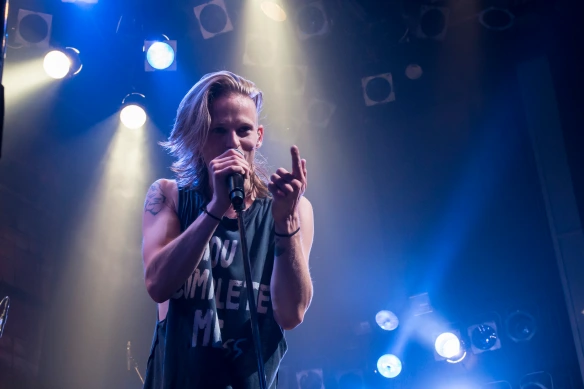 He made himself a name as a solo artist prior to joining H.E.A.T five years ago. That Grönwall should join an established band when he was already successful on his own wasn't an obvious choice. Neither was it an obvious move for H.E.A.T to recruit a well-known solo artist as its new singer. But that unholy union has really paid off for both the band and the vocalist. They make each other much better and as a result the world gets better rock music. Now let's hope that they will bring some of this energy into the studio and that we will get to experience the same rockier H.E.A.T on the next studio album.
Set list – H.E.A.T – Tsutaya O-West, Shibuya, Tokyo – 17th September 2015
Point of No Return
A Shot at Redemption
Better Off Alone
Heartbreaker
It's All About Tonight
Inferno
The Wreckoning
Tearing Down the Walls
Mannequin Show
Late Night Lady
Beg Beg Beg
All the Nights
Downtown
Enemy in Me
Emergency
Encore:
Breaking the Silence
There for You
1,000 Miles
Living on the Run
Laughing at Tomorrow
Johnny B. Goode
H.E.A.T – band members
Erik Grönwall – vocals
Eric Rivers – guitars
Jona Tee – keyboards
Jimmy Jay – bass
Crash – drums