EP review: Thunder "Christmas Day"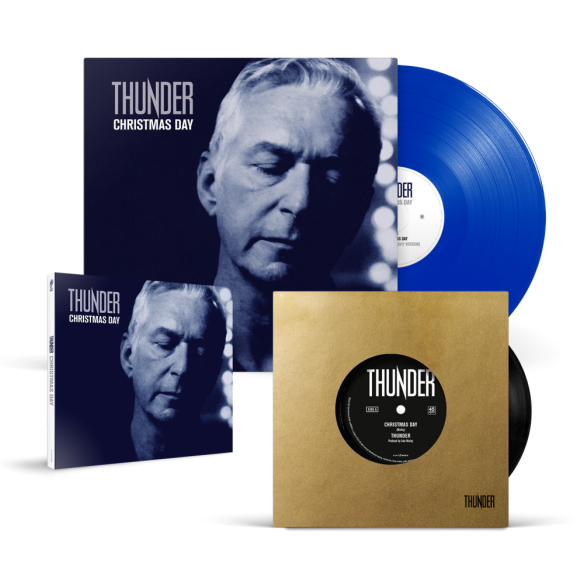 British rockers Thunder are back with a scaled-back and mostly acoustic EP release ahead of their Japan tour.
While the title track is a Christmas song, this is not really a Christmas record. It's more a record with some rare and special goodies from Thunder, released to coincide with their winter tour which will also take them back to Japan in January.
On this EP we get to see a scaled down and stripped bare Thunder which has slowed down the tempo. We get a combination of mainly acoustic arrangements and some live versions of old songs. It's all good stuff which showcases how truly great this band is. The music has a laidback and casual feeling to it. Yet it is so beautiful and expertly executed. Here they're not hiding behind volume or any gimmicks. This is just a great band performing some emotional songs as a Christmas present to its fans.
"Christmas Day" is a melancholic ballad and here we get a terrific combination of the distinctive voice of Danny Bowes and the fine guitar work of Luke Morley. Since the very beginning of Thunder In the late 80s, the chemistry between Bowes and Morley has been the very essence of the band's sound. It is only becoming more prominent and evident over time. They are complemented by guitarist Ben Matthews and rhythm section Chris Childs on bass and Harry James on drums (who is also Magnum's drummer).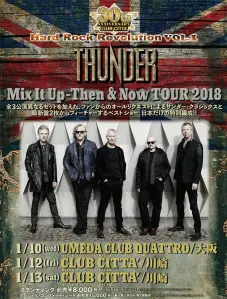 The six-track Japanese edition of the new EP contains acoustic versions of "Heartbreak Hurricane" and "The Enemy Inside" from the band's latest album "Rip It Up", as well as a live version of the track "Broken" from 2015's "Wonder Days". "Love Walked In" is a ballad which was originally featured on Thunder's 1990 debut album "Backstreet Symphony", here in a fab new version. There is also a splendid version of "Low Life In High Places", a song which originally appeared on 1992's "Laughing On Judgement Day".
This is a British rock band with roots in blues and storytelling, something which more than ever before is evident on this record. Guitarist Luke Morley shows us that he doesn't need electricity to make his guitar smoke. He is a fine guitarist and an even better songwriter.
Thunder will perform in Osaka on 10th January and on 12th and 13th January they will perform at Club Citta in Kawasaki as part of their "Mix It Up – Then & Now Tour". Get your tickets here: http://clubcitta.co.jp/001/thunder-2018/
Thunder's "Christmas Day' EP will be released on 8th December in Japan via Ward Records.