Interview: Graham Bonnet and Conrado Pesinato | A future built on the past for Graham Bonnet Band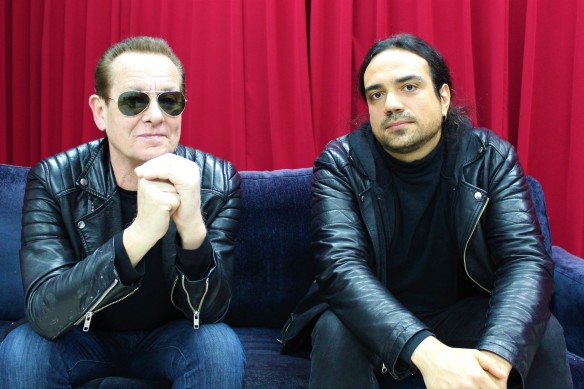 When Graham Bonnet Band recently returned to tour Japan, Roppongi Rocks' Stefan Nilsson sat down with Graham Bonnet and guitarist Conrado Pesinato in Tokyo to chat about using the past to create a future.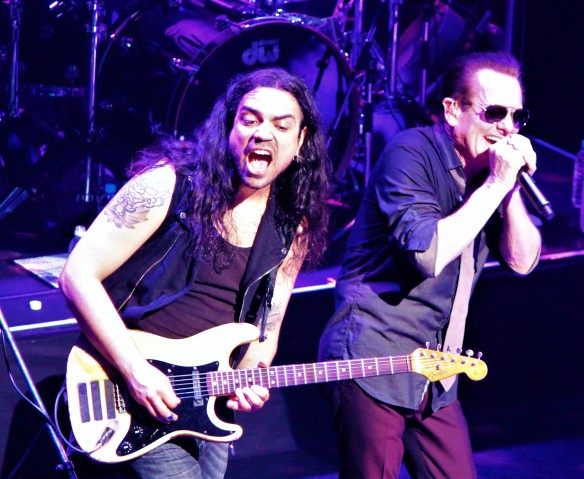 Graham Bonnet Band has released a terrific album called "The Book" and has finally got a stable line-up which enables them to tour properly around the world. Veteran vocalist Graham Bonnet has a very loyal fan base in Japan built up with bands such as Rainbow, MSG and Alcatrazz. He has been playing gigs in Japan for many years and now he is back just half a year since his last visit. Then he was here as a guest of Michael Schenker, now he's here on a headline tour with his own band. The band's debut album has done very well in Japan as is evident from the packed venues that the band is performing for. "It's always great to be back here because the audiences are so great. The fans are amazing. They are very loyal. We always look forward to it being a good show because they are so enthusiastic about seeing the band" says Graham Bonnet and Conrado Pesinato adds: "Best crowd in the world!"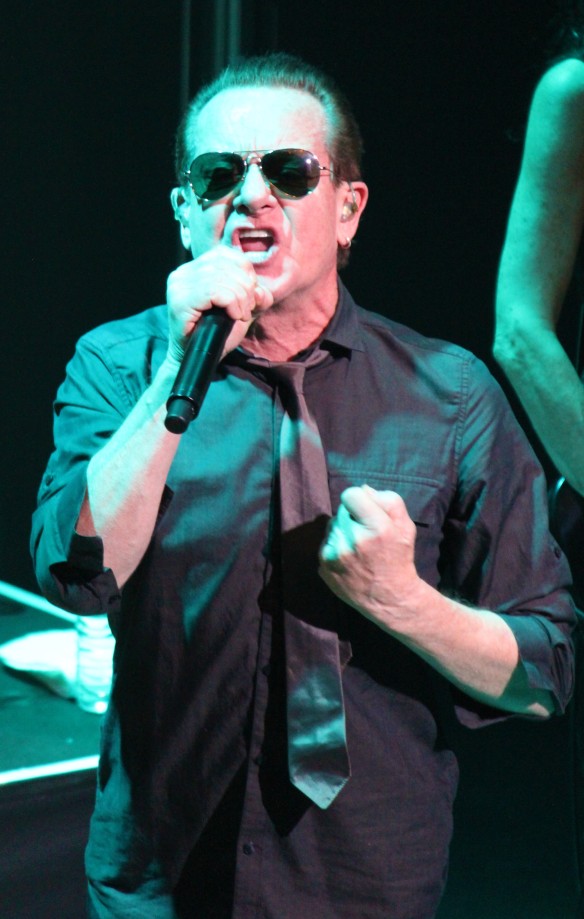 Having performed in Japan with Michael Schenker both in 2015 and 2016 has not exactly hurt Graham Bonnet and the interest in the Graham Bonnet Band. Schenker is a major star In Japan and his fans are an obvious target for Bonnet's music. "No doubt! He has a big following here and we lashed onto that and why not? I was in the band for at least a week… Haha!! So, it was a little reunion but not quite. But it was fantastic to do the show with him. We all respect his band and I love his music" says Bonnet with a reference to his very short original stint as MSG vocalist in the early 80s.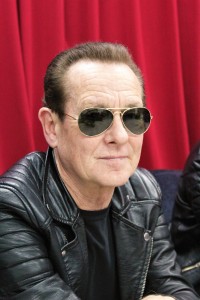 By now, Bonnet has a tradition of doing special things for his Japanese fans. For this Japan tour, Bonnet brought something very special indeed. Not only did his current band, Graham Bonnet Band, perform songs from their new album as well as old hits from Bonnet's career. We also got treated to a special Alcatrazz set featuring the three Alcatrazz founders – Bonnet, Jimmy Waldo and Gary Shea. "It was put together by our manager and the record company, I believe. It was a good idea because Jimmy Waldo is now part of the band, it was like a natural thing. 'What happened to the other guys in Alcatrazz?' That's when Gary came in and we thought 'Well, what about Yngwie Malmsteen and Steve Vai?' I don't think so. I don't think they will do it. And Jan Uvena, our old drummer, definitely didn't want to do it. He is completely out of the business. So we have at least two of the guys to do an Alcatrazz set. So, that's what we've done. Half the show is us, our stuff along with a mixture of a bit of Michael Schenker and whatever and obviously Rainbow stuff from my past. Then we do a separate show with Gary and Jimmy, all the Alcatrazz things we wrote together. It's kind of cool."
Graham Bonnet has had some of the most legendary guitarists in the world in the bands he's fronted, names such as Ritchie Blackmore, Michael Schenker, Yngwie Malmsteen, Steve Vai and Chris Impellitteri. His latest lead guitarist Conrado Pesinato has big shoes to fill. "Yeah, I do. I do my best and have fun, that's kind of how I take it" says Pesinato. "Right now I feel more honoured than anything else. You know, to share the stage with him, playing songs he played with all these great guitar players. And with all the rest of the band, Beth-Ami, Gary and everybody. It's been very fulfilling. The best thing I get out of it, as far as my personal interest, are the songs that we co-wrote, some of the riffs I wrote, being performed together with riffs those guys wrote. For me that's kind of the main thing. Playing the old stuff is very challenging and I feel honoured to play, but I get more enjoyment out of playing the new stuff that we all put together." Having seen Pesinato perform with Bonnet in Japan both in 2015 and 2017, it is clear that he's up to the task. He not only gets the job done with classic material, he's also showing his brilliance with the new songs. In the past Pesinato played with Graham Bonnet Band bassist Beth-Ami Heavenstone in the LA band Hardly Dangerous which is how he got asked if he was up for joining Bonnet. "First I was like 'Yeah, if you guys think I can do it. Yeah, sure, I'll give it a shot'. Beth-Ami is a good friend. It's always fun playing with her. She's a great bass player, she's got a great feel" says Pesinato.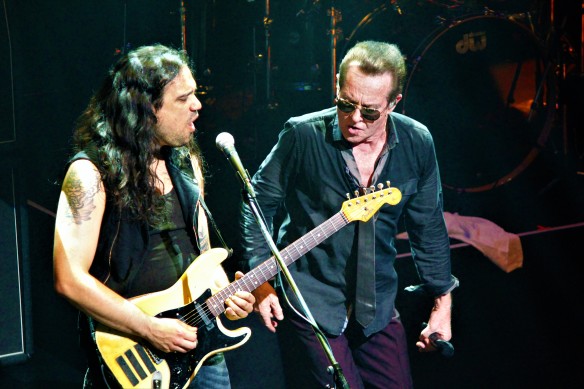 "It was a natural thing" says Bonnet of the choice of Pesinato as the band's guitarist. "He came in and the three of us got together and started making songs." The trio got on well from the start but it took them some time before they could find the right drummer for the new band. "Eventually we found a drummer. Drummer number one. We've had about ten drummers so far. And finally we've found Mark over there" says Bonnet and points to the new drummer Mark Benquechea. "He is the best one. And we are gonna make him stay. We gotta tie him up, beat him up or whatever!" Beth-Ami Heavenstone weighs in on the conversation: "He can never leave!"
Bonnet continues: "He brought the band to life! The first rehearsal we had with him was incredible. It was like he'd been playing with us for years." Pesinato continues: "I knew him for a couple of years in LA. Playing the same clubs in different bands. He has a killer feel and I know he's a big Rainbow fan. He loves Cozy and that was the big selling point for me."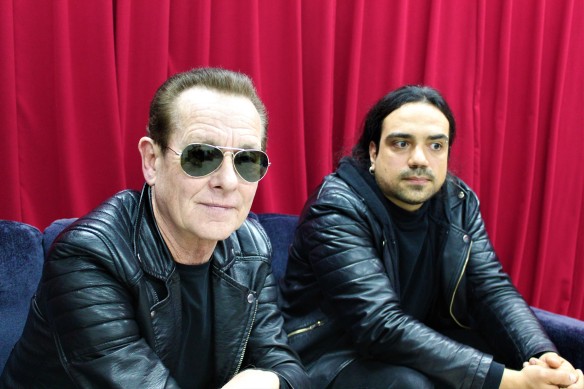 Clearly the band is delighted with their new drummer, but it seems that he wasn't too confident about getting the gig when he auditioned. "I think that he was thinking 'I'm not gonna get this', because he brought an album with him and he got me to sign it! Haha!! It was 'Down To Earth', wasn't it? So, he got me to sign 'Down To Earth' just in case I never saw him again" explains Bonnet. "He's the guy! Mark, no doubt. He was so bloody good. He blew the other guy away basically. As soon as he started playing one of the songs which every drummer has a bit of a problem with … When he started playing 'Lost in Hollywood', that was like the clincher. It was just unbelievable. He's really the driving force behind a lot of the songs now. Really, really good and I applaud him, I really do. He does a great job every night. We've got a great band, that's all I can say. Having Mark in the band now is so refreshing. It's really good."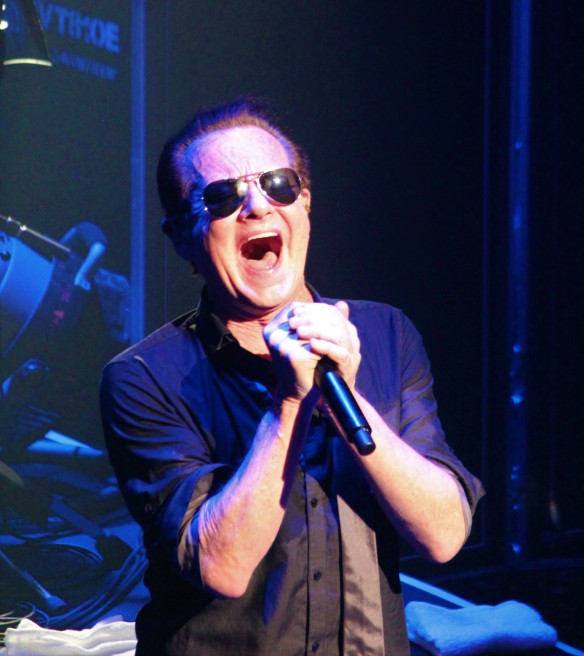 The band's album "The Book" was released about half a year ago and has done really well, winning both critical acclaim and selling well. "Yeah, it feels great" says Pesinato. "I'd say, especially for me, because before I have been touring with him and you see everybody with Alcatrazz records to get signed, all his previous stuff, Rainbow… There's one here that I made! It feels good. It especially feels good to be part of the heritage and the great catalogue that Graham's had with this amazing body of work with brilliant musicians. It just feels great to be part of that somehow. It feels pretty good to know that people are liking it. Like the past few shows we have been playing in Japan, to see everybody singing the songs, the new stuff". Bonnet continues: "Last night they were getting up for the new stuff. You can see them mouthing the words. There's nothing more gratifying than to see somebody actually singing your song. It's a great feeling. Conrado put a lot of work into this, we worked for hours and hours and hours. And after I finished working with him, he would go home and work for another 20,000 years putting all the stuff together. We all worked very hard". Pesinato  worked hard to address the pressure of doing a Graham Bonnet album: "For me it was, even psychologically, recording guitar solos by myself. 'It's a good solo but is it good enough to be on a Graham Bonnet record?'"
The end result is great and a perfect follow-on from Bonnet's legacy. All the tracks are strong, there are no fillers on the album. "I know!" says Bonnet. "That's what a lot of people say. I got a message from one of my friends the other day. It says: 'Every track is like a single'. I think they all have that sort of immediacy. You can sing along with them after you've heard them once. The big chorus or whatever. And the story, people like the stories, so it's kind of cool. To see people singing in the audience, every damn verse. The audience knows the words better than I do, I always forget the words!"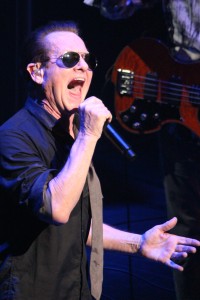 While the band is now doing a fair bit of touring, they have already starting to think about the next album. "I've got some more stuff ready" says Bonnet. "It's in the works already. We both have guitar parts, ideas. I'm sure that Jimmy has some ideas as well. Keyboard ideas. He's played me a couple of things and I've played some stuff to Jimmy. That's what we do right now. It's the beginning of the next thing". Pesinato continues: "Even on this record, it was an interesting process. It was a little, how can I say, unusual? Jimmy kind of jumped in towards the end but he helped a lot with some arrangements and he started some ideas and he co-wrote some stuff." Creating music is very much a team effort with the whole band contributing to writing, arranging and recording. "It was definitely a joint effort" says Pesinato of the work behind "The Book".
With a great new album out and an incredible back catalogue going back to the late 60s, it can't be terribly easy to put together set lists for the gigs. "It's really difficult. There are so many bloody songs to choose from" says Bonnet. "Obviously we have to do the well-known ones. The Rainbow ones and the Alcatrazz tunes. But there are so many other songs that I have recorded over the years that were singles, on my own. There's a song called 'Night Games' which they know in Japan. A Japanese guy did a version of it here years ago. So, I know we're safe to put that one. But sometimes it's difficult because it depends on the territory, what country we're in. I've been lucky, I guess. People have listened. All the songs are not necessarily the same genre. 'Night Games' is very poppy and 'Since You Been Gone' is poppy. But then there are other songs which are kind of heavy and nasty. Haha!! It's a good mix. We have 22 songs in this set. So it's a long thing and everybody I've heard from so far, they've liked every damn song. Because they sort of know them." Pesinato adds: "It's a good problem to have, for sure!"
The band is keeping busy in 2017 with quite a bit of touring and some summer festivals. "We've got a lot of gigs coming up" says Bonnet. Pesinato says about what's next for them: "Start working on a new record! Next year it's gonna be out. And we have a live DVD coming out even before that. One we recorded in Italy last year."
The band is signed to Italian label Frontiers Music. "We thought they did a great job promoting this one" says Pesinato. "We are definitely grateful to have them onboard. Really good." Frontiers is a label well-known for AOR and melodic hard rock. Graham Bonnet Band is a bit different from the typical Frontiers band. "I think ours is a little sort of proggy in parts" says Bonnet. "Or just different. We have a different sound. I think that once we did this album, with these players, we suddenly found out a new sound. It is very modern. When I make up tunes… I have Conrado in the band, who's a lot younger than me, and Beth-Ami and with Mark. Jimmy's my age, so me and Jimmy is a bit 1980. We have to be careful. But at the same time, I have a modern way of looking at songs. Conrado helps bring that out a little bit more. The next album I think, it'll be… If people like this one, I think they are gonna like the next one too. It will be very sort of in a similar vein."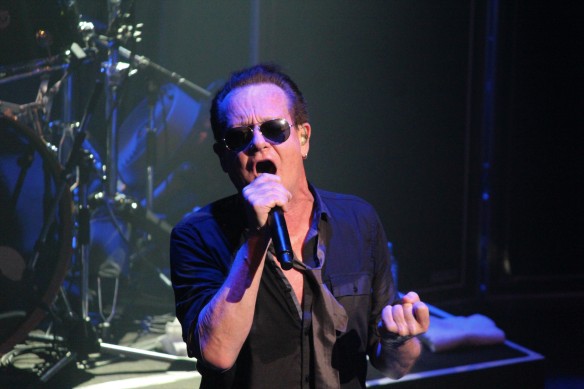 Bonnet's music has always had a sound foundation in melodic rock, but at times the latest album is quite heavy and aggressive. A bit of flashback to the MSG album "Assault Attack" which Bonnet did with Michael Schenker in 1982. "Yeah, it's aggressive but it's not annoyingly aggressive" agrees Bonnet. "It's something you can listen to and sing with it, sing-along with. You can listen to the story. There is some hard-hitting stories in there about real life. It's not made up of dragons and dungeons and whips and chains and stuff. It's about real things. I have always made up lyrics about real life and experiences that I've had. People identify with certain songs and that's really good. I can't identify with songs about sex and drugs and rock'n'roll, if you know what I mean. Those sort of silly lyrics. I won't say who writes silly lyrics. But there are a lot of bands out there if you read the lyrics: Are you kidding me? How old is this person? 12? I like to make up intelligent words along with intelligent arrangements."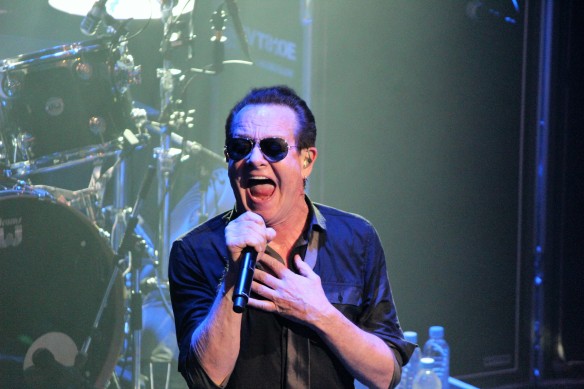 Conrado Pesinato co-produced "The Book": "I was trying to capture like the vibe of his past catalogue, even referencing… this part is a bit more like MSG, or this part a little more like Alcatrazz. Even referencing that but definitely bring in a more modern approach to it. We try to find a balance and you know, so far we're successful at it, because it does have the element of the classic Graham Bonnet sound and those beautiful harmonies, the nice melodies. It does recall some Rainbow, it does recall some Alcatrazz, MSG, his solo stuff. But at the same time I think there is definitely a touch of freshness there. I think we have achieved something cool."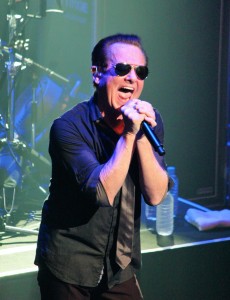 The album stands up on its own, even if it didn't have the Bonnet name attached to it. "Great! Thanks, that's cool. I appreciate that, because it was a bit scary" says Bonnet. "I thought: is anybody gonna go 'What the hell's this?' or are they gonna go 'This is great'? And luckily the reviews and the comments from people are just amazing. I'm surprised, pleasantly surprised. I think we all are. I'm really happy. Very happy about the whole thing." Pesinato continues: "Surprised for sure, but in a way – I don't wanna sound cocky – I remember when we finished the record and we got the first mixes and stuff, we were talking with our manager Giles Lavery: 'Wow! This is cool!' I wasn't sure what people would think, but I was personally – I am very self-critical about stuff that I do and that I'm involved with – I remember hearing the master… Wow! I think we did something cool here. I was personally very pleased with it. And I am glad people were too."
Graham Bonnet may be a seasoned veteran who debuted in the 1960s, but with Graham Bonnet Band he also has a future. And his guitarist and co-producer Conrado Pesinato will ensure Bonnet stays current and relevant.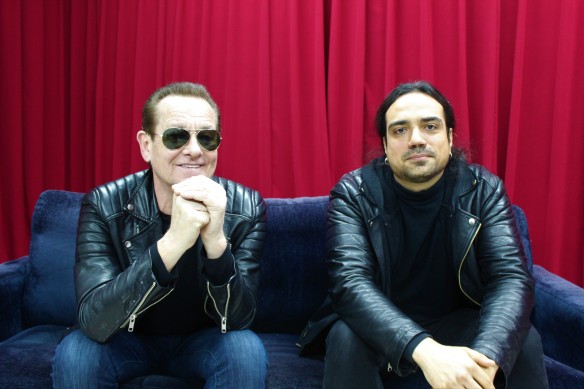 www.facebook.com/grahambonnetmusic