Interview: Paul Stanley and Eric Singer of KISS talk about three decades of playing together
KISS legends Paul Stanley and Eric Singer recently sat down with Roppongi Rocks' Stefan Nilsson in Tokyo to talk about their nearly three decades of playing together, their love for Motown and Philly soul and much more.
Sitting down to talk with people who essentially wrote and performed the soundtrack to one's youth is both exciting and scary at the same time. The reason for our conversation this evening in Tokyo is that Paul Stanley and his KISS colleague and former Black Sabbath drummer Eric Singer, with their current side project Soul Station, are revisiting the soul music of their youth. Thus, here we have a combination of the music of my youth and the music of their youth.
We kick off our meeting in Tokyo the evening before they start a 12-gig residency at Billboard Live in Tokyo and Osaka with their Soul Station band by chitchatting about timepieces ("I like your watch," says Eric Singer who in 2015 was elected to the jury of watchmaking's highest awards, the Grand Prix d'Horlogerie de Genève) and modern art ("Kind of Basquiatish. It almost looks like Basquiat," says Paul Stanley, who is also a painter, of my original hand-painted art t-shirt by Aussie artist James "The Walking Creative" Smith), but we soon focus the conversation on music.
Prior to Eric Singer joining Paul Stanley in KISS in 1991 he played in Stanley's solo band in 1989 and now they are also playing together in Soul Station. The now nearly three-decade long partnership started when the former Black Sabbath and Lita Ford drummer Singer was in the band Badlands in the late 80s (which also featured Ozzy Osbourne guitarist Jake E Lee and Singer's former Black Sabbath colleague Ray Gillen). They recorded their debut album in 1989.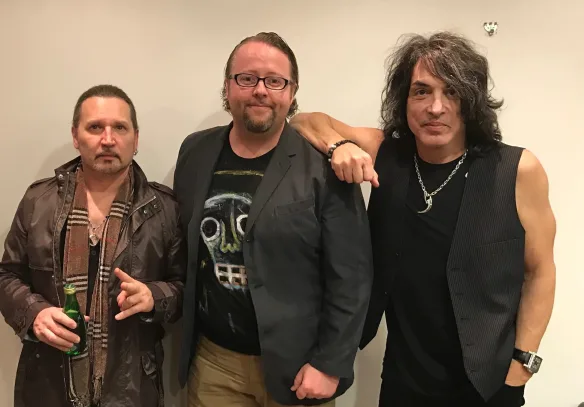 "That's actually how I met Paul. I was in New York recording that record. And the bass player Dennis St James, who was playing bass with Paul, he was managed by the same management people. He went to the office one day and he said: 'Hey, what's Eric doing? Paul Stanley needs a drummer.' 'He just finished his tracks. He's going home. He's done for like a few months' So, I think he recommended me as well as some other people. I got a call from Paul's office, from Derek Simon. He called and said: 'Can you come over and meet Paul?' It goes to show you how fate works. Literally my hotel was one block around the corner from the KISS office. I walked around the corner and went to meet Paul in his office. I remember I brought him a couple of Black Sabbath albums and some stuff I had played on. Then we just chatted. I was going home the next morning. That night I was going to the Record Plant. I was just hanging out. They were doing overdubs and Jason Flom, the A&R guy who had signed us, shows up in the studio very late at night, about midnight. He goes: 'I heard you're playing in Paul Stanley's solo band.' I go: 'What!?' Nobody had told me anything. 'I just saw Paul Stanley at the China Club. He told me you're playing drums in his solo band.' That's how I found out."
"Amazing!" says Paul Stanley before Singer continues: "I remember it like it was yesterday. This was early, like January of '89 when that happened." Eric Singer is now well established in KISS where he replaced Eric Carr who died of cancer. "Other than Gene and Paul, my time in KISS has been the longest of anybody." But Stanley's working relationship with KISS co-founder Gene Simmons beats the relationship with Singer by about two decades. "With Gene it is about 49 years," says Stanley. "What year did you meet him?" asks Singer to Stanley who replies: "Well, I was 17." "On that fateful day," comments Singer before Stanley adds, tongue-in-cheek, "That day that will live in infamy."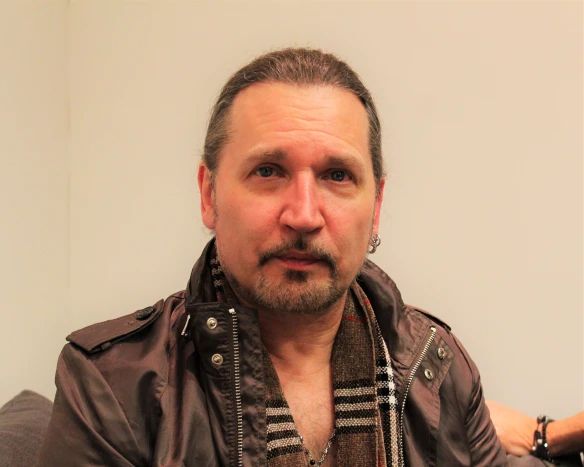 Now, 29 years after they started playing together, Stanley and Singer are still at it. In addition to playing with KISS, they are both members of the 13-person strong soul collective Soul Station.
Singer explains how the idea of Soul Station started a few years ago. "The school where his children go, once a year they do like a fundraiser. A lot of the artists' and musicians' children go to that school. One day Paul said: 'Hey, I'm gonna do a cool gig where we're gonna play classic rock, like Led Zeppelin and Free and stuff like that'. He put together a cool band and played at the museum, the history museum downtown LA, a really cool vibe. Then the next year they wanted to do it again. So Paul said: 'I want to do something different. I always wanted to do this Motown stuff. So he put this band together. And it was so much fun and so cool that it basically, kind of fed on itself and here we are a couple of years later. That day we played at the school, the Foo Fighters played and Bush, because their kids all went to the school. So for the parents that had children at that school, they got one hell of a concert. It was only like a 150 people there. It was on the school grounds, on the football field. It was really cool."
Was soul music the obvious thing to do when Stanley and Singer wanted to do a side project for when KISS is not touring the world? "For me," says Stanley, "my roots are much more diverse than some people realise. And Eric too. So, I think that is very much something we have in common. I grew up with classical music, Broadway and opera. When I got a little older, I saw Otis Redding, The Temptations. My roots were as much Philly soul and Motown as Led Zeppelin. And I think really that what you bring to your music, that's unlike your music, is what will make your music different. If you just feed on something similar, it becomes redundant. It becomes almost incestuous. Whereas, when you have roots that are outside of your genre, you have something extra to offer. For me, there's two kinds of music: good and bad. There's good rock'n'roll and there's some awful stuff. There's jazz that is horrible. I've played with Eric so long that I really think, as will happen with people who play a long time, we instinctively know, without speaking, what we're thinking. I know that Eric knows what I'm thinking."
Singer continues: "And what you want! I think that's even more important. I know how he likes certain things. I am good at following, or taking his lead and anticipating how he's feeling about something or an ending. Like we talked today in rehearsal, I am able to follow you obviously better than the other guys because I am used to it. I have a sense of how he will naturally feel things."
Paul Stanley has much admiration for his rhythm anchor: "But Eric is also, he's so much more than… Eric, I believe, is very, vastly underappreciated or thought of in music circles. He is right up there with the best. He's a phenomenal drummer, not just because he plays rock, but because he comes from a background that's far beyond rock. To think that somebody could come in and play this kind of music, to play Soul Station, would be insanity. To think you could take some guy out of a 'hard rock band', it just wouldn't happen. You know, Eric really is well schooled and really understands music. On top of that, the bonus, that we didn't even know when he joined KISS, is he is a great singer. And let's face it, as time goes on and our voices aren't what they once were, as any athlete's body isn't what it once was, Eric can do some of the lifting, so he's great. I would say that with him here or not. He's a terrific guy and a great person to play with."
Two famous rock stars seemingly suddenly playing in a soul band might be somewhat of a surprise for some people. Were they at all nervous about how things would be perceived when they first performed with Soul Station? "No, I don't think so," says Singer. "Because, like Paul said, there's sometimes more than meets the eye. If you only know somebody from how you first discovered them, either as a band or individually, like we always tell people: Everybody in LA only knows me as Eric Singer – a rock drummer. They don't realise that when I grew up, in my formative years I played in my father's band, I'd play all the standards and was exposed to opera, community theatre. I then was a band leader and they used to take me to the symphony and the opera. I was exposed to lots of stuff and played other types of music. In fact, I was really not a rock drummer originally. I was more of that type of a drummer because that's what I did since a young age. But I always wanted to be a rock drummer and I always thought I could do it, I could be good at it, if I just had the opportunity. Once the opportunities presented themselves, I was able to take advantage of them. I always believed that I could do that. People always asked me when you're a kid: 'What did you think?' or 'What did you feel?' All I know, I used to go to concerts and I used to have the posters on my wall and buy the magazines. I said: 'I didn't just think I could this, I always thought you're supposed to do this', if that makes sense. I know it is easy to say because I have had some success with it, but I truly believed that since a young kid. I just thought I need the opportunity and then I know I can take advantage of it. Once those opportunities manifested themselves, I was a quick study and I learned very quickly and adapted. At least I feel like I did."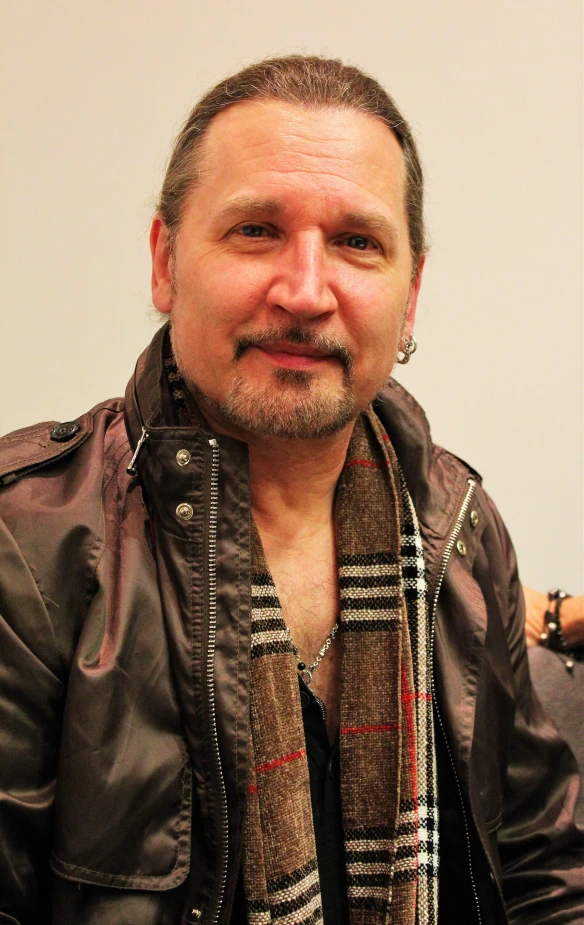 Stanley continues: "I wasn't nervous the first time we were gonna play. I knew we were great. Whether or not people would come is another thing. Look, when you say to somebody: 'Hey, you know the guy who sings in KISS is going to do Motown and Philly soul', you're gonna go: 'What?' And plus, in the beginning and even now, I try to make sure people know, look if you're coming to hear 'Love Gun', it ain't gonna happen. If you're coming to see me play guitar, I'm not playing guitar. So, that very much changes the rules and the dynamics. If I put together a solo band and, honestly, just to side track, I don't think of this as… This isn't a back-up band for me. I'm in this band. I'm not interested in having guys play behind me. I think the reason we have so much fun as a band is because I want everybody to be featured."
Singer explains: "Everybody's integrated in this. There's no doubt about it. All the singers, everybody gets to shine. But the music is so great that, as long as you stay true to the music, everybody shines because of that. Because the material is so strong. It's undeniable." Stanley continues: "We're not up there rearranging these songs. Our cause is to go out and play them the way they were recorded. It's really disappointing, unfortunately, when you see some bands from that era doing sped-up versions and Vegas arrangements. I wanna hear those songs, we all wanna hear those songs played reverently with the respect of them sounding like they should, the way we remember them. Again, for me, there was talk when we first talked about the first show: OK, the band will play and then I will come out. I come out with the band. We're in this together. It's not: 'Ladies and gentlemen, please…' You know? I want everybody here to feel, not only appreciated, but essential. Somebody else said: 'Oh, you could do some shows this summer and there's musicians available in this country or that country.' It's not like that. This is a band!"
In KISS, Stanley is always playing guitar as well as singing, whereas in Soul Station he is fully focused on vocals. One might wonder if this makes a difference to how he performs on stage. "There's no problem," says Singer. "Because he always could dance. He's a good dancer, a performer. So to me it's like, instead of having a guitar, he's got a mic stand. And he's got the girl background singers, so he's got the props around him!" Stanley continues: "Eric is essential, because I can lean on him. I think a great drummer is somebody who you can almost physically lean on. He's not stiff, but he's dependable and he's in the pocket."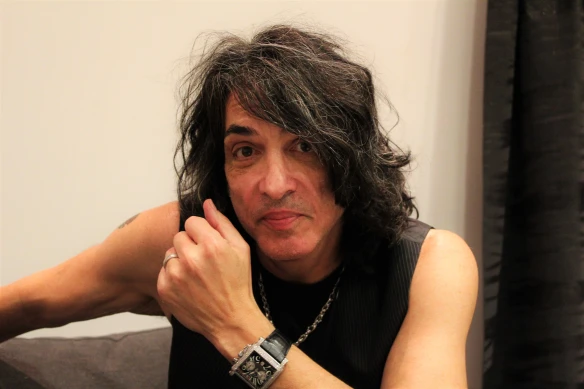 Singer cuts in: "One thing I was going to point out, not to interrupt you, but you made a good point before. One thing I found pretty eye opening, was when we learned the songs, I always make sure I do my homework, because while the guys in the band, they're really more schooled about charts. They could literally show up and they would show up with the charts. They're sitting there reading their charts all the time. I think that you should know… Paul taught me a lesson a long time ago and it applied to singing, so I applied that theory to playing. Know what you're playing, like, know the song. Know what you're singing so you can mean it. So I applied the same thing. Know the material so you can really play it, not just reading it like a book. The eye opening thing for me was that so many of these artists, even the bands themselves, the way they play the songs… They don't really play the stuff faithful to the records. They play all the tempos really fast, the drummers don't play the beats like on the albums. It's pretty surprising. So we try to go: 'Let's be faithful and play these songs, the parts and stay in the pocket, the tempos, the way these songs were written.' I think it comes off better that way. I believe it does."
Stanley continues: "For vocalists, I think, particularly in bands where vocalists have been replaced over the years, I kind of go: 'I don't think you understand the song you're singing. You might as well be singing in Chinese, because… Have you ever sat down and read those lyrics? You've memorised them, but what's the intent of the lyric? What's being said?' Otherwise, that's one of the problems I have with some of these talent shows on TV. I've said to my wife: 'This guy might as well be singing in Latin, because he has no idea what he is singing about.' So, it's not a matter of the melody. It's not a matter of memorising a lyric. You gotta know what you're singing!"
"I'll be honest, I get off on the vibe of a song," says Singer. "I really love guitar, so it's all about the vibe and the riffs. That's what I'm attracted to musically. But these songs, the lyrics really are great lyrics. The songs are great but the lyrics have a lot of depth to them. They are a lot about relationships, about emotion. They're great. They really are great. Like 'Let's Stay Together', what a great lyric!"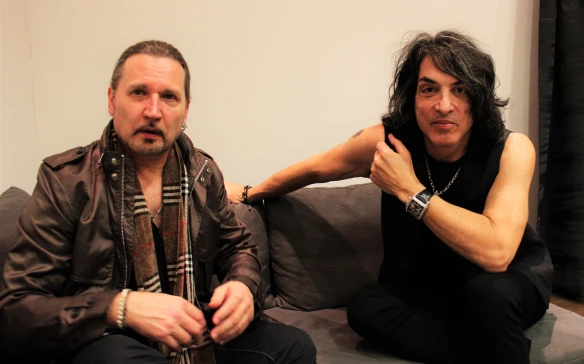 Japan and KISS have had a loyal relationship ever since the 1970s. Not only KISS, but also side projects such as Soul Station, Gene Simmons Band and Eric Singer Project have done well here. In 2015, KISS last did a major Japan tour and also had a number one hit single (a collaboration with Japanese pop group Momoiro Clover Z) and in 2016, there was a successful KISS Expo Tokyo which was opened by Gene Simmons. What is this long-lasting Japanese fascination with everything KISS built on? "I think," says Singer, "just like we were fascinated with British rock – basically they took our music, repackaged it and sent it back over – but I think the same way that we have always been fascinated with the British invasion, I think it just kept going west, across the ocean. And the fascination is there for the fashion, just the whole overall culture."
"I think it goes beyond that," says Stanley. "I believe that our connection to Japan is based upon their knowing how much we love being here, how much we appreciate them. A great relationship is based on reciprocity. A great relationship is based on the give and take. I think that over the years we've shown ourselves to be truly enamoured with everything here. So, I think it's reciprocal. It's not just about music. It's not just about a culture. We've gone beyond that. We've made it personal."
www.kissonline.com / www.facebook.com/kiss
www.paulstanley.com / www.facebook.com/paulstanleyofficial