Album review: Napalm Death "Resentment is Always Seismic – a final throw of Throes"
British grindcore masters Napalm Death show us why they are quite possibly the best band in the world on its new mini-album.
Napalm Death from Birmingham is quite possibly the best band in the world. They are constantly touring the world and when they have five minutes to spare, they get busy with some side projects. They never stand still. There are two things that always come to mind when I think about Napalm Death: they never compromise and they always deliver. To an untrained ear of someone who doesn't know what quality music is, Napalm Death may be somewhat of an acquired taste. But for connoisseurs – like us – this band's music is sheer enjoyment.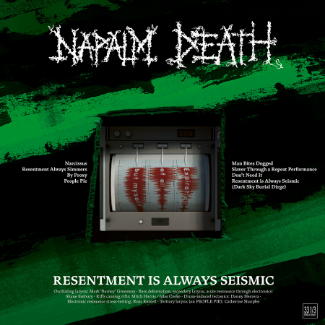 This new mini-album, "Resentment is Always Seismic – a final throw of Throes", is no exception. It's half an hour of England's finest music delivered by scholars and gentlemen from the grindcore frontline. The material on this new release comes from the recording sessions for 2020's celebrated album "Throes of Joy in the Jaws of Defeatism". The familiar and loveable Napalm soundscape is certainly still there, but the band is pushing boundaries here with several experimental songs. They walk beyond grindcore's beer-soaked velvet ropes and take a peek inside the kimono of other musical genres. This mini-album was recorded by the band's core members for the past three decades: vocalist Barney Greenway, Shane Embury on bass, Danny Herrera on drums and Mitch Harris on guitars. Napalm Death live guitarist John Cooke also appears. Russ Russell is once again the producer that somehow manages to get Napalm's mayhem onto tape in the studio. The album's filled with only top-class music. I love Shane's fantastic bass on "People Pie", a cover of a 1988 single by the band Slab! This terrific song also showcases a different side to Barney's vocals and comes with fab background vocals (gospel touches on a Napalm Death recording?) by Catherine Sharples. Of the more normal-sounding Napalm songs, my favourites are "Slaver Through a Repeat Performance" and "By Proxy", both mayhemesque songs of the freight-train variety. They're the musical equivalent of a late-night kebab: a bit dodgy and with some ingredients from unknown sources, but oh so good! The ridiculously fast "Don't Need It", a Bad Brains cover, puts a smile on my face with its speed metal-meets-punk glory! I bow my head in respect to Napalm Death, still quite possibly the best band in the world.
Napalm Death's mini-album "Resentment is Always Seismic – a final throw of Throes" is out now via Century Media Records.