Gig review: A sweaty and heavy evening with Machine Head in Tokyo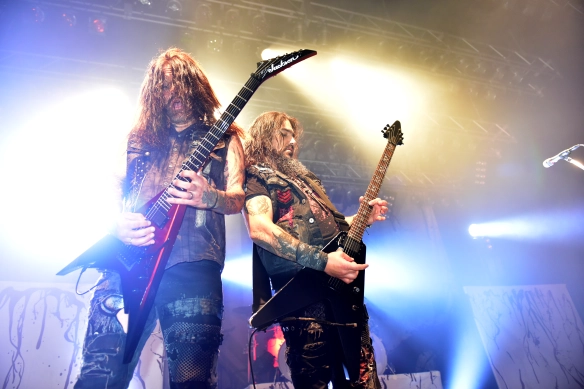 Machine Head returns to Tokyo with a sweaty and hard-hitting modern heavy metal show.
Machine Head at Tsutaya O-East, Shibuya, Tokyo, 2nd July 2018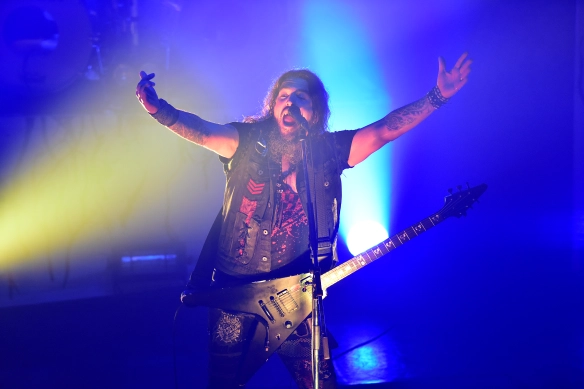 Three years ago, Californian metal band Machine Head did a terrific gig in Tokyo in front of a crazy crowd of metalheads. Could they possibly top that when they are now back in Japan? Yes, of course. Machine Head always delivers and here in Japan, the band has a very loyal crowd which is with them every step of the way.
This sweaty evening in Tokyo, the crowd is more than ready for the return of Machine Head. Within seconds of the house lights going out, there is a circle pit going on and for the next two hours and forty-five minutes, the craziness doesn't stop. The crowd screams "Machine Fucking Head" throughout the whole gig and frontman Robb Flynn soaks it all up. He feeds on it and recycles the energy from the crowd. Few bands are heavier live than Machine Head. There are acts that are faster, rawer and darker, but not heavier. Their modern take on heavy metal includes variations, such as slower parts, more melodic parts and spoken parts as well as some serious grooves at times. But most of all this is heavy music that attacks you on all fronts.
They open in style with the majestic "Imperium" and follow it with "Volatile", a song from the band's latest album, "Catharsis". They are off to a magnificent start and when then they start playing "Now We Die", one of the band's best-ever songs, they have already won this evening. The evening's set list is untouchable. How could this possibly be improved? We get the ultimate collection of Machine Head songs, old and new, delivered by an on-form band bursting with energy. Robb Flynn, on guitar and lead vocals, is backed up by guitarist Phil Demmel, bassist Jared MacEachern and drummer Dave McClain. Every song is a crowd favourite. "Tokyo! Fuck yeah!" screams Flynn from the stage and I can only agree. What a total metal love fest this is. It's a volcanic eruption of hard-hitting heavy metal.
In recent years, Machine Head has opted to tour without opening acts and not do festival gigs. Instead, they do their own massive sets billed as "An Evening with Machine Head". The concept works a treat. When you get this much good stuff from your favourite band, who needs anything else? Few bands out there can match Machine Head live. This is a band that knows how to deliver a quality show to its fans.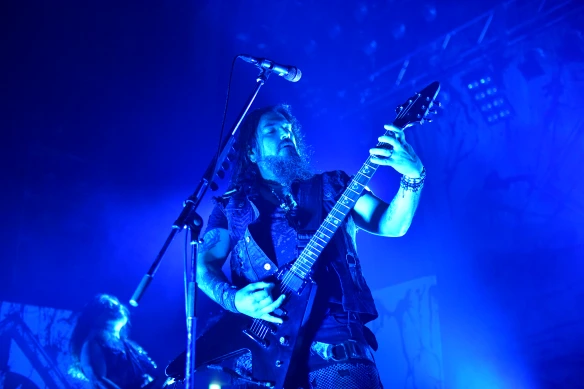 One of the absolute highlights of the gig is the track "Is There Anybody Out There?" This is Machine Head at its best: combining crushing heavy metal and hints of thrash metal with more contemporary sounds, all melted down into a modern Machine Head track. In the set, we also get fabulous versions of older tracks such as "Ten Ton Hammer" and "Old". New songs "Beyond the Pale" and "Triple Beam" are other favourites in the set this evening. The crowd keeps going without ever stopping. "You're at a Machine Head show. You can do whatever fuck you want!" promises Flynn from the stage. And the fans in the audience do whatever they want. They sing along, they chant, they crowd surf, they mosh, they enjoy the music in a very physical way.
A long, sweaty and fabulous evening comes to an end with "Halo". Let's hope it won't take them three years to make it back to Tokyo. The fact that this Japan tour consists of gigs in five Japanese cities shows that there is plenty of love for Machine Head here.