Album review: Season of Ghosts "A Leap of Faith"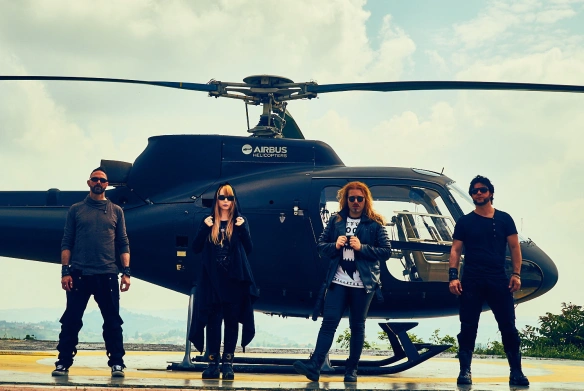 Former Blood Stain Child singer Sophia Aslanides is back with a new Season of Ghosts album combining metal riffs with catchy pop hooks in a musical style they call cinematic electro-metal. 
Greek artist Sophia Aslanides made a name for herself as the vocalist in Japanese band Blood Stain Child in 2010-12. Soon after leaving Blood Stain Child, Sophia formed Season of Ghosts which released its debut album "The Human Paradox" in 2014. Now the band is back with a new album.
Musically this is a logical continuation of what Sophia did in Japan with Blood Stain Child, although Season of Ghosts takes a bit of a different approach to its modern mix of metal and pop. They call it "cinematic electro-metal" and that label fits very well. We get metal guitar riffs, catchy melodies, keyboards and Sophia's dreamy vocals on top of it all. Sophia is a talented songwriter. During her years in Japan, she seems to have soaked up a lot of modern Japanese music, made it into her own style and brought it with her. In Season of Ghosts' music there are hints of current Japanese acts like Lovebites a well as influences from the 1980s generation of Japanese melodic metal acts (think Loudness, Earthshaker and X-Japan) and the wave of visual kei-bands that they inspired. I also think there are certain hints of Japanese rock queen Mari Hamada here. Musically this modern combination of metal and pop isn't miles away from contemporary acts such as Amaranthe, Within Temptation and Epica, although the sound is a bit different. Sophia has somehow managed to take all these influences and create her own terrific music with those ingredients.
"A Leap of Faith" is a very strong and even album. We get fab songs such as "How the Story Ends", "Almost Human" and "Astero [:id]". One of the highlights is no doubt "A Place to Call Home", which we get in both a standard version and a special Japanese version. It is clear that while this is a UK-based band, Japan is very much still a major part of Sophia as a person and an artist. "There's a good chance we'll tour Japan in 2019, so I would like to stress that I never lost contact with my Japanese audience. I still love and appreciate it since they're the first people that embraced me as an artist. I always say this and it's true, that Japan is my second home," Sophia comments to Roppongi Rocks. In addition to Sophia, Season of Ghosts consists of Zombie Sam (guitar), Paul Dark Brown (bass) and Max Buell (drums).
www.facebook.com/seasonofghosts