Tribulation: Death metal evolution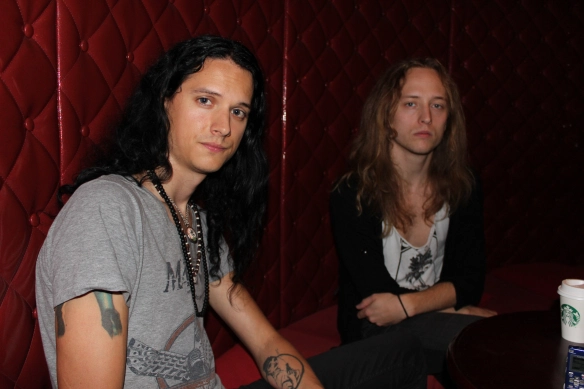 Ten years after Swedish metal band Tribulation formed in Arvika, a small countryside town set deep in the forest, they have now been signed by Century Media and released the quite remarkably good album "The Children of the Night". Roppongi Rocks' Stefan Nilsson sat down with guitarists Adam Zaars and Jonathan Hultén when they recently visited Tokyo.
In the past decade since Tribulation formed, it has released three studio albums and been doing countless gigs. The band has also musically developed into something that stands out from the pack.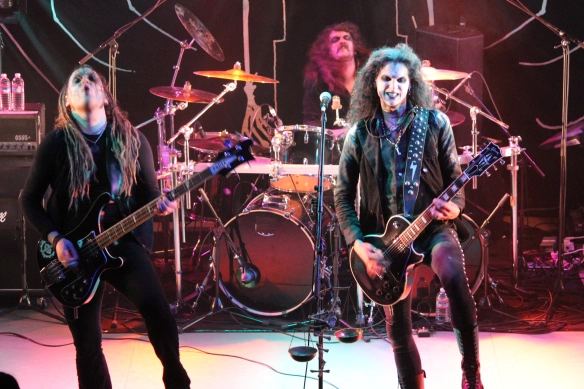 "Everything is now working great in a way that it hasn't earlier," explains Adam Zaars. "With this album, or perhaps a bit earlier, we decided to go all-in. We've always been dedicated but even more so now. People are obviously liking the new album. Promotion is playing its part in this as we've changed from a smaller record company to a bigger, Century Media." Jonathan Hultén continues: "Around the same time our new drummer joined the band. We have been reborn as a band. We sort of started from the ground again."
On the new album, "The Children of the Night", which was released in April, Tribulation has evolved its sound to become quite a mix of different influences and not just good old death metal. It's dark, at times very heavy, but also progressive, doomy, melodic and melancholic. Was this a calculated move? "It is natural progression. You never really know where you'll end up, but we weren't really surprised where we ended up," says Adam proudly of how the new record turned out.
Earlier this year, before the album was released, Tribulation toured North America with Behemoth. Since the album was released the band has continued to gig like crazy around the world. During spring and summer they focused on gigs in Europe. The Japan tour is followed by some more European dates and then a major North American tour, followed by more touring in Europe. "If we don't do it now, nothing will happen. Our goal is to become a bigger band, always," says Adam. "That way we can realise the ideas we have for this band. It becomes easier to do so if you're bigger. The more people you can work with and the more money there is in the band, the more you can do better and bigger things. That's what we are doing now. We have about one more year of touring planned. Then we will have to see what happens. The idea is to record a new album. But in a year's time we might want to continue touring," explains Adam.
To describe or label Tribulation's music is tricky. They're clearly coming from a death metal landscape but along the way many influences have changed the band's sound and they are no longer just a death metal band. "We have our roots somewhere in old school death metal, perhaps some American stuff, like early Morbid Angel. That's where we started," explains Jonathan. "Also black metal, like Dissection," adds Adam and continues: "We can't get away from our roots but that is a positive thing. We are now doing something a bit different which is becoming more apparent."
They don't feel that they have to keep Tribulation's music within the limitations of what is considered death metal. "Absolutely not!" say Jonathan and Adam at the same time. "It doesn't matter who we perform with as we will do our own thing regardless," says Adam. The band is constantly touring with many different death metal, black metal, heavy metal, any kind of metal bands around the word. "It just means that we get to perform for new people and that is hopefully a positive thing," says Adam.
Have the great review for "The Children of the Night" put pressure on the band to keep delivering?
"This is nothing new for us," explains Adam. "It is always fun to get great reviews but it is not really important." Jonathan continues: "That is not what drives us. With the first album it was a bit different. It was the first time we experienced that kind of thing with releasing a record that gets great reviews. You felt great and important for a short while. But once you have experienced that you can then focus on what's important and you stand with your feet on the ground again."
This is Tribulation's first visit to Japan, but Adam Zaars has been here before, with his former band Enforcer. It was in Japan he decided to leave Enforcer to focus on Tribulation. "Tokyo was my last gig," says Adam of his departure from Enforcer in 2011. The two bands, while quite different musically, are closely linked. Tribulation's current drummer, Jakob Ljungberg, has also played in Enforcer and Enforcer's Olof Wikstrand was in an early version of Tribulation. Tribulation's two Japan gigs are very well-received. "It feels like we might be a good fit for the Japanese somehow," says Adam on Tribulation's chances in Japan.
As they're playing as one of four acts this evening in Tokyo – the bill features Watain, Inquisition, Tribulation and Sigh – they only get 35 minutes to prove themselves and get some new Japanese fans. "Yes, we have to hurry up. Play a bit faster!" jokes Jonathan before it is time to get ready for the gig.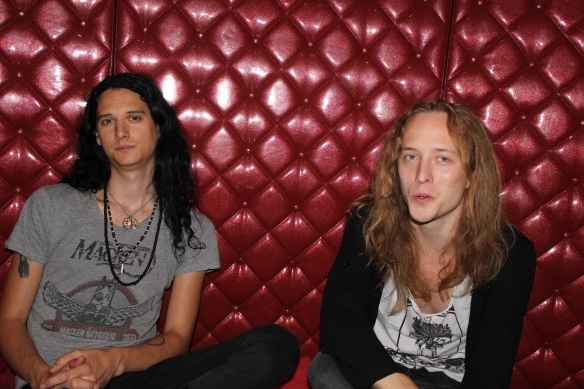 Tribulation – band members
Johannes Andersson – vocals, bass
Adam Zaars – guitar
Jonathan Hultén – guitar
Jakob Ljungberg – drums
Discography
The Ascending Dead (demo) (2005)
Putrid Rebirth (EP) (2006)
The Horror (album) (2009)
The Formulas of Death (album) (2013)
The Death & Rebirth of… (EP) (2015)
The Children of the Night (album) (2015)