Album review: Oceans of Slumber "The Banished Heart"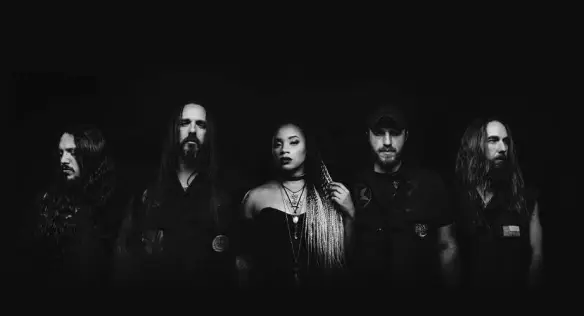 Texans Oceans of Slumber are back with another fabulous and hauntingly epic album filled with emotions.
It was their beautiful cover of Candlemass classic "Solitude" that brought Oceans of Slumber from Houston, Texas into my world (with a bit of help from the Century Media Records PR and marketing machine). I was hooked. And when they followed that with the 2015 album "Winter", there was nothing to stop them from a complete invasion.
That this is a band with a difference was already obvious then. Now they're back and they somehow manage to take things another step along the way to bleeding perfection. Shattered dreams in musical form. Dripping sadness.
Fine musicianship is combined with terrific songwriting and a complete disregard for current trends. It is all crowned by the powerful and out-of-this-world voice of Cammie Gilbert. It's hard rock, folk music, prog, metal, world music, classical music, riffing and growling extreme metal… It's everything and it is boiled down into one suggestive mix of epic melancholic music that takes your emotions and shakes them around. Some people have compared this band to Opeth. Sure, but I'd say it's Fleetwood Mac meets Black Sabbath, although most of all it's Oceans of Slumber. Drummer Dobber Beverly is the musical engine in the band while Cammie Gilbert is the lyricist and voice. Together with guitarists Sean Gary and Anthony Contreras and bassist Keegan Kelly, they form a splendid doom unit with explosive talent.
There are so many nuances and layers in this music that it keeps its listeners on edge at all times. There is always something interesting around the corner. They make great use of instruments such as piano and cello, for example on the instrumental piece "Her in the Distance", which sounds like a fabulous film score. The title song is an epic journey through a dreamy soundscape and most of the album follows a similar path through the Texan woods. This is an album built on drama and emotions. "No Color, No Light" is a dreamy, doomy and misty duet. It is one of the stand-out tracks on the album. "Wayfaring Stranger" is sheer beauty. "A Path to Broken Stars" is my favourite track on the album because it really is out there, cramming so many different things into one little song.
Oceans of Slumber's album "The Banished Heart" is out now via Century Media Records.