Interview | Chuck Billy of Testament | "We have to stay on the path that we started"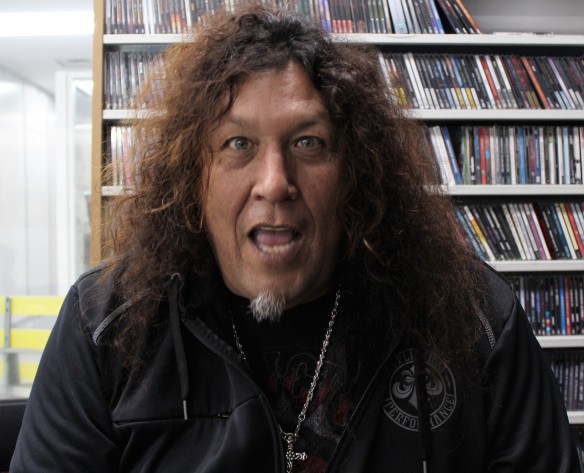 Three decades on from their debut album, Bay Area thrash metal heroes Testament are still killing it both on record and on stage. One might argue that they are better than ever. "It is what it is now. I've done this long enough and I have nothing to prove," says Testament frontman Chuck Billy as he talks to Roppongi Rocks.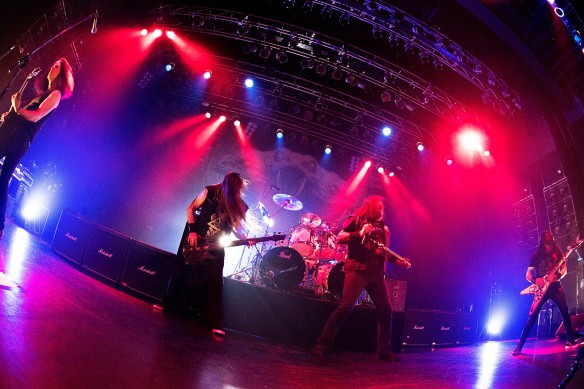 When Testament returned to Japan for yet another successful Japan tour, Roppongi Rocks sat down with vocalist Chuck Billy to talk about the band, where they're at and what's coming up.
With a fab new album out ("Brotherhood of the Snake", released in October 2016) and successful touring across the globe, the current line-up of Testament – Chuck Billy on vocals, Eric Peterson and Alex Skolnick on guitars, Steve Di Giorgio on bass and Gene Hoglan on drums – is one of its best to date and they are tight. It seems that the band just keeps getting better after all these years. "It's like wine!" laughs Chuck Billy as we sit down at the band's Japanese label's offices the day before they are due to play in Tokyo.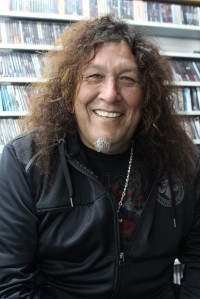 One of the weak points for some thrash metal bands, is that they often fail to match their musical skills with a vocalist on the same skill-level. That is not the case with Testament. The veteran Bay Area thrashers have one of the best vocalists in the thrash metal business. Chuck Billy outclasses most of the competition. And it is quite obvious that he enjoys what he does for a living and he is very confident.
That is quite a comeback for someone who in 2001 was diagnosed with a rare form of cancer. "As I had my illness and literally thought my music career was done. I looked in the mirror, I was bald, no eyebrows, ballooned up on steroids. I was like: OK, that's it. I'm done."
But as Chuck was in the middle of his cancer battle, his friends in the music business put on the now legendary Thrash of the Titans benefit show to raise money for his career treatment in August 2001 with bands including Anthrax, Exodus, Death Angel and Heathen on stage. The evening also saw a reunion of the band Legacy, the forerunner to Testament who had Steve "Zetro" Souza on vocals.
"The whole scene – it was just a weird time for us. After that – the cancer and the Thrash of the Titans benefit show for me – it was the first time we all were on the stage together at the same time for fourteen years or something like that. That kind of opened the door. I think once that door was open, then we had our reunion, the original with everybody, and played for about a year. Something at the point just kind of… There was confidence, being comfortable. It is what it is now. I've done this long enough and I have nothing to prove," explains Chuck.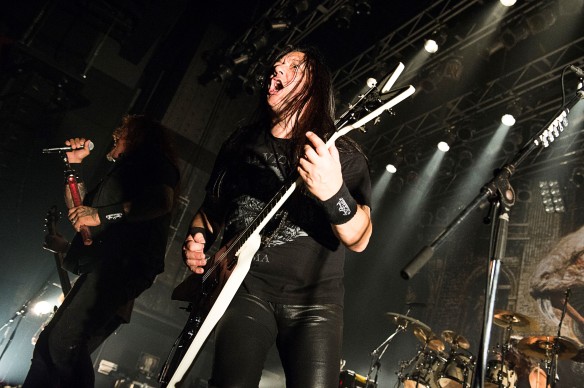 "Beating the illness and then: Wow! This is trippy. I am getting a second chance here. I am gonna finish what I started with these guys. It is something about that that planted a seed of confidence, made me relax. I didn't feel like I gotta write heavier than that band, I've gotta do this bit… You know what? I couldn't care less. As long as I am having a good time and I am feeling it with these guys, we're doing it. And like you said, we're doing it well together."
"I think the very first rehearsal we all had back, it was a little rough the first day, but the second day, it was just like BAM! Like we hadn't missed a beat almost. That to me was like, this is it! Cool! It was really just a comforting feeling. I think that played a big, big part for me personally. Maybe even to this day: stay focused on Testament, what we do and what we did. There are so many bands out there that I love, and love the music and come out so heavy, so new and fresh. But  we can't do that, we can't change and shift gears now to do that, or we'll get criticised. We have to stay on the path that we started or we're gonna get criticised and then it's done. So, at that point the confidence kicked in and maybe it focused on the songwriting maybe a little bit to more not trying to write what everybody's gonna think or to keep up with that band. It's just what feels good for us. That's what it came down to I think. Something about that made the record special and unique. The songs stood out on their own. None of our records are the same. They always seem to change and shift in a little way but you always know it's Testament if you hear it."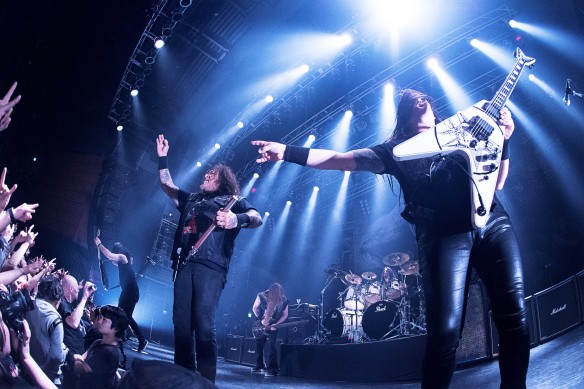 "I think it just kind of grew and I think up to this record… From 'The Gathering', wow! We really got praise for that. Man, those were good songs. It was really a turning point where I felt like all the stuff we had before, it was a combination that we finally found a good combo of thrash, blast beats, a little bit of everything. Wow, cool. This is it. How are we gonna top that? Then we kind of strung it out with the reunion and at one point when we were all playing together, I think three years went by – because it was only supposed to be one show, the reunion, and it turned into five years – three years later we said: OK, so, do you guys want to write a record? Yeah, we've done enough time together now, a couple of years, let's do it. And we wrote 'Formation' and that came out really strong. I thought we topped 'The Gathering' in a sense. Having the other guys be part of the new Testament was right on. Everybody's finding their way, because with Alex and everybody coming back, they had to train themselves to catch up to speed with us. Then we did that tour and everything was going great and then stepped into the 'Dark Roots' record. And again, those songs came out really good, but the record's a little more polished. Songs are a little mid-paced, it wasn't as thrash as I would've liked it. Then going into this record, that's when we said: We gotta improve. What do we need to do? I thought: Thrash! There's got to be a little more thrash! Faster, pick up the tempos. That's when Eric really kicked in and started gearing up the songs, the tempos."
Finding that delicate balance between melodic and heavy that is Testament's signature sound can be hard, but on the latest album they seem to have achieved it. "That was the challenge for me. On this new stuff, the songs were faster paced. The typical Chuck would go: OK, it's a fast song, I'll sing fast. I wanted to totally challenge myself and go: Don't do what you normally do. So on the fast songs, I would say: If it's shifting, go the other way. Try to find the mid-tempo melody over something fast. Or blasting but I am singing something melodic over it. So that was the challenge for me. I lived these songs for so long. We worked on that thing for like two years and had battles. I had that thing absorbed in my brain but never did the demo, never demoed them up. We did the record and that's when the lyrics and all the parts and the melodies really came to life…in the studio. That's when we all kind of went: That was painful…writing this record. I don't ever want to go through this again. But if it guaranteed the result, I'd give it a shot!"
Having seen Chuck perform three gigs in Japan since 2015 (two with Testament and one with Metal Allegiance), I am amazed that his voice keeps evolving and getting better. "It's the relaxing and the confidence. In the early days, it was more melodic singing, carrying the note and the tune and the melody. After that it was more Whaaa! I started singing different and using my voice probably wrong and doing more damage. I noticed after the 'Demonic' tour. I'd thrashed my voice, it really bashed it. Thinking: This ain't good. I really wanted to stick to what I do. Over the years, especially this last one, I really wanted to go back to just be comfortable being me, that's it. That's what I just tried to accomplish. And I think I did it. I listen back and I do enough in the right spots, not overdoing it. Everything has its place."
Chuck's voice is somewhat more prominent in Testament's music than is the case with vocals for many other thrash metal bands. "Sometimes I do think about it. I did a soundcheck yesterday. I sat and listened for about a half hour while they just jammed and performed. Man, I gotta go and sing. I don't want to fuck it up. I got up there and was thinking: You know what? I do add my own thing to the sound of the band live. It's a whole different thing than in the studio, when you're getting on stage and you're in the moment. I don't know, maybe it's a natural thing or instinct, I guess."
Chuck has been fronting Testament ever since he in 1986 replaced Steve "Zetro" Souza behind the mic. It was actually Zetro who recommended Chuck to replace him in the band Legacy, which at that point became Testament. "Yeah, I knew Zet since… He grew up two-three blocks from where I grew up. He was my younger brother's best friend. They were best chums. When he was in Legacy, all of us friends that grew up in Dublin, went to see Legacy play. Let's go and check out Zet's new band. We went down there and we were blown away. Holy shit! Those guys were good. To me the songs were beyond… Are we having an earthquake?!" says a surprised Chuck as the building we're sitting in starts to sway and shake.
Indeed, Mother Earth has decided to add some rock'n'roll of her own during Roppongi Rocks' meeting with Testament in the form of a decent-sized earthquake.
Once the shaking stops, Chuck continues: "Zet, he decided to leave and at that time, I'd just finished taking about two years of vocal training in San Francisco, private lessons. I was like: Yeah, I'm ready! I've gotta find a band. The timing was perfect. He was like: I'm leaving to join Exodus. Here's this guy, Alex Skolnick, call him up. You gotta go and join these guys. After seeing Legacy, those guys were good. I got the demo and really studied the songs lyrically, cause I wanted to audition."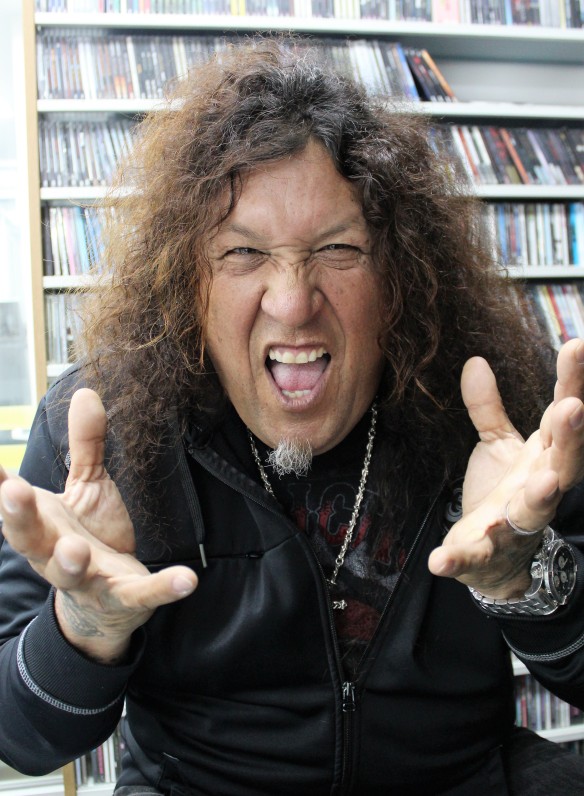 "Understand, I was In some other local groups, nothing serious.  I was more rock'n'roll, like a Dokken or a Ratt, or something like that was more my thing. And the way I dressed and had my hair looking, so they were: I don't know about that guy. I showed up to the audition. They knew who I was and it was probably a bit intimidating to them. I remember I was 21 and old enough to buy the beer. They weren't old enough, so I came with a case of beer. Oh, great. He's in, he can buy us beer! Haha!!"
Chuck's audition took place in a "little tiny rehearsal room. I had to sing in the hallway because there was no room for me to sing in the same room. It went great, singing three songs and a couple of days later: Alright, got it. Cool. Then we reached out to Megaforce."
Megaforce Records, headed by Jon Zazula (aka Jonny Z), had released Metallica's first album and would also later work with artists such as Anthrax, Overkill, Ace Frehley and Manowar. They had already offered Legacy a record deal. Now with a new singer, the band asked if the deal was still valid. "They said: Send us a demo, let's hear it. So, I did my three-song demo, the same ones I sang, and sent to them. We got a deal  They flew out to see us rehearse all of the rest of the songs. We're all fired up and excited. Got to the rehearsal the next day and everybody was just shocked, they had been up all night. They had found out that Cliff had passed away the night before," explains Chuck how the accidental death of Metallica's bassist Cliff Burton impacted the whole scene.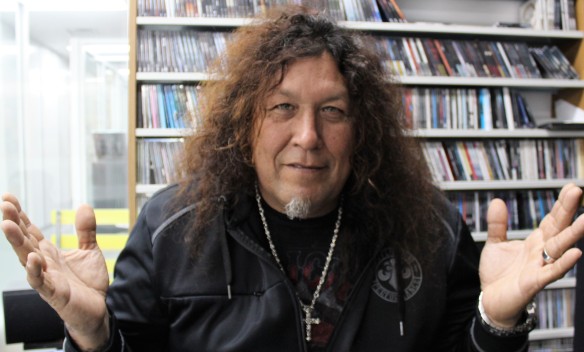 "From that point on, once Jonny took us under his wing, it took off from there. When I look back and… What was it about those early days? We put a record out every year. '87, '88, '89, '90, then '92. We were going, man. That's what I tell Eric now: We need to do that again. We gotta cut more records as part of this contract. We just keep knocking them out. We start writing right now  I am still kind of in a writing mode a little bit from this record."
In today's Testament line-up, there are three members who have left the group and come back: Alex Skolnick, Steve Di Giorgio and Gene Hoglan. Kind of bringing in new old blood, or perhaps old new blood, to the band's creative process. "Everybody's bringing their own style to this group. They all have their own thing. But when we perform as the band Testament, we play these songs, it's something different. Me and Eric create a lot of it, it's basically: here's a lot of the tracks, especially on this record. Gene, he hadn't even heard me sing a song going into record this record. Haha!!"
Testament has now released eleven studio albums. With such a vast and great back catalogue, it can't be easy to pick songs for the gig set lists. "It's very tough. When it comes down to it, it always goes back to these old songs. Today we were saying: the American tour is coming up, we're going to play some songs we haven't played in a while. I'm sure that's the intention, but I'm sure we'll go back and play what we have done… Yeah, it's really tough. You gotta take that seat that if I was watching a band I was paying to go and see, I would wanna see those classics. If that's what you grew up with, that's what you wanna hear. You gotta do that. No matter how many times you've played them. You have to."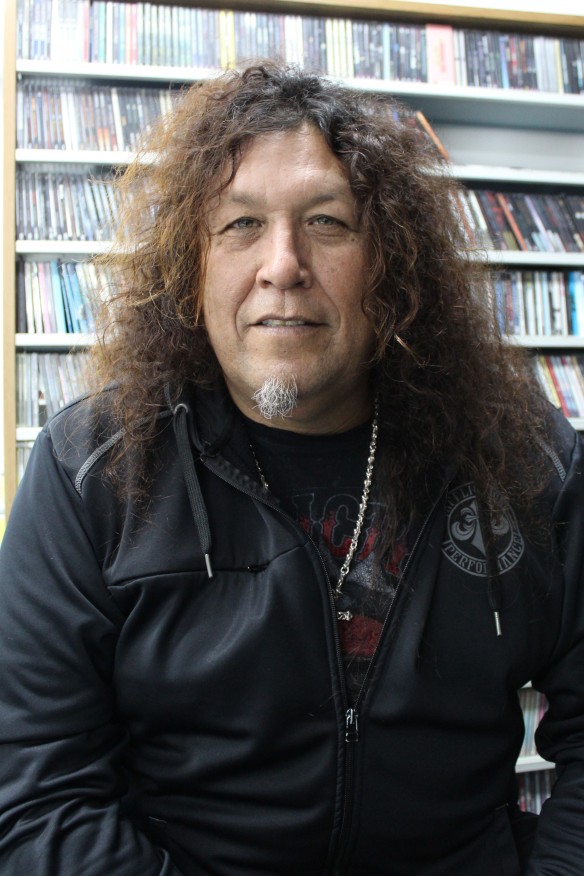 Testament has been touring regularly in Japan for three decades. Their first Japan gig was in front of a seated audience. "It was our first time having an audience sitting. We're up there, young and thrashing. They're just sitting there," laughs Chuck who also remembers that many of their fans came straight from their office jobs with briefcases and everything. "I guess you can't judge a book by its cover." Since that first encounter with Japan, Testament has focused on playing clubs and festivals in Japan where the audience can be more lively.
With Eric and Chuck the only two constant members of the band, many members have come and gone over the years. Testament has had people from other bands such as Anthrax, Exodus, Slayer and Megadeth in the band. "We've been a stepping stone for drummers!" says Chuck. "At some point we just had a revolving door, I guess me and Eric just keep playing. We've been fortunate to have great guitar players and drummers as fill-ins along the way. We have fun."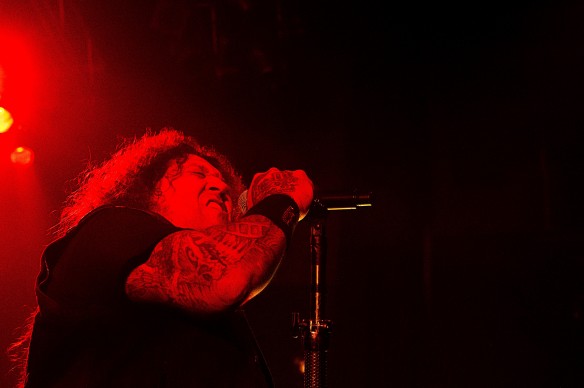 With a successful Japan tour completed, what's next for this hardworking thrash metal band? "Right after we get home from this, we start writing. We have all of March off and then April we hit the road. 37 shows. Us, Sepultura, Prong. It'll be a good package," says Chuck of the line-up for the US tour. "Then, June we will have off, somewhere in July we will continue writing. We got a couple of shows in July in Europe and then a short run in August. Then we're doing a major headline tour at the end of the year in Europe. We haven't done that in a while, so it's something I'm looking forward to."
Testament fans can expect to hear the results of the band's songwriting sometime in 2018 when the new album is expected to be released.
www.facebook.com/testamentlegions