Watain: Erik Danielsson on The Wild Hunt over Japan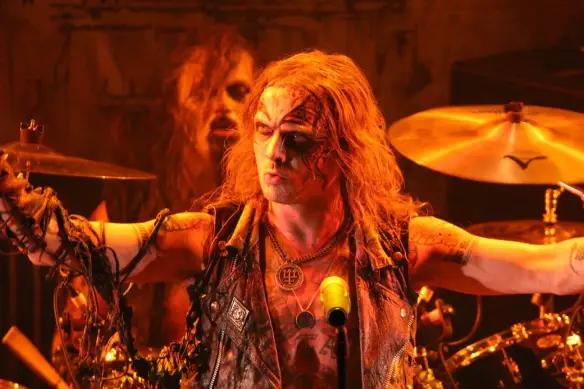 As Swedish black metal legends Watain returned to Japan with their "The Wild Hunt" tour, Roppongi Rocks' Stefan Nilsson caught up with band leader and vocalist Erik Danielsson backstage before their Tokyo gig.
Watain, one of the most talented, intense and creative forces in black metal since the late 1990s, is surrounded by a dangerous image and a reputation for outrageous stage shows that are among the wildest and scariest in the business. However, they are a very talented band with great music created and delivered by great musicians. Sometimes their music gets lost among the stage props and the many over-the-top media headlines.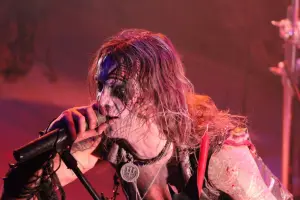 Watain, whose excellent fifth album, "The Wild Hunt", was released in 2013, is a band with great music that gets headlines for its shows more often than for its music. Has the stage show become such an important part of the overall Watain experience? "Yes, it has become that. But here in Japan, and generally when we fly to the other side of the Earth, the circumstances unfortunately don't allow for us to put on a major stage show. Here it is an extremely scaled down version of what we normally do. But I think it is great to do such gigs once in a while too. Usually we have a lot of fire on stage and now we have to create a different kind of fire sort of. It feels great doing these kind of shows where we have more focus on the atmosphere," explains Erik Danielsson as we meet backstage at Duo Music Exchange in Tokyo's Shibuya district.
Watain creates a rather complicated and sophisticated version of black metal. How does the creative process behind the music work? "I think it really difficult to explain the creative process. It is fucking abstract. The longer I keep writing music which is based on a lot of feeling, inward-looking stuff… After a few albums you have established some mystical kind of process that just works. The longer I work as a song-writing musician, the more the process expands, the more fits into it. It is sort of as if you get better at that 'language', becoming more articulate. You can express yourself in more ways than just one," says Danielsson.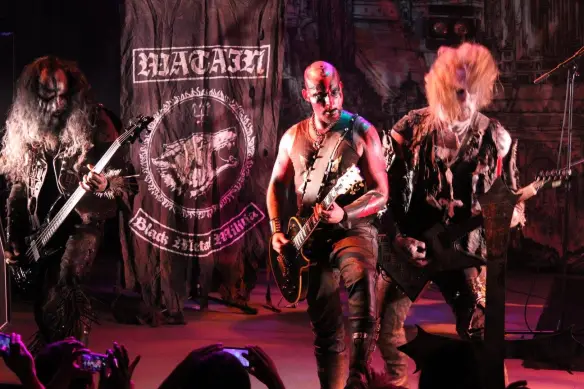 Erik Danielsson is Watain for many outside observers. He's clearly the face of the band. But make no mistake about it, Watain is no solo project, it is a band effort. While there have been some line-up changes since the band formed in 1998, in addition to the founding members Erik Danielsson, Pelle Forsberg (guitar) and Håkan Jonsson (drums), live members Set Teitan (guitar) and Alvaro Lillo (bass) have been playing with in Watain since 2007. "It is very much a band. We've always been very focused on being a band. I have sort of been the face of the band externally and that is probably why some people think of Watain in that way. But that is not exactly right as behind the walls there is a lot of group activity than what you might not see from the outside."
The music industry of today is very much focused on cherry-picking bits and pieces of artists' creative output. A world where listeners will download or buy a specific song rather than, as in the past, buy a whole album. Like many heavy metal greats of the 70s and 80s, Watain is a child of the "album band" tradition where bands create a collection of songs that belong together on an album. "I understand what you mean by 'album band' and I think it is great that people see us in that way. I take it as a compliment," says Danielsson. "But at the same time I want to have a band that can skip releasing another album and just do something completely different. It is really important to me to always feel that we can do whatever we want. That is one of the very few positive things about today's music industry. It's a bit more open – people are nowadays more prepared to do things differently. But we'll see. We can sit and talk about the next record and the next day we'll sit and talk about perhaps just doing a demo, a cassette with 50 copies. Fuck it! We'll take it as it comes."
In 2011 Watain won a Swedish Grammis award as "Best Hard Rock" act in Sweden. That was one of the main signs that mainstream media and the general public had taken notice of Watain. How does the band see this acceptance of the band among the masses? "That is quite a complicated and big topic. It is important to remember that the walls we have built around the band's core, they are very tall and impossible to break through. What happens inside these walls will happen regardless of what's going on with the Grammis awards or whatever the papers write about us or who comes the shows. None of that will change the backbone of the band at all. In our private lives we have turned our backs on most things apart from Watain. All our focus is inward looking instead of outward looking."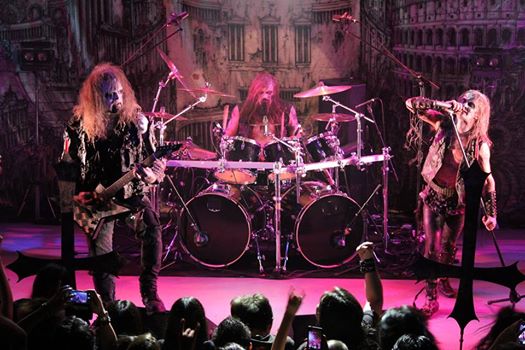 With a couple of triumphant shows in Japan done, what's next for Watain? "Now we'll keep touring. We're going to Australia after these Japan gigs. Then we have the US in November. After that the calendar is empty. These empty periods are quite rare for Watain. Usually it means something big will come up, in the form of an album or whatever else it might be. You have to be in that empty space in order to know what should come next. It's impossible to say," finishes Danielsson before he starts preparing for Watain's return to the Tokyo stage.
On stage the band members are all dressed up in their finest clothes (leather, spikes, studs…) and body paint. We do get a couple of upside down crosses and some candles and little bit of fire, but during this Tokyo show the focus is squarely on the music and the band delivers a great, one-hour set of fine black metal.