Video: An Evening with Nightstage – Classic American rock live in Hollywood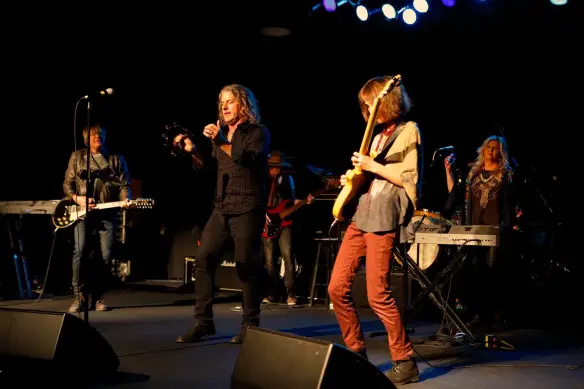 Our friends in brand new band Nightstage, led by guitarists and composers Nicky Renard and Max Foxx, recently did their debut gig in Hollywood, California. Performing classic American rock, at this performance Nicky and Max were joined by Robbie Wyckoff (Roger Waters, Michael McDonald, Keith Emerson) on vocals fronting a backing band made up of seasoned industry veterans Chad Cromwell (Neil Young, Mark Knopfler, Joe Walsh) on drums, bassist Robert Kearns (Lynyrd Skynyrd, Sheryl Crow), Jay Gore (Michael McDonald, Michael Bolton, Bobby Kimball) on guitar, Windy Wagner (k.d. lang, Joe Walsh, Neil Young) on keyboards and vocals and Jimmy Z (Rod Stewart, Tom Petty, Yes, Bon Jovi, Eurythmics, Etta James) on saxophone and harmonica. Here's the band's full debut gig which was recorded at SIR on Sunset Boulevard in Hollywood, California on 28th February 2018.
Nightstage's debut album "Sunset Industry", with Caleb Johnson on lead vocals, is out now.
Watch Nightstage rocking out live in Hollywood, CA here.
www.facebook.com/nightstageband