Album review: MaidaVale "Madness Is Too Pure" | Stockholm's haze rockers are back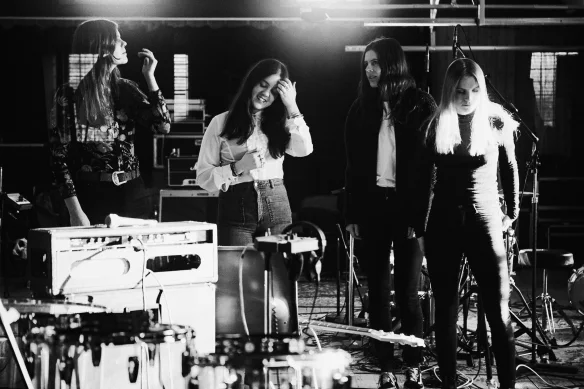 With its hazy rock'n'roll which oozes of psychedelia, Stockholm's MaidaVale stones us into the groove with its second album.
MaidaVale released its debut album "Tales of the Wicked West" in 2016. Now the band is back with the terrific follow-up album "Madness Is Too Pure". This album has some funky and groovy psych rock at the centre of a band whose sound shoots off in all sorts of directions. It sounds a bit like if Ace Frehley and Siouxsie Sioux jammed with The Doors at a late-night after party in a small and damp bedsit in London, if you know what I mean. It somewhat reminds me (but only to a certain degree) of the terrific vibes sent out by four groovy Swedish bands from the 1990s: The Shades of Orange, Whipped Cream, The Soundtrack of Our Lives and even Atomic Swing. At times it also echoes the sound of Solid Ground, a Swedish band that released the underground classic album "Made In Rock" in 1976.
But this talented Swedish quartet – consisting of Matilda Roth on vocals, Johanna Hansson on drums, Linn Johanesson on bass (I suspect she's the secret weapon of the band with those fantastic basslines) and Sofia Ström on guitar – takes influences from all over and create their own hazy mix of splendid rock and heavy psychedelia. It is often repetitive and monotone and also quite brilliant. At times it's retro, sure, but it is also quite timeless. I dare to say that it's quality music that will stand the test of time. The album is solid. It takes off in different directions but it is never boring, it never stands still. We get nine fab tracks by this groovy band on this album. "Golden Mind" is one of my favourite tracks. "Walk in Silence" is another, while the splendid "Dark Clouds" could have been something like a foggy "Twin Peaks" soundtrack. "She's Gone" should be released as a vinyl single. "Another Dimension" is hypnotising and so is "Oh Hysteria!". Haze rock at its best.
Weird? Yeah, somewhat. Wonderful? Definitely yes. MaidaVale's album "Madness Is Too Pure" is out on 23rd March via The Sign Records. Buy it.