Gig review: An evening with Marty Friedman and his guitars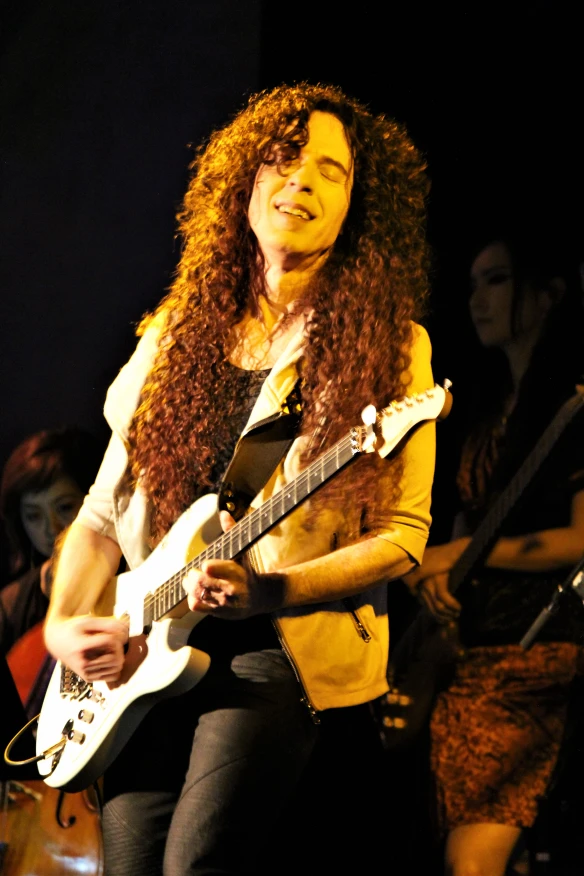 A special evening with Marty Friedman billed as "passionate guitar" turns out exactly like that: A musician, his guitars and plenty of passion.
Marty Friedman at La Donna, Harajuku, Tokyo, 23rd March 2018
Soon after guitarist Marty Friedman left Megadeth he relocated from his native USA and made Tokyo, Japan his home some 15 years ago. He is still here and he keeps doing a lot of interesting work across many different genres, some of it primarily focused on the domestic Japanese market. Not least because of his many TV appearances, Marty is a now a household name in Japan. Last year he released "Wall of Sound" (Ward Records), a terrific genre-bending solo album where he experimented with many different styles. A few weeks ago, an album called "B: The Beginning – The Image Album" was released. Marty produced the album, wrote all the music and played all guitar parts. He is about to embark on a tour of South America and Mexico and as a warm-up he put on a very special show at a small restaurant in Tokyo for a seated audience where everyone is within a few metres of Marty and his band. What a treat! He does all his talking during the show in Japanese. This is his adopted hometown and here he has a loyal following of fans open to whatever genres Marty decides to play.
Marty obviously has a solid background as a metal guitarist with first Cacophony and then a decade in Megadeth. But nowadays he never lets musical genres limit the music he creates. "I don't really have any kind of genre that I'm shooting to make sure I fit into," Marty said in an interview with Roppongi Rocks last summer. This evening he does everything from his more orchestral songs to his recent material. He is in fine form and in a great mood. The fact that "B: The Beginning" is topping several Japanese charts has most likely given him a well-deserved boost.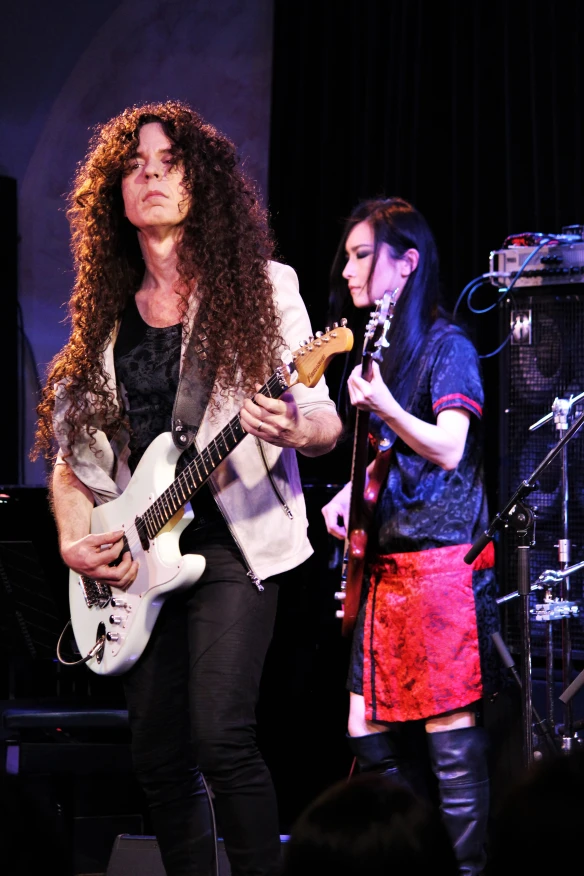 Marty has with him a fantastic Japanese band where the standout musician for me is the fierce bassist Kiyoshi. Just like her bandleader, Kiyoshi is an artist who transcends genres and is equally at home with metal mayhem as she is with J-pop. They do it all this evening, and, yes, they occasionally thrash it out with some serious shredding. Very pleasing for a Megadeth man like myself. In addition to his backing band, at this gig Marty is joined by a string section consisting of a cellist and a violinist. While the evening is mainly instrumental, Japan-based American vocalist Jon Underdown joins Marty on stage to sing two songs with the band, including the terrific "The Perfect World" from the "B: The Beginning" album. The evening's highlight for me is "Whiteworm" from the "Wall of Sound" album. Marty is on fire here and Kiyoshi offers us some insane slap bass. Another standout moment is a fab version of "Yuki no Hana", a cover of Mika Nakashima that Marty recorded for the 2009 album "Tokyo Jukebox". During the encore we even get to hear Marty sing as the band starts jamming around with "Hound Dog". We also get "Amazing Grace" in a twisted and great Marty version.
What a great evening for music lovers. Up close and personal with a master musician and his terrific band. I really enjoy seeing great musicians and artists who are not afraid to go outside their musical roots and disregard expectations. Marty Friedman is a master at that.