Interview: Girlschool "We just go straight through the amps!"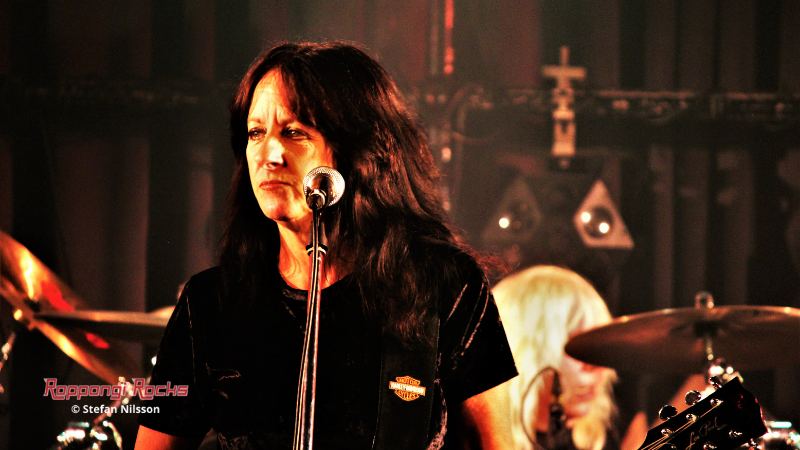 According to Alice Cooper, school has been out for summer for many students. But one British school has not had the summer off: veteran British rockers Girlschool toured Japan and Australia this summer. Roppongi Rocks caught up with the band backstage in Tokyo.
Founded in London in 1978, Girlschool has two remaining founding members: Kim McAuliffe on guitar and vocals and drummer Denise Dufort. Both have turned 60, but are still at the top of their game. Legendary guitarist Kelly Johnson passed away in 2007 and the other member of the classic Girlschool line-up, Enid Williams, left the band, once again, at the beginning of this year. Kim and Denise are joined in the current line-up of the band by lead guitarist Jackie Chambers and bassist Tracey Lamb. Tracey, a founding member of the band Rock Goddess, is back in Girlschool for her third (or fourth stint, really), having first played with the band in 1983.
Sitting in a small room backstage with the four members of Girlschool, there's endless banter and self-deprecating jokes. It never stops. They're the same on stage a few hours later. They're a lovely bunch of ladies and their British humour resonates well with me as I, too, spent a big part of my life living in London. 
It's now been 41 years since the band was formed. What motivates you to keep going after all these years? "We're stupid!" says Denise Dufort with a big grin across her face. "Stupidity!" screams Kim McAuliffe and continues: "But also, the fact is, it doesn't seem like it. It just goes so quick. Anyway, when we first started, if you would've told us then that we would still be going now…" Denise jumps in again: "No way!" before Kim says: "It just happened." Jackie Chambers explains that the band is still going because "We don't have any other friends!" before Denise screams: "It's true!"
Girlschool toured here Japan for the first time in 1982. What do you remember from that tour? "The first time you come here, it's so different," explains Kim. Denise adds: "Culture shock!" Kim continues: "I remember, when we went on stage, there was so much screaming, we thought we were in The Beatles. What the hell's going on here? The other funny thing I do remember is that where we're playing because it was a big theatre, they won't allow smoke machines. So, there was all this little crew, running in, literally, filling up bags of smoke outside the doors and ran into the stage!"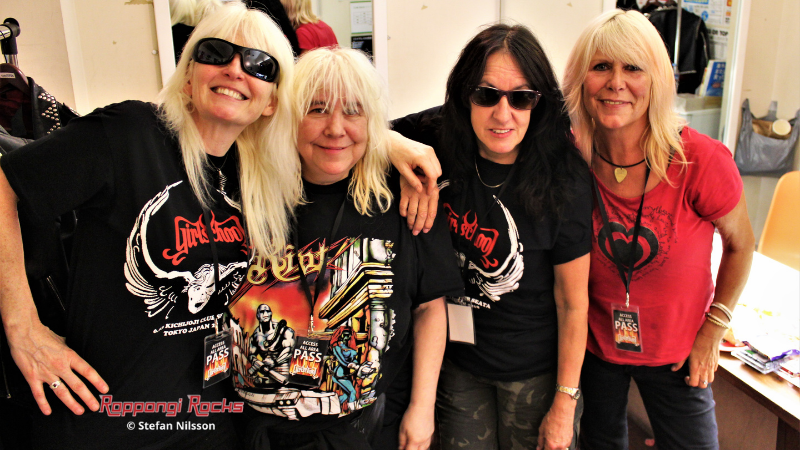 Lemmy and Motörhead have had a constant presence in the Girlschool story. What has his support meant for Girlschool? "I think what happened was that they gave us more of an identity," says Kim. "Obviously, we were touring way before we met Motörhead. We sort of had the same thing as Motörhead, the crossover thing. We played punk clubs – they'd think we were heavy rock. And when we played heavy rock clubs, they thought that we were punk. When we did that first tour with Motörhead, people went 'Ah! That's what they are! Whatever it is, whatever that may be.' The crossover thing, you know." Tracey Lamb adds: "Similar sound. When I was in Goddess in the early years, Jody and me went out and bought all the Girlschool albums and Motörhead albums and there was a similarity in the style, with the crossover punk and metal thing."
How do you balance playing old classics versus newer material? Do you ever think: Screw the old stuff, let's just play newer songs? "We'd like to," says Kim. "But the thing is, I always think, what would I like to hear if I came to see a band? I wanna hear the songs that I know, the classics. Everybody does." Tracey adds: "It's good to have a mixture, isn't it?" Jackie continues: "We put new ones in. We try to put them in, because people who've found us only a few years ago, and then there's some young people only just coming into the band now, so we have to put something new in." Kim takes over: "But having said that, since Tracey joined, we are playing four new ones, to us, in a sense, that we never usually play."
Jackie explains: "We put 'Bomber' in for the first time ever." Kim continues: "We've never played 'Bomber' live ever. But we do now! And also 'Action', which is a relatively new one. Tracey was on that album." Tracey quickly says: "1988!" before Jackie adds: "New in 1988! Haha!" Kim continues: "We play two new ones, 'Guilty as Sin' and 'Take It Like a Band', from the last album." Jackie feels the urge to explain that "When we say 'new', it is always like ten years ago!"
Your latest studio album, "Guilty as Sin", came out in 2015. Can we expect a new studio album anytime soon? "People are saying 'get a new one together' and we're thinking now when Tracey's back in, we should do something next year," says Jackie. 
Tracey Lamb is back in the band yet again as Enid Williams left. Was this an obvious choice? Is it a temporary or a permanent solution? "She's under initiation test," says Jackie before Tracey proudly says: "I passed. I'm in!" Denise explains: "I wanted Tracey back in the band. Because she's a great bass player. Me and her always play well together, so I wanted her back!" Kim continues: "This is her third time now. We've known each other for 40 years."
"It's fantastic being back," says Tracey. "I love it! I'm back to stay, I'm back for good. I've been away for about 19 years and now I'm back." Kim screams: "19 years? Bloody hell! Where's that gone?" before Tracey continues: "It's great! Because I left Goddess and then a few months later I got a call from Denise: 'Can you help us out first of all and see how it goes?' And we had such a great time in Spain and then we played Belgium, didn't we? It gelled musically."
Will Rock Goddess continue without you? "Yeah, they have got a new bass player now. They replaced me with a younger model. Haha! She's only 28!" says Tracey.
Jackie Chambers, who joined Girlschool in 1999, is referred to as "the new girl" by the others. "20 years! New girl?!" says Jackie. "We keep saying the new girl," admits Kim. "It's a bit like Ronnie Wood. He's the new bloke in the Rolling Stones!"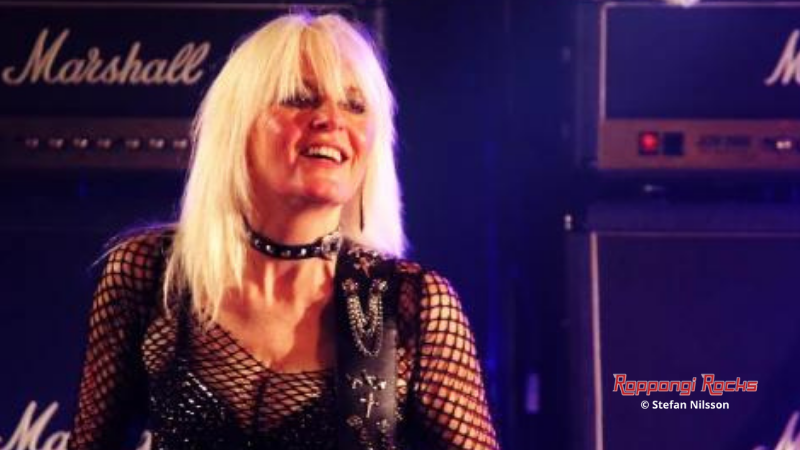 Jackie, you joined a legendary band more than two decades after it was founded. Now, some 20 years later – you have a major role in the band as lead guitarist and songwriter. Was that tough to achieve? "I didn't see it like that because they were mates," answers Jackie. "I'd met them all in 1995. Even though we were mates, I never saw myself in the band. Kelly wanted to leave. I never even thought about joining Girlschool. Me and Kim were doing a project, writing together at my house. No, actually we were just getting drunk, weren't we? Pretending to write songs! When Kelly at one point just had enough, because I didn't play lead guitar at all. I was in like punk stuff and played rhythm and riffs. She goes: 'Look, if I help you…' Cris Bonacci lived two streets away. She's like 'I'll teach you the songs!' And I thought: 'Alright then!' I joined a cover band to get my playing up to speed because I had never played lead guitar. They taught me the songs, I just went away and practised, thinking nothing will ever come of it. And then one day they said: 'We've got some gigs, a London gig and Wacken, which was Kelly's last gig. They wanted me to do Wacken and I went: 'Not a chance in hell is that gonna be my first gig!' in 1999. So, I said: 'OK, Kelly, you do this as your last gig and I'll take over there.' And it just happened. Then Enid came back. The first gigs we did was 2000. So, 1999 I officially joined. I just like writing music. I wanted to be a songwriter, not a guitar player. What went wrong? I get to do both now. I enjoy it. I don't write all the songs. I like to write music. We just work together, don't we, really? I jam with Denise to write songs and me and Kim swap ideas on the phone. It's really high-tech this band, whistling down the phone, an idea!"
Let's talk about the classic Girlschool sound. Throughout the years, you've had many different constellations when it comes to guitars and bass and how the lead vocals have been handled. This year you have again had a shift with Enid leaving the band and Kim being, more or less, the sole lead singer. How have you managed to keep it sounding Girlschool through all these changes? "I'm a bit worried about these gigs now," says Kim, "because we have like six in a row or something. I'm not used to singing all the songs. I need a bit of a break." She's pleading with Jackie and Tracey to take on some of the lead vocals. "I'm going to try one!" says Tracey who then a few hours later sings lead on "Watch Your Step". "I think it's just the Girlschool sound, isn't it?" says Jackie. "We don't use effects, you see. We just go straight through the amps. I think most bands use effects, pedals and things like that. Because we're straight through Marshall, that is the sound. So, whoever joins, I mean, obviously I'm sort of similar to Kelly in style anyway, so as soon as she starts playing, that's the sound, straight through a Marshall. That's it." Kim rounds it off: "We plug straight in! And I still use leads. People can't believe it. 'Where's your wireless?'" laughs Kim while shaking her head. A few hours later the band is on stage and killing it. What a fab band and a great bunch of Brits.
www.facebook.com/girlschoolofficial