Interview: Frax of Venus Mountains | Japan tour in August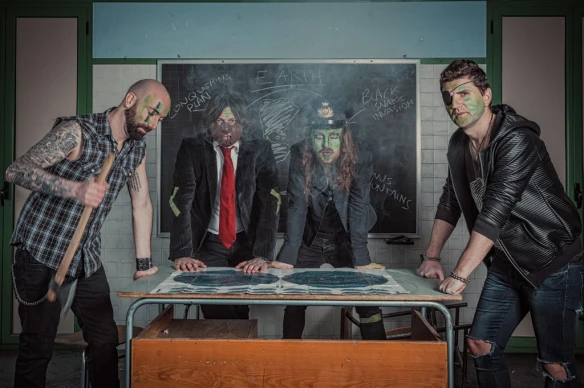 Italian hard rockers Venus Mountains, who released their latest album "Black Snake" earlier this year, have announced a five-date Japan tour. Roppongi Rocks' Stefan Nilsson checked in with vocalist and guitarist Stefano "Frax" Pezzotti ahead of the band's first-ever Japan tour.
Italian hard rockers Venus Mountains have been around for nearly a decade. They have released an EP and two full-length albums and toured in Europe and the US. Now they are ready to win over the Japanese fans.
Over the years you have toured a lot in Europe and also played in the US. Why have you decided to come and tour in Japan this summer? "We decided to come to Japan because we love it from the very bottom of our souls and after the US tour in 2015 we would like to promote the new album in other parts of the world this time."
What are your expectations from your Japan tour? "We hope to have good shows and we would like to play every night at our best."
What can you tell us about the members of the current line-up of the band? "The members are still 75% of the original line-up of 2009 when we were born. We have only changed our lead guitarist in 2015 to the current one, Mick Violence." In addition to Mick and Frax, the Venus Mountains line-up is completed by bassist Marco "Sexx Doxx" Dossi and drummer Morris Archetti.
Your style of music is a sort of blues-based hard rock with some great melodic touches. At times you sound a bit like sleaze rock and acts like Mötley Crüe or Skid Row. How do you prefer to describe your music? "Yeah, we like Mötley and Skid too. We opened a gig for Skid Row last month in Italy. Each of us has different musical influences. This is the secret in our sound, a mix of heavy classic, hard rock and blues, a cocktail of one-third Motörhead, one-third Mötley Crüe and one-third AC/DC."
Your lyrical themes seem to mostly be classic rock song issues such as rock'n'roll, partying and ladies. "Mostly we talk about these things, especially ladies. But sometimes we write about war, protest or about our landing from the planet Venus," explains Frax with a reference to the band's official narrative of having being formed on the planet Venus in 2009 before they arrived on Earth.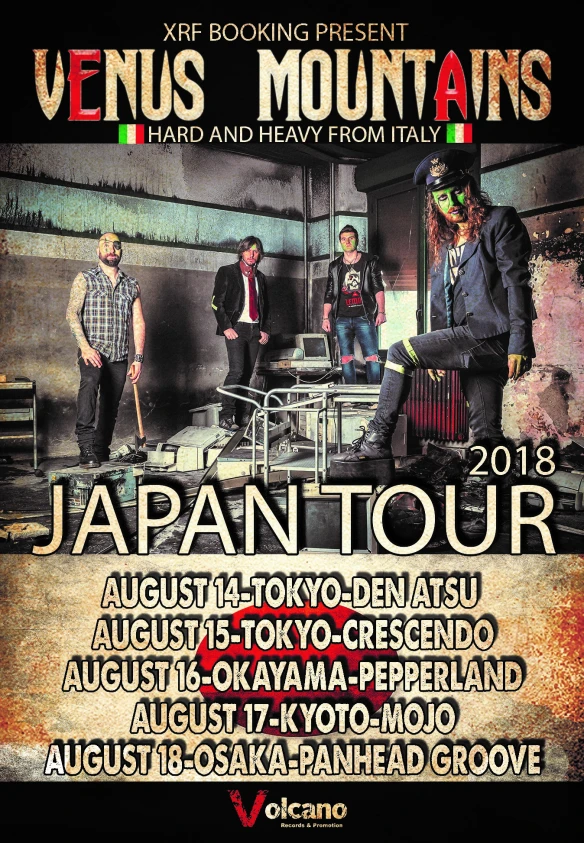 What musical influences do you have? "A lot of bands: Motörhead, AC/DC, Metallica, Iron Maiden, KISS and many other bands from 1970 to 1990."
Is there a big difference between Venus Mountains in the studio and when the band performs live on stage? "We try to do our best to have the same style and sound in the studio and also on stage. Of course, live we try to do crazy things, the special ingredient of the Venus live show."
Your latest album, "Black Snake", was released earlier this year. How does this differ from your earlier work? How has the band and the production evolved? "The songs are not really different from the previous album. We obviously talk about other things in other ways and we have paid more attention to details. We took a lot of time for this album but we are happy with the final result. We hope that those who listen to it feels the same."
You're working with Volcano Records in your native Italy. Are they working for you globally or do you also work with other local and regional labels in other countries to get your music accessible to fans worldwide? "At the moment we are working with Volcano Records and they are helping us a lot both in Italy and in Europe. Now we hope to find our space here in Japan too and we are happy to be able to bring our music here."
You can catch Venus Mountains live on stage in Japan at these gigs:
Tuesday 14th August: Den Atsu, Tokyo
Wednesday 15th August: Crescendo, Tokyo
Thursday 16th August: Pepperland, Okayama
Friday 17th August: Mojo, Kyoto
Saturday 18th August: Panhead Groove, Osaka
www.facebook.com/venusmountains