Interview: Brian Ross of Blitzkrieg talks about true British metal and the blessing and curse of Metallica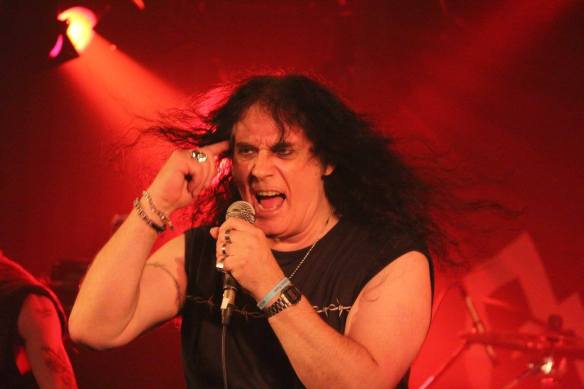 During a recent visit to Japan by British metal band Blitzkrieg, Roppongi Rocks sat down with legendary frontman Brian Ross to talk about the blessing and curse of Metallica, keeping a consistent sound, the decision to re-record the band's debut album and how to juggle two bands.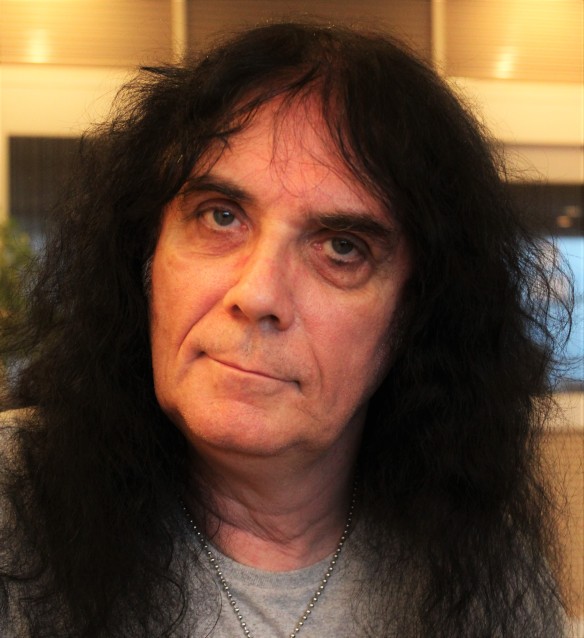 Formed in Leicester in 1980, Blitzkrieg was one of the early heavy metal bands in Great Britain. They remain a very active band today, still touring and releasing new albums. The band's mainman and vocalist Brian Ross is also currently fronting another of his old bands, Satan.
Two things make Blitzkrieg stand out from many of the other early British metal bands: their new music is as good as their classic songs from the 80s and frontman Brian Ross has kept his voice intact. Blitzkrieg are better now than they ever were.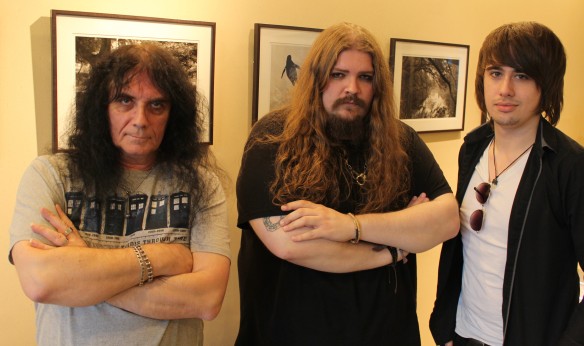 The current Blitzkrieg line-up, consisting of Brian Ross (vocals), Ken Johnson (guitar), Alan Ross (guitar), Bill Baxter (bass) and Matt Graham (drums), has managed to keep the signature Blitzkrieg sound alive and well. Some people consider the band part of the original NWOBHM scene as well as early influencers of what became thrash metal. "It's not that I don't like the New Wave of British Heavy Metal per se," says Brian Ross as we sit down at the band's Tokyo hotel ahead of their second Tokyo gig. "It was a very important movement, but I never kind of ever saw Blitzkrieg as actually being part of that, believe it or not. Because we were around before that began."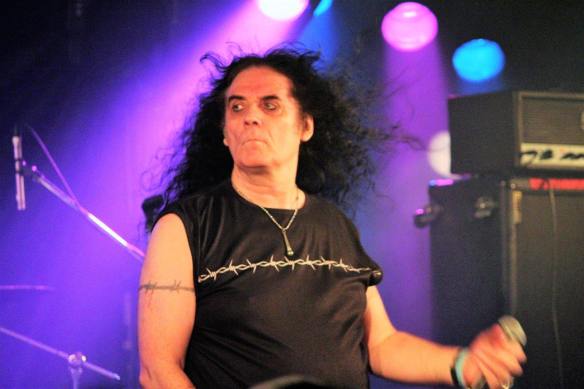 Blitzkrieg and Satan are not only sharing the same frontman, the two bands have also shared some other members and guest spots as well as songs (the Satan song "Pull the Trigger" is played both on record and live by Blitzkrieg). "Usually it is very separate, but it can get really confusing," admits Ross who insists the bands are very different. "I class both Satan and Blitzkrieg as what I call True British Metal. If you kind of look at the likes of Judas Priest, I would say that Judas Priest was probably the first true British metal band. That's kind of where I would place it. Not to say that Blitzkrieg and Satan are identical, because they're not. They are very, very different entities. Although the voice is the same, the lyrical content is different for both bands and also, the actual sound of the band is quite different. This is not my analogy but other people have said that they liken Blitzkrieg to Judas Priest and Satan to Iron Maiden. It's just to show the difference between the two, really. I don't actually agree with that but it's not for me to say."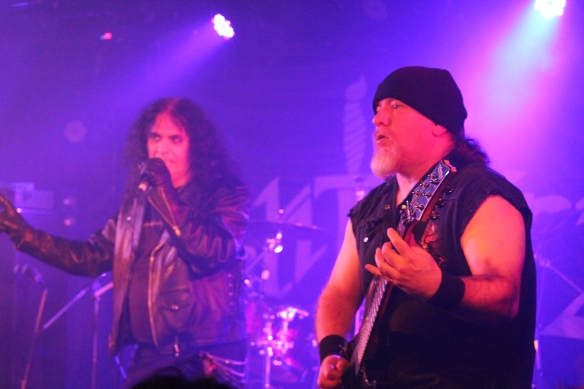 With two active bands, how does Ross prioritise between them? "I'm not going to answer that! Because if I answer that Blitzkrieg is more important, then Satan are going to get upset. If I say that Satan is more important, these guys are going to get upset," says Ross and points to Blitzkrieg's guitarist Alan Ross (Brian's son) and drummer Matt Graham who are sitting next to him. "I don't see it that way. To me, I'm kind of balancing the two things. They're both very different entities and they both demand different things. Ironically, the three of us sat here, all three of us are also in an Alice Cooper show. I really like Alice. I have a lot of respect for the guy! It's kind of just a juggling thing, just balancing one against the other. It's not prioritising, it's whoever gets the gig first."
Brian Ross is the only member still in the band from the 80s, but somehow he's been able to keep the band's signature sound. "I think the reason for that is because, mainly, as people have left the band I have tried to replace them with a guitar player, drummer, whatever it might be, that kind of complements what they are replacing. When Blitzkrieg was originally set up, the whole idea of the Blitzkrieg sound came from two kind of corners, if you like. Jim Sirotto on one hand was greatly influenced by Ritchie Blackmore and Jimmy Page. And Ian Jones, the other guitar player, was greatly influenced by Judas Priest. When you put those influences together, that is what made Blitzkrieg sound like Blitzkrieg. That's what it was. It's kind of a mix of Led Zeppelin, Deep Purple and Judas Priest. That kind of is what it is. So, throughout the years, I've tried to maintain that kind of feel. It's quite easy in some respects because Alan here has worked with pretty much every other guitar player that's ever been in Blitzkrieg, because he's been around the band all of his life," explains Ross the advantage of having his son as the band's current guitarist. "He has jammed with pretty much every guitar player that's ever been in Blitzkrieg, including Jim Sirotto."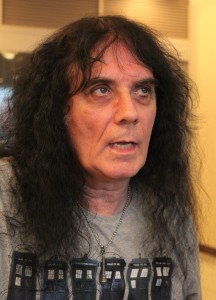 Many fans have discovered Blitzkrieg thanks to Metallica. Metallica recorded a cover of the song "Blitzkrieg" already back in the 80s and has also played the song live on many occasions. Metallica's drummer and co-founder Lars Ulrich has also mentioned Blitzkrieg as a major early influence as Metallica developed its own sound in the early 80s. "It's a double edged sword. On one edge of the sword, obviously it was an honour for them to do that. It was really nice for them to say that we influenced them in their early days and actually still do influence them apparently, because every time a new Blitzkrieg album comes out, Lars is on the phone saying 'Can I get a copy of this, please?' It's nice from that angle, but on the other side of the sword, it's kind of been difficult in that there is an awful lot of Metallica fans out there that actually think that 'Blitzkrieg' is a Metallica song. That is not really where you want it to be. Not that Metallica has ever claimed that the song is theirs, they haven't. They quite strongly said 'No, it's not our song'. They promoted it quite well."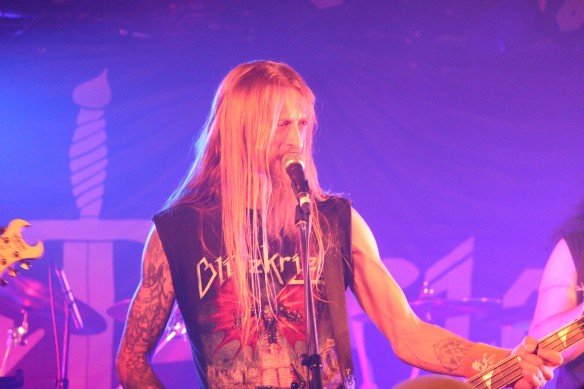 One evening back in the 80s, the phone rang at Brian Ross's house. "He said 'Hi, this is Lars Ulrich from Metallica!' I said 'Yeah, right!' and I was gonna hang up," explains Ross his first contact with Metallica. Ulrich stopped him and asked permission for Metallica to record 'Blitzkrieg' which Ross agreed to once he realised that this was for real. "I spent ages on the phone telling him what the lyrics were, what the chord progressions were and everything and they still got it wrong! Hehe!! But, hey, they did their version of it and that's great. People often ask me what I think of their version. Although it isn't technically right, musically or lyrically, it's very Metallica. I think that is great because that is the way it should've been. Similarly, when we did our thank you to Metallica, finally, after years of wanting to do a Metallica song for that very reason, as a thank you. We did our version of that song and it was kind of: this is the way we would've done it. Lars actually loved it! That was nice."
Blitzkrieg has also recorded covers by bands such as Venom and Judas Priest, including recording Venom classic "Countess Bathory" together with Conrad "Cronos" Lant. "The Venom one came about because we were actually in the studio recording the album 'Unholy Trinity' and Conrad came in. He sat and listened for a while and he was tapping his foot, nodding his head and stuff. He said 'This is great! This fabulous!' And I said 'Oh! Do you want to do a guest spot on one of the songs, do a song together?' We were just sitting having a cup of coffee and talking it through and then we decided to do 'Countess Bathory' instead because that is actually my favourite Venom song. So, we did 'Countess Bathory' and the interesting thing is that now when you see Conrad's version, they actually do a cover version of Blitzkrieg's cover version of 'Countess Bathory', not the original Venom one. Because we did it slightly different."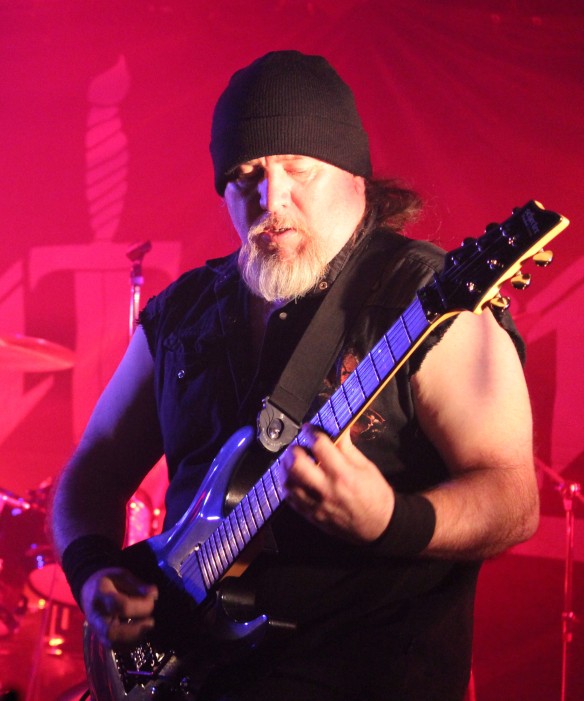 Blitzkrieg's legendary first single, "Buried Alive" (with "Blitzkrieg" as a B side), was released in 1981 but it wasn't until 1985 that the band released its debut full-length studio album. "Once we split up Blitzkrieg in 1981, I thought that that was the end of it. I put together another band which I called Avenger and we actually recorded what was originally meant to be Blitzkrieg's second single, 'Too Wild To Tame'. That became Avenger's first single. It really wasn't sort of working my way and I wasn't happy with it, so I joined Satan. Then there were problems with Satan, so I moved on from that. I started to get to the point where I was getting lots of mail from people saying 'What happened to this elusive Blitzkrieg album that people talk about? Is it true? Does it exist? Was it recorded?' So, I spent a lot of time answering all of these questions. 'Yes, the album exists, but only in my head because that's where the songs are'. Only some of them were recorded. The rest of the songs were possibly on rehearsal tapes and stuff. I kind of thought what I will do, just to set the record straight and lay the ghost of Blitzkrieg forever, I'll pull all of these songs together on an album. It was going to be a Brian Ross album. When the press got hold of the idea they reported it as Blitzkrieg are reforming, they're putting out a new album." Ross's plan then changed and he released the album as a Blitzkrieg album. "It was meant to be a stand-alone thing and I was going to move on to do something else. But then Metallica covered 'Blitzkrieg' and then the whole thing just became a circus. Everybody wanted Blitzkrieg: 'When are you touring? When are you doing this? When's the next album?' In the end I thought: this is what people want. I'm not going to stand in the way of that. It would have been stupid not to".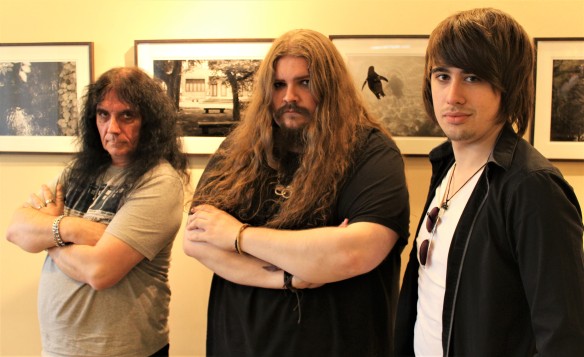 In 2015, Blitzkrieg re-recorded the band's classic 1985 studio album "A Time of Changes" and released it as a 30th anniversary edition with two bonus tracks ("Too Wild To Tame" and "Jealous Love") in addition to new recordings of the nine original songs. This was a result of Ross not being able to buy the rights to the original record from Universal in the USA. Ross thus decided to re-record a new version of the album in order to make the music available to Blitzkrieg's fans. "I own the songs just not the physical media" smiles Ross. And there may possibly be more re-recordings of some of the old Blitzkrieg albums. "They own pretty much all of the other back catalogue as well and we are going to have the same problem with them all the way down the line."
Blitzkrieg, who came to Japan to headline Spiritual Beast's Japanese Assault Fest, were very well received on the-band's first-ever Japan visit in November. "Having been here with Satan already, I knew how dedicated these fans are."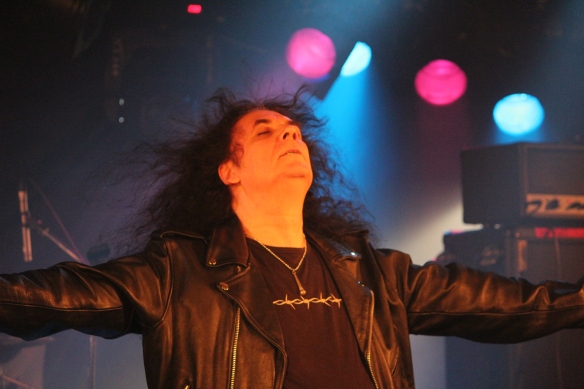 Re-recordings of classics aside, there may be a new Blitzkrieg studio album in the making. The band's latest proper studio album, "Back from Hell" came out in 2013. "Alan is working on some ideas for some new songs. Ken is also doing the same thing" explains Ross. The band will now work on developing these initial ideas to see where that takes them. Hopefully that will mean a new studio album soon.