Interview: Nicke Andersson and Linus Björklund of Lucifer | "There's quite a bit of ABBA in Sabbath!"
After a splendidly high-energy Lucifer gig in Tokyo's Shibuya district, Roppongi Rocks' Stefan Nilsson sits down backstage with Lucifer's drummer Nicke Andersson and guitarist Linus Björklund to talk about the evolution of the band, songwriting, tuned-down guitars, the poppy side to Black Sabbath and much more.
The European band, founded by German singer Johanna Sadonis (ex-The Oath) in Berlin in 2014, has evolved a lot between its two albums. Gaz Jennings of British doom band Cathedral played an important part in the band's early days but with his exit from the band, things have changed a bit musically. The current line-up of Lucifer consists of Sadonis on lead vocals, her Swedish husband Nicke Andersson (Entombed, The Hellacopters, Imperial State Electric) on drums, Austrian Alexander Mayr on bass and Swedish guitarists Martin Nordin and Linus Björklund. Their latest album, "Lucifer II", was released in 2018.
Welcome back to Japan! "Thanks!" says Nicke Andersson who has been here a few times over the years. "It's the first time for me," says Linus Björklund. 
It is hard to accurately describe Lucifer's style of rock music, but Johanna Sadonis has made it clear that she's not keen on being called a stoner rock band. "It's difficult," says Nicke. "I think the easiest way, a kind of shortcut, is to say it's a mix between Black Sabbath and Fleetwood Mac. Done! There's quite a lot between there. It's obviously Black Sabbath-influenced, but also quite a lot more than that." Linus adds: "As long as it's not stoner rock! We do not want to be associated with that."
Lucifer has become a new band with different members between its two albums. The band's sound has also evolved as Gaz has been replaced by Nicke as Johanna's songwriting partner. "When Johanna founded the band following The Oath's much too early split, she had a vision for the band. But it became a bit different as she started writing songs with Gaz from Cathedral. When I heard the first Lucifer album, I thought: 'Damn, this is like Cathedral but with a good singer!' Haha! No disrespect to Lee. One can immediately hear that it is Gaz from Cathedral. He has a special sound and I like Cathedral, I'm a fan. I think that if Gaz were to write a KISS song, it would still sound like Cathedral!" explains Nicke.
Nicke continues to explain that he liked what early Lucifer sounded like but that he soon saw a chance to get closer to both Johanna (his future wife) and the band. "I really like the first album a lot. It's a bit of a strange word, but Johanna and I started dating. I was really interested in how it is to write songs together with others. I write songs more or less on my own. When I've had help, it's been with some lyrics, but I've never written music together with someone. I've had some draft texts with some blah blah and nonsense English and then Dolf or Kenny have written the lyrics," explains Nicke with a reference to Dolf de Borst and Kenny Håkansson, his songwriting partners in Imperial State Electric, The Hellacopters and Entombed respectively. "I was really interested in the songwriting process. I was also very interested in Johanna!" says Nicke with a big smile. "Yes, obviously!" says Linus. Nicke continues: "Then she called and said: 'Do you know what happened?' No. 'Gaz is leaving.' Oh! She was distraught. They wrote 50-50. During the call, I thought that perhaps this wasn't so bad. Perhaps I can do something. She thought I was just trying to be nice. But then we said: OK, let's try! We started sending drafts back and forth. The first song we got sorted was 'Dreamer'. I immediately thought that this will be great. Melodies and music always come at the same time for me. It's very rare for me to just come up with a riff. Johanna has told me that it wasn't the case with Gaz."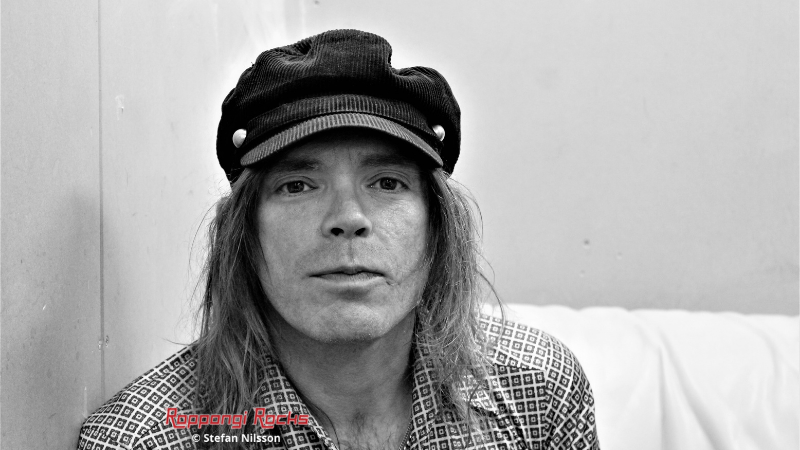 "On some of the songs, the verse and the chorus have the same riff. That is quite unusual," explains Linus about the old Lucifer songs. Nicke continues: "He thought: 'Here's a pile of riffs. Do something with them.' That must've been harder. That's how it is. Nowadays Johanna says that this is how she wanted to do it then as well, but perhaps she's just saying that to be nice too… Even if I try to do a hundred riffs, it still turns into some kind of pop thing. I just can't resist! Let's go back to Sabbath: all of us in the band like Sabbath a lot. But I think that I, or all of us, like parts of Sabbath that these doom bands seem to have forgotten. I think there is a lot of ABBA in Sabbath!" "Absolutely!" adds Linus, before Nicke continues: "But they ignore that. They're like – let's take the heaviest Sabbath riff and make a whole career of it. But I want to catch, or steal, everything, even the poppier parts."
"Born Again" remains Black Sabbath's best-ever album. I am dead serious, but Linus laughs out loud before Nicke says: "No, it isn't. But it is very good and really underappreciated. There are of course other bands than Sabbath, but Sabbath really has parts that people tend to forget about. They're really poppy and that is why it becomes really heavy when it's heavy." 
The two of you were not in the band when the first album was made. Does this have any impact on things when you put together setlists for the gigs? Do you feel like you can skip the old material and focus on the newer songs? "Quite the opposite!" says Linus. "It's more Johanna," says Nicke. "We want to play more of the old songs than Johanna as she's already done a world tour with them." Linus continues: "We think it is fun to play those songs. She wants to do more new material and we want to keep the old stuff. The band is Lucifer. There are two albums." Nicke adds: "Thus, we end up with some kind of compromise." "It is also about respecting the band's whole career," says Linus. "The band was formed without us and thus we can't come in and just… No!" says Nicke. "Apparently, that's what Brian Robertson did when he joined Motörhead. He didn't want to play 'Ace of Spades'…"
You joined an already great band and made some material changes. Were you ever worried about how the fans would react? "We can only play the way we play," says Nicke. "I don't think Johanna was worried. I thought about it. Here comes the pop guy and destroys the whole doom thing! There was more of the mysticism and hocus pocus on the first album. At the beginning when I and Johanna started writing songs, she was like: 'Shall we skip tuning down?' No! It has to be tuned down, I said. That's how it should be." Linus adds: "It's important. It gives a whole different vibe to the songs and, once again, Black Sabbath tuned down. Haha!"
A few days ago, you were on a large stage at a major summer festival in Sweden. Now you're here doing a club gig in Tokyo. Do you approach different types of gigs and different audiences in the same way or do you somehow adjust what you do? "No, we only have the songs that we have. There's no difference" says Nicke. Linus adds: "I believe that we think it is a bit more fun to play at a club because we get a bit closer on stage." "There's something special about when a festival is great too. The opportunity to win over a few new fans. But I think it is a bit safer at a club. Nothing bad about festivals, but…" says Nicke. "We have mainly played club gigs together," says Linus. "I saw a picture from when Kris Kristofferson played Gröna Lund the other day. And that is quite a big stage. They all stood right next to each other, all of them. Because they wanted to keep it tight and they wanted to feel each other. I can relate to that a bit. Sometimes I feel as if we are too far apart from each other on stage." Nicke adds: "I've noticed that at certain festivals where I am supposed to sit and play the drums on some big podium. 'Hello? Can't you come up here? I am so lonely up here!' I think that we, in typical Swedish fashion, find that somewhere in the middle of the two extremes is best." 
Both Nicke and Linus have other musical commitments outside of Lucifer. Linus plays with the band Vojd while Nicke has numerous bands and projects, including the reformed versions of Entombed and The Hellacopters as well as the splendid Imperial State Electric and much more. Getting it all to fit in logistically isn't always easy. "The logistics are difficult. But where there's a will, there's a way to solve it somehow. But it is tricky," says Nicke. Linus continues: "We have to plan far in advance. But sometimes we are not doing that and then it becomes hard. But we're learning all the time!"
Have you been forced to take in fill-in musicians? "I started as a fill-in really" explains Linus. "When a new line-up was forming, Robin Tidebrink was there. Martin joined at the same time. Martin couldn't make the first few gigs and I was asked if I could do them. Yes, obviously I can do the gigs. Subsequently, I filled in for both of them for a while. Robin eventually quit the band as he became a father and such. Then I got the question if I could join permanently." Nicke adds: "But since then we haven't done it. Not yet…"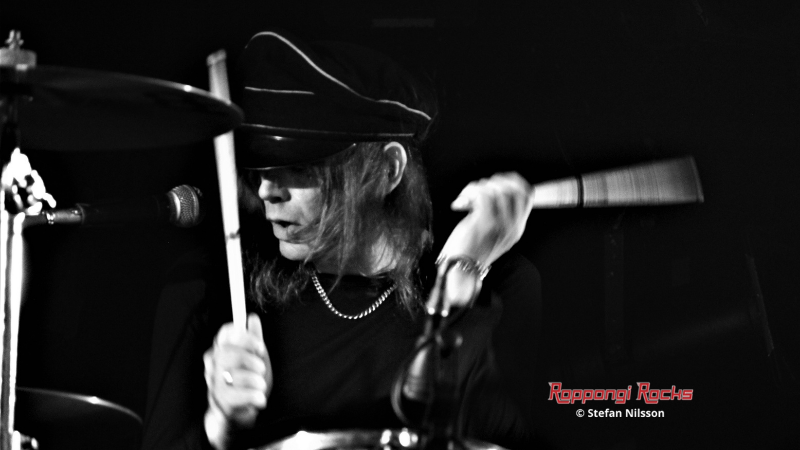 While you now have a strong line-up, the "Lucifer II" album was basically recorded as a trio. "That was mainly because we couldn't find the time. We thought: Let's do this now in order to finish the album" says Nicke. "Otherwise it would've taken even longer. The idea was to get it done faster." Linus adds: "It is hard to get an album done with a complete band. It is perhaps almost easier when you're not that many people." Nicke continues: "But now we've recorded bass and drums for a track for the next album and so we have started!" The new song is called "Ghost" and the band performed it live on stage in Tokyo. Playing new songs live before they are recorded in the studio can be a good way to test new music. "For the sake of an album, it would absolutely be best to have performed the album for a year. Isn't that the way that Bear Quartet does it? It's not very commercial, but it's fun that they perform an album for a year, then they record it, release it and they never perform it any more. They then perform new material!" says Nicke. Linus continues: "It's a weird way to go about it but kind of cool. The album must get better that way." Nicke adds: "That is obvious!" before Linus continues: "They have played through everything and rehearsed so much and tested the songs and been able to make amendments along the way. That is a luxury!"
What's next for Lucifer? A new album? It isn't that long ago since you released your last album. "Much too long ago!" says Nicke. "I feel like it was so long ago. It should be like Creedence. Didn't they release three albums in 1969? All hits! That's how it is done! We are aiming for March next year. That's when it should be released." Linus adds: "That's when it will be out. We will work on it this year in parallel with touring and festival gigs…and other bands." Nicke continues: "We won't be going into the studio for two weeks and then be done. Rather we'll be doing bits and pieces here and there." "We do have the luxury of having two studios in the band. I have one and he has one" says Linus with a nod to Nicke.
They do great studio albums, but Lucifer is also a phenomenal live band where the skills of the musicians are built around the obvious centre of attention, Johanna Sadonis. "We believe that it is very important to be great live. If you can't deliver on stage you might want to consider not playing at all. It is impossible to not look at Johanna when she's on stage," says Linus of his bandmate who combines a terrific voice with a world-class stage presence.
During August, Lucifer will tour North America. If you're there, you should go and see them and spot the ABBA influences in Black Sabbath.