Album review: The Night Flight Orchestra "Sometimes The World Ain't Enough"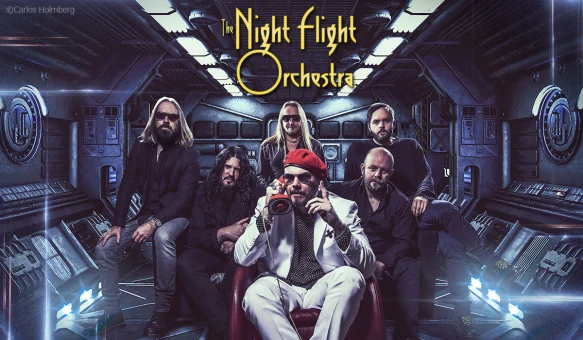 The Night Flight Orchestra, featuring members from Soilwork and Arch Enemy, is back with another fabulous melodic rock album. Heavy and dark dudes playing sunshine rock!
In The Night Flight Orchestra, vocalist Björn Strid is joined by his Soilwork colleague David Andersson on guitar, the one and only Sharlee D' Angelo (Arch Enemy, Witchery, Spiritual Beggars, King Diamond, Mercyful Fate) on bass, as well as Richard Larsson on keyboards, Jonas Källsbäck on drums and Sebastian Forslund on guitar. Despite the members' dark and heavy musical roots, this is sunshine rock. It is a fabulous Swedish take on the type of classic American rock music performed by bands such as Journey, Foreigner, Boston and Kansas. The Swedish heavy metal lads manage to pay tribute to those bands – with a fab retro feel – while at the same time sound modern. The Night Flight Orchestra is a side project for when the band members are not busy with their many other bands and projects. This is a project born out of love for music and the fun of playing together with friends and without any high ambitions. That's perhaps one of the explanations of why this is so good and laidback. I can't stop thinking that this would be a killer show for a Las Vegas residency.
Following last year's terrific album "Amber Galactic", the band is already back with its fourth full-length studio album. It's their best album so far. Strid's voice is equally good at singing this type of soft music to the heavier stuff he does with Soilwork. The sometimes sugary melodies and the 80s keyboards are guilty pleasures that few rockers can resist. This is catchy, quality soft rock, born out of the music of the 70s and 80s but dressed in a contemporary suit.
The album lifts off with the agenda-setting fast rocker "This Time". The message is loud and clear. Here's a bunch of friends with an album full of great music that makes you happy. The album's title track is a celebration of awesomeness and a great choice as the soundtrack to your pool party with umbrella drinks, while "Moments of Thunder" is simply fantastically epic and "Lovers in the Rain" should be a radio hit. "Winged and Serpentine" is one of my favourite tracks and so is "Paralyzed" with its fantastic groove and the interaction of the guitars and keyboards. But best of them all is the Japanese edition bonus track "Pacific Priestess".
As much as I love dark, heavy music with no hope of any daylight, I'm also a sucker for catchy classic sunshine rock. Summer has arrived here in Tokyo and this is the season's soundtrack.
The Night Flight Orchestra's album "Sometimes The World Ain't Enough" will be released on 29th June via Nuclear Blast internationally and Ward Records in Japan.