Bruce Kulick on life in and after KISS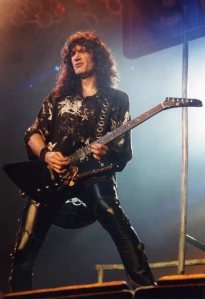 On recent tours, legendary rockers KISS have been playing some songs from the band's unmasked era (1983-1996), such as "Lick It Up", "Hide Your Heart" and "Heaven's On Fire". Bruce Kulick was a big part of KISS in those years as the band's lead guitarist from 1984 until 1996. Roppongi Rocks' Stefan Nilsson decided to have a chat with Bruce Kulick about his years in KISS and what he has been up to since.
Tell us the story of how you got the lead guitar gig with KISS in 1984. What's it because your brother Bob had worked with KISS and that's how you got introduced to the band?
"Bob was helpful in KISS knowing about me, but it really came down to the session that Paul wanted me to play on for 'Animalize'. Others in New York knew I played guitar and recommended me other than my brother. That session turned into twelve years in the band."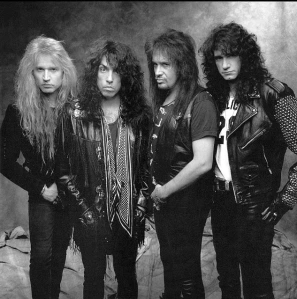 You played on five studio albums during your time in KISS. Which one is your favourite and why?
"It's more than that, when you count 'Smashes, Thrashes and Hits', but I won't count! My favourite is 'Revenge'. It was very focused and Bob Ezrin was amazing to record with. But all of them have songs that I love on them."
What was your best moment with KISS?
"There are too many! Certainly the tours, the huge crowds, and the fans were awesome always. Madison Square Garden was a thrill for a native New Yorker."
How do you think KISS differed musically during the "unmasked era" of 1983-1996 which you played a big part in? The fact that KISS currently are playing some of the songs from that area is obviously a testimony that there were some much-loved quality tunes created then.
"Because of players like Eddie Van Halen, the guitar playing had to be competitive. KISS music is always excellent to me, no matter what era. I am glad they do some from my era."
Following your official departure from KISS in 1996 you have been involved with their 1998 album "Psycho Circus" and other KISS-related collaborations as well as appeared at KISS expos and happenings. What is your relationship with KISS today?
"We are close. Gene, Paul and Eric came to my wedding in January 2014. Of course sitting with them at the table at the Rock and Roll Hall of Fame showed to me their appreciation. We will always be friends."
When Ace Frehley departed KISS again in 2002 and Tommy Thayer took over – was there ever any discussion with you about rejoining and putting on makeup? If so, is it something you considered doing?
"I was never asked. I think the way Ace departed, being unreliable, made the 'stand in' position from Tommy working with them, a real easy fit. I miss being in KISS but not being 'The Spaceman'."
Did it upset you that you were not included in KISS' induction into the Rock and Roll Hall Fame?
"I knew the Hall of Fame would not allow more than the original. So, not really. I loved the attention I got from the event. So for me it was a win anyway. The fans know what I have contributed, so screw the Rock and Roll Hall of Fame."
Having played lead guitar in KISS for 12 years, in 2000 you joined another major 70s band, Grand Funk Railroad. Is it difficult as an artist to join such established bands and try to contribute your own ideas and skills?
"I seem to do that well. I can take signature riffs, and make them my own without taking much away from the original. So it works. Grand Funk Railroad is a terrific band, with great material. 15 years now!"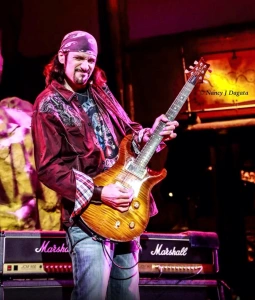 You've been playing with Grand Funk for some 15 years now but there's been no new studio album from the band during that time. Will that change?
"It's really up to Don Brewer and Mel Schacher.  It's their band.  So I don't stress about it. "
In most of the bands you've been playing, you've teamed up with other famous people. Is that a career strategy or is it just a coincidence that these bands are populated with rock stars?
"Some gigs I do, will have players with great resumes. It make sense."
It's been five years since your latest solo album, "BK3". Is there another solo album planned? Are you keen to do it?
"I have written a few things. I just released "BK3" on vinyl. I will be releasing very soon KKB, music from my first band in 1974. I will be ordering for a June release for KKB "Got To Get Back". The music is killer! But I am aware it's time to get going with brand new music from me."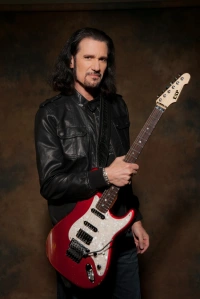 You have done quite a few guitar clinics, masterclasses and such. Do you as a musician enjoy teaching and sharing your tricks with promising guitarists around the world?
"I do enjoy it. I feel I am at a point in my career where it all seems clear to me, what music means to me, how to share that importance to guitarists. So I really love doing them. And of course, it's fun to just show off on the guitar at the clinic!"
You recently competed a very successful Australian tour and you continue to play gigs in the US. What does the future hold for Bruce Kulick? Do you have any big plans?
"Because of being in Grand Funk, it's hard to schedule too much on my own, but I do take certain opportunities seriously. I get offers often, but it's all about what I can fit in my schedule."
You can follow Bruce Kulick here: www.kulick.net