Interview: New England "It's great to be rocking again!"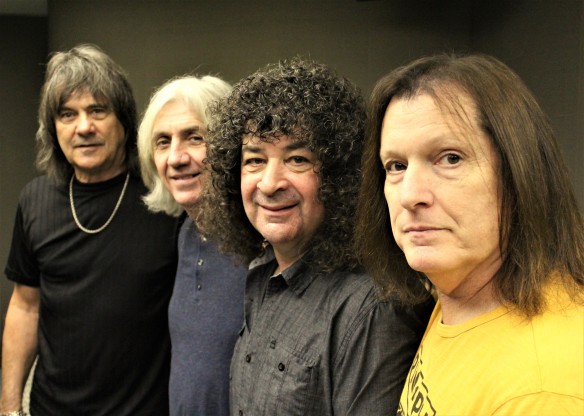 Classic American rockers New England are better than ever. It took them four decades, but when they recently came to Japan for their first-ever Japan gigs, Roppongi Rocks sat down with the band for a chat about what sets this band apart from bands with revolving doors.
Initially active in the late 70s and up until 1982, and releasing three terrific albums during that time, in 2016 classic American rock band New England is better than ever. They are playing great gigs and creating new music, still with the original line-up of John Fannon on guitar and vocals, Jimmy Waldo on keyboards, Gary Shea on bass and Hirsh Gardner on drums and vocals. New England is a classic American rock band of the best kind. They have it all: the songs and the musical talent and to top it all off, the band members are bloody nice too. What's there not to like about this band? In November the band released the magnificent "Live at the Regent Theatre", a live album recorded in the US in 2014.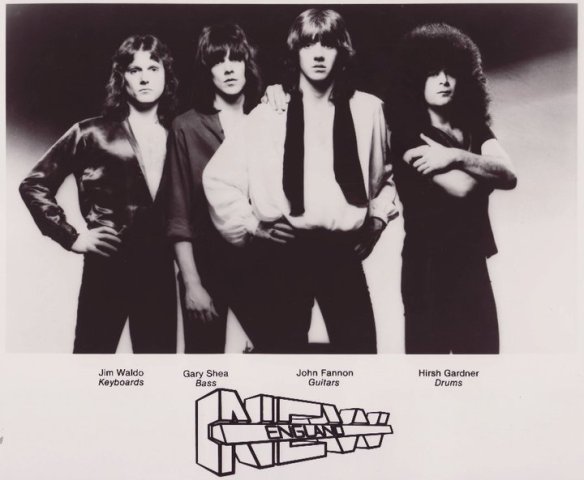 While several of the members have played in Japan on other occasions, such as several successful Alcatrazz tours and John Fannon as a solo artist, the two gigs at Club Citta in Kawasaki in November in conjunction with the release of the live album, were New England's first-ever Japan gigs. The day after New England's first Japan gig, I sit down with the whole band at their hotel.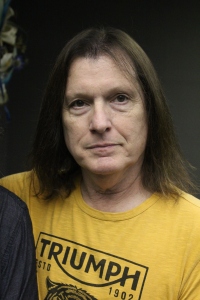 The night before our chat the band has delivered a flawless masterclass in classic American rock. The band knows it. They looked liked they thoroughly enjoyed themselves on stage. "Oh, yeah! We were having a ball!" says Jimmy Waldo. "You see people getting every lyric, really understanding the music and being into the music and the details. It can't get better than that! I mean, it just doesn't get better than that. And the club is amazing! The production, the feeling when you're on stage, the way it sounds and the way it looks. What I really enjoy is being able to see the audience. A lot of places you play, the lights are such that you're kind of blind. You can see a few people in the front row, but you can't really get a sense… Last night, whatever they were doing with the lighting was really cool, because I could see people all the way in the back. It's great!" Hirsh Gardner continues: "It's great to be rocking again! It's all there is to it. Rock'n'roll!"
It took New England some four decades to get to Japan and play shows, despite having loyal Japanese fans for many years. "We always wanted to come because we never got a chance to come before," says Gary Shea. "Everything was based in North America, never got to Europe, never got to Japan. We always felt shortchanged that we couldn't do that, continue and meet everyone in our musical world, our fans. Now we get a chance to do that, bring it to more people." Hirsh Gardner explains how it all happened now: "King Records obviously heard the 'Live at the Regent' tracks and immediately wanted to sign the band and did. We are very, very grateful for that. Even from back in the early days, in 1979, '80, '81, people actually wrote letters back then. We were getting letters from Japanese fans. Unfortunately we didn't get to come over here back then, but like you said, for 40 years we've been hearing that the band is well respected and well known in Japan. We re-released 'Explorer Suite' and 'Walking Wild' and then another album called '1978', which was all the demos of the songs that got us our first record deal. At that point we noticed a tremendous resurgence of interest from Japan which started the ball rolling. And the ball kept on rolling an rolling and King Records picked it up and here we are! It's been awesome". John Fannon continues: "Last night, at the meet and greet especially, these were the loyal fans, passionate fans who have been with us all these years. It's kind of remarkable, where we sort of disappeared for so long, yet they remained fans with the only product that they had, the three albums and now with a fourth album of course."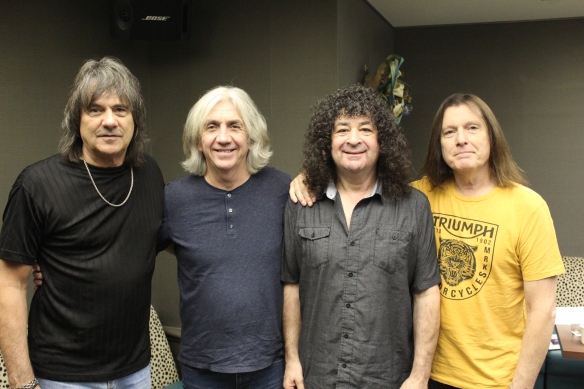 In classic American rock, there is somewhat a tradition of using geographical locations as band names, such as Boston, Kansas and Chicago. The band New England was formed in the New England region of the USA, but there is also another spin to this choice of band name as Hirsh explains: "We got a bit of flak back in the day. The name New England really doesn't have much to do with the fact that we lived in New England. Of course we lived in New England, we all recognise that, but for us our influences were all early English bands. We love those bands and we wanted to present a new English style, based in America, New England. I think that the band name had much more to do with the new English style of music that we were presenting as an American band. So you get the name New England and that represents the American thing and the New England new English style of music." Fannon continues: "It's kind of a play on words. It works!'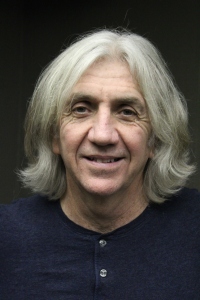 Chatting to the band members and seeing how they interact with each other on and off stage, it is obvious how strong of a quartet this is. New England is one of those bands whose four members can't be replaced. When New England's main vocalist and guitarist John Fannon left the band in 1982, the remaining members replaced him with Vinnie Vincent of KISS fame. They decided to change the name of the band and the musical direction. As can be heard on the legendary Warrior demo tapes, which sound great, it was no longer New England. It couldn't be. Each of the four original New England members brings a unique part of the puzzle that is New England. "That is true. We are kind of irreplaceable. Otherwise it wouldn't be what it is," agrees Fannon. Hirsh adds: "The individuality of those songs begins when John brings a song in, we kind of just instinctively all know what our parts are gonna be. I have my personality in my drums and Jimmy's got his personality with the keyboards. We hear a song, we hear a song idea and then – BAAM! – it's just…all that personality is in that song. The real true test for the audience: to hear what John does with 'Turn Out the Light'. That's just the basic song with the lead vocalist and that's just how he wrote the song. When you listen to that song on the record, there is a completely different personality to it."
Jimmy Waldo continues: "Testament to the fact that it's all about the song. He goes out, by himself, no microphone, a guitar, plays and sings and the crowd's all over it. The lyrics they know, the melody. I think that's just the best. Such great respect for the song."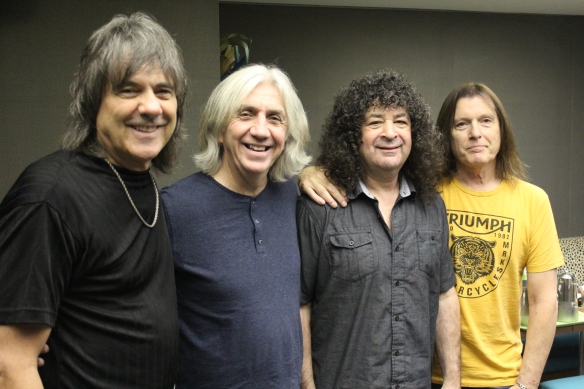 The band members have over many years played in many other bands and projects where members come and go and where things are much more temporary and work in very different ways from New England. "This band has a history, " says Gary Shea. "We played in the bars when we were 25 years old, more or less. We played in the bar scene on the East Coast, Boston area. We were just struggling and went through a lot of changes. Eventually we got our record deal and became New England and everything. But we've also gone through other things in life now, but we're back together again. It just feels good because we're good friends. In other bands you don't get that. A lot of bands in Los Angeles are just project bands, you know? Not to mention names, but some guys do a different record every month with some other guys. And the band is OK, but… 'Get the money and run' kind of projects and it happens a lot. So it is really hard to find guys that are your brothers. We're family. We know instinctively what each other is thinking. Even when John writes songs, he knows what we're gonna do and has in mind parts that we can do. We talk about that and we embellish on things." Jimmy Waldo continues: "I've been involved with other things and, most of the time, everybody in the band has got all these ulterior motives and doesn't respect you as a player. They know they have to play with you and they're maybe polite and gentlemen, but in truth there is no respect there. They think they're better. The attitude thing never quite meshes. Sometimes that can work for people, I don't like it myself. I need more than that. I like playing with these guys, it's fun, just feels natural." Gary adds: "This is not a stepping stone for another band. This is the band! This is the band we wanna be in. We've stepped on the other stones to be here."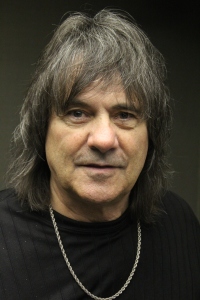 John Fannon has always been the main songwriter in the band. "I have written most of the songs but when I was writing the songs I always had the band in mind. I certainly wanted a certain emotion to be portrayed, but I always had the vision of how to best utilise their talents. On 'Explorer Suite' I knew from the beginning that we gotta get Jimmy doing all this stuff and getting Hirsh to sing solo vocals. Getting spotlights for Gary. For me it was always just looking ahead. But then we had this natural chemistry that once the song came in my vision actually…most of the time I didn't even have to tell them, they just did it. I would just tell Jimmy: 'Jimmy – this is what I am hearing. Go do your thing!' We just had this chemistry. To that point, too, we hadn't played together in at one point for about 23 years literally. We got a rehearsal hall together so that we could play, literally for the first time and we just counted in 'Alone Tonight' and it was like 25 years ago. It was so impactful. I was like 'Well, there it is! This is what we do'."
New England reunited over a decade ago, initially for a special performance at a benefit concert. Gary explains: "There was no looking back. It felt great, like we never left. That was a great feeling to know that we could pull it off after so long." Hirsh adds: "Steven Tyler was there and he was blown away".
One of the things about New England is that their material is very consistent. One might imagine that they write many songs that are then rejected in the process of creating an album full of great songs. "Let's just say that there wasn't a lot of rubbish," says Fannon. "I was just on a roll. I was always into songwriting. I think there was a growing period for a few years but once New England started, it just kind of happened." Waldo fills in: "If a song didn't make the record, it wasn't because it wasn't a good song. It just for whatever reason didn't fit that particular puzzle that day." Fannon adds: "I think typically for each record we had 10 or 11 songs and that's what was written. It was those songs."
New England is a guitar-based band with very prominent keyboards. John Fannon explains: "I always think orchestration. It's always all about the full arrangement. So, it's just natural. I would never think that way about not using the keyboards." Waldo adds: "I am a guitar freak. I love good guitar play. John – I love that kind of guitar play." Gary continues: "He knows all the holes to play. Some keyboard players are like 'I've got a synthesizer, watch this!'" "We were talking about this a couple of weeks ago," says Waldo. "About how little that we're actually playing sometimes. If you really break a song down live, there's not a lot of covering up or things being played because we don't use Pro Tools or anything live. So, it's kind of interesting – we're playing these lines together but there's no big rhythm guitar behind it or anything like that and it stands up." Fannon explains: "The era we were in, you know, synthesizers… Guitar, bass and drums is guitar, bass and drums, but every time Jimmy got some new toy, we immediately 'We gotta make that part of the sound!' Or a Mellotron or tons of synthesizers. When you heard them you just wanted it to be part of the music."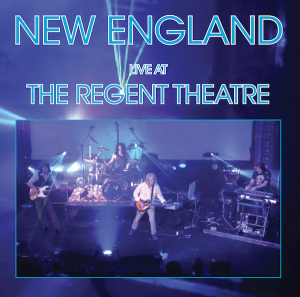 Live New England sounds more rock than on the studio recordings. "That's always been the case," says Gary. "We've never got our true live sound on the records. The records sound great, great production, but it never captured the right depth." Fannon continues: "I think really it's that extra energy that you get from the audience. It just steps it all up, the live performance." Now with a live record released that really captures the live band New England, this can be heard by all. "Holding Out On Me" – one of the band's rockier songs with an almost AC/DC touch to it – is one of the highlights of that album with some great drumming and lead vocals by Hirsh. "We were having a vision, I envisioned that song when I was writing it of this guy singing it," says Fannon while pointing at Gardner. "Because it is perfect for him. I think it is always wanting to try different things. If you really go through all the New England music, even though it is New England, there's so many different directions and different kinds of songs – whether it's acoustic or AC/DC or 'Explorer Suite' or… I was always a big fan of The Beatles and of how, even though it was always The Beatles, it was always something new."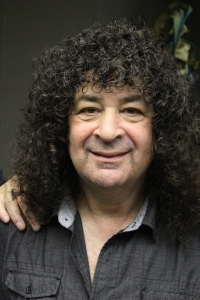 The combination of the distinct voices of Fannon and Gardner is one of New England's trademarks. "We really work on the blend and how our vocals come out," says Hirsh. "We've done that for years, we've had vocal rehearsals all the time. I've got to mimic the way he's phrasing his notes and then if I get that, then Jimmy can try to mimic the way we're both singing. That's hard to do and make it sound like Crosby, Stills, Nash & Young, that's really hard to do." Fannon adds: "We just happen to have voices that blend well together."
On its early records, the band worked with big name producers Paul Stanley and Todd Rundgren – both of them famous artists and musicians in their own right. John Fannon explains: "They were very different. Paul Stanley, what was really cool about him was that, who knows what level of producer he is, but for us he recognised that our songs were all really well-arranged. I think that was one of the coolest things that he did as a producer, not adding stuff just to add stuff. He just kind of let us do our thing." Waldo adds: "He didn't try to put the KISS stamp on us." Fannon continues: "One of my favourite comments is that our demo of 'Don't Ever Wanna Lose Ya' didn't have a guitar solo in it. He said 'This is a rock song! You gotta have a guitar solo in this!' But for the most part we were so well rehearsed and arranged, that there wasn't a lot to do. That was one of the cool things about how he produced the record."
"One of the comments I get a lot," says Hirsh, "people play the first New England album today, and they say 'Man! This stands the test of time like nobody's business'. One of the things I got from Paul Stanley… This is our first album, we're all excited, we're on a major label, we've been working for this for a long time and Paul Stanley is in the room! Holy crap! You're working with one of the biggest guys in the industry, so you feel like, 'OK. You're a rock star now'. I use that term in the best sense, that you've got to live up to that, you've got to perform. Yeah, the record stands the test of time because of that." Fannon continues: "With Todd Rundgren, I think that the album was done so quickly we didn't have the time to do what we would do and really fine tune all the arrangements. We were thinking 'That's Todd Rundgren!' So, we would let him in gradually – 'Come on in, boy!' – and he had all kinds of great ideas, harmonies and it was really fun working with him. He's an artist." Waldo adds: "He didn't try to change the band. You could tell right from the get go, as much as he would help on any given harmony, he just let us do our thing. Sometime he got more involved, he wrote lyrics on a song and he certainly directed us." Fannon explains the fact that Rundgren can be heard playing guitar on the album: "We had him play guitar on one song, I just wanted him to. We did a solo and harmony on 'Don't Ever Let Me Go'. What was very cool was I played the solo and I said 'Todd, this would be really cool if you played the harmony'. I don't think he thought about it for 30 seconds and then he picked up the guitar and played out this harmony perfectly!"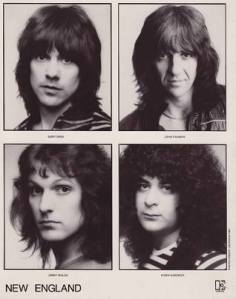 For  period of time New England had the legendary KISS manager Bill Aucoin as the band's manager, something which among many things led them landing the opening act slot on the North American "Dynasty" tour in 1979. Some commentators think that Aucoin was perhaps too busy with KISS to have time to really break New England. "It kind of evolved to that at one point," says Gary. "In the beginning we wanted to have a big manager with three or four names in the hat. Someone from Bill Aucoin's staff heard us and we got connected and we went with Bill and it was great. It really helped us out, to get the 'Dynasty' tour and the Paul Stanley-Mike Stone connection. And down the road through the second record it hurt a little bit when you have a famous manager who has other major clients and they're in Germany and can't get hold of you. You can have your cousin be your manager, but he doesn't have any power to do anything. So you have to weigh when you're a band, what kind of manager do you want? Do you want someone that is not so powerful but will work really hard for you or a guy who is really powerful and just picks up the phone and make things happen but you can't see him every day? It's a give and take thing. It's tricky. But Bill was a great guy. When it was happening it was happening! We got to experience some amazing things through that." Waldo adds: "He was a pick up the phone and make it happen guy. He was incredible!"
The new live album that came out in November to rave reviews is a triumph for the band. Fannon explains the thinking behind the album: "I think part of it was certainly when we did the show, we did record it almost for historical reasons and to see how it came out. We had such a great night, we played so well. We felt like we wanted to have something out there, some new product. That was what we had and it was representative of the band so that was how all that happened." Gary adds: "We've had live recordings, radio show recordings, but we've never had a live album, a real live CD. This was a chance for us to do that and have something in the interim until we have more music coming up, bridge the gap to the future."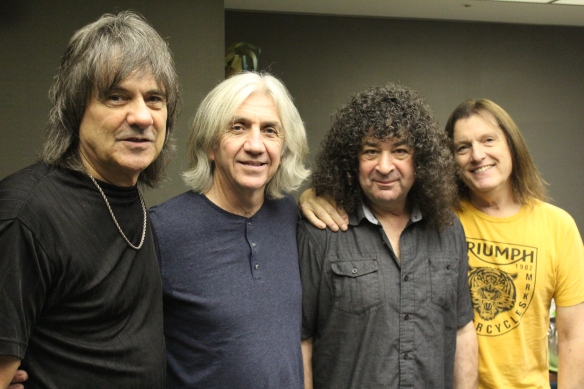 So, is there a new studio album in the works? "I know we've been saying this for a while, but yes, I think we have to have a new studio album and we're committed to doing that," says Fannon. "How quickly that happens, I'm not sure, but I know I'm inspired. I'm gonna go home and start writing like crazy. I am a believer of inspiration. I think that's why we were so prolific in the early days. Just playing and you're so inspired by the tour. I'm feeling inspired right now, for sure."
Gary Shea and Jimmy Waldo will return to tour Japan in March with Graham Bonnet Band and Alcatrazz, but I think we will also see them return to Japan with New England in the not too distant future.
"I get up in the morning with the same passion that I had 40 years ago. I can't wait for the day to begin, I can't wait to get into the studio. I think that is why this is all going to work" says John Fannon with a big smile across his face.
Read Roppongi Rocks' earlier interview with Gary Shea here.
Read Roppongi Rocks' New England gig review here.
Read Roppongi Rocks' New England live album review here.
www.facebook.com/newenglandtheband / www.newenglandrocks.com