Album review: Manigance "Le Bal des Ombres"
Powerful, high-energy, modern progressive metal from France.
The heavy metal band Manigance was formed in France in 1995 by guitarist François Merle. They debuted with a six-track mini-album, "Signe de Vie", in 1997. But it was when lead vocalist Carine Pinto joined the band in 2018 this became something special. Manigance is an interesting mix of musical influences. There is a foundation here of powerful, high-energy metal with progressive elements. The sound is very contemporary, melodic and with plenty of keyboards dancing around the excellent guitars. They label themselves as power metal and, sure, that is part of the story, but there's more than that.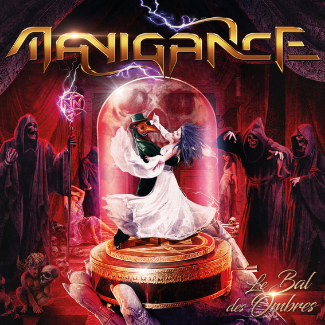 Carine Pinto sings in French and her voice sounds like it comes from the French pop and rock world rather than metal – still powerful but different – and it works very well with the music. Her vocal style is rather French and makes this band stand out from the crowd. It is a fresh take on creating modern metal and bringing something new to the game. It is refreshing to hear something different in a busy music industry full of bands sounding more or less the same. The track "Sang Froid" is a massive, busy and highly enjoyable track. It sets the tone for a genre-bending modern metal album. "Arrêt de Mort" is a clear favourite track with its heaviness mixed with melodic parts, the catchy chorus and Carine's vocals. "Légendaire Survivant" is also terrific with its energy and attitude while "Aux Portes de L'oubli" is a modern power ballad that adds to the diverse mix of styles and influences on this splendid album. The Japanese edition of the album comes with two bonus tracks: a Japanese version of "Le Bal des Ombres" and "Volte Face" recorded live at Le Rio Grande.
Manigance's album "Le Bal des Ombres" will be released in Japan on 16th March via Spiritual Beast and internationally on 18th March via French label Verycords.
www.facebook.com/manigance.official