Gig review: Marty Friedman up close and personal in Tokyo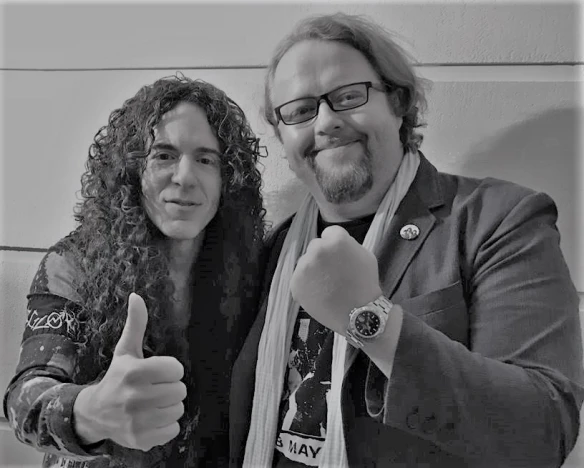 Marty Friedman continues with his series of special, one-off shows in Tokyo for his Japanese fans. It's such a treat for Marty's fans to see him up close and personal and performing music that is rarely performed by him in his usual shows.
Marty Friedman at La Donna, Harajuku, Tokyo on 15th March 2019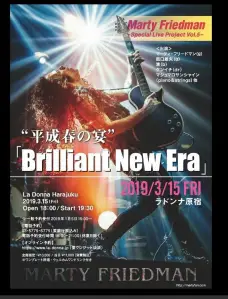 Having just completed a successful US tour, guitar hero Marty Friedman appears on stage in Tokyo with an almost completely different band where only fierce bassist Kiyoshi (an insanely talented bassist that Marty should always play with) remains. It's not only the band that is different. The setlist is also vastly different. These special shows in Tokyo, Marty's adopted home town, are very special to the die-hard Marty fans. At La Donna in Harajuku, the audience is seated at tables and served food and drinks during the performance. Having seen Marty return to his Hawaii, Cacophony and Megadeth heavy metal roots when he guested NWOBHM veterans Raven for two songs the night before (performing Raven classics "Fire Power and Wiped Out"), it is a big contrast to see him now perform calmer music. But that is Marty in a nutshell – he has so many sides to him as an artist and he keeps evolving. Fortunately for us here in Japan, we get to see Marty do things that fans in other parts of the world rarely, if ever, get to experience. For this splendid evening of emotional compositions, a celebration of the arrival of spring, he is backed not only by Kiyoshi on bass and a rhythm guitarist, a drummer and a keyboardist. He also makes great use of a violinist and cellist. This special show is labelled "Brilliant New Era" and Marty describes it as an "orchestral ballad concert". That sums it up pretty well. He makes his guitar both weep and laugh. Marty's guitar certainly has a soul and he makes it show the audience its emotions, both its sad and happier moments. The chemistry between him and the other musicians is terrific which allows Marty to focus on his guitar as he knows he has solid backing from the band. 
A couple of the evening's absolute highlights include a great version of "Tears of an Angel" (with a splendid violin intro) from the 2008 album "Future Addict" and "For a Friend" from 2017's "Wall of Sound" album. We obviously get to hear both "Yuki No Hana" and "Kaeri Taku Natta Yo". "Thunder March" from 1988's "Dragon's Kiss" album is performed during the encore, but we also get some special deep cuts in this show. Marty is obviously a world-class guitarist, but he is much more than that. He knows how to entertain and charm a Japanese audience with the right mix of terrific music and self-deprecating jokes (all of the talking during the show is done in Japanese). After the show, Marty stays to chat with his fans and signs autographs. He knows what the Japanese fans want and he makes sure they get it. 
The next special Tokyo show with Marty is planned for early July. Date, venue and ticket details to be confirmed. 
www.facebook.com/martyfriedman.official