Single review: Stagman "En mil i mina skor"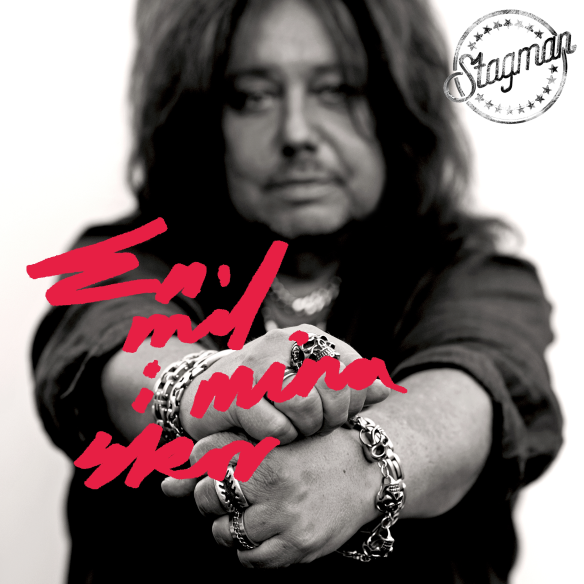 Former glam rocker Zinny Zan returns with a new Stagman single which brings back memories of some of his old bandmates and 1980s-style Swedish pop and rock.
In an earlier life, Bosse Stagman called himself Zinny Zan when he fronted the terrific glam metal and sleaze rock bands Easy Action, Shotgun Messiah and Zan Clan. Now he's 55 years old, calls himself simply Stagman and has moved into a musical territory which is part singer/songwriter, part pop and part punk-infused shout-along rock. It suits him well and he's good at it. I particularly like the hints here and there of the Swedish tradition of melodic shout-along punk-rock. Because it is in the Swedish punk-rock scene that Stagman has his roots: he was a drummer with Belsen Boys, Trassel, Alarm X and Brilliant Boys before he switched to glam metal in the early 1980s when Easy Action was formed. In Easy Action he famously played alongside future Europe guitarist Kee Marcello. But more importantly from a musical pedigree and influence point of view, Easy Action featured three former members of Swedish pop/rock band Noice: Marcello was a live guitarist for Noice which also housed drummer Fredrik von Gerber and bassist Peo Thyrén (aka Alex Tyrone). That connection between Noice and Stagman has now – although Stagman in the past has said that Noice was not really his kind of thing – come full circle as there are some hints of Noice on Stagman's new single. "En mil i mina skor" is the first taste of his next solo album which will be released later this winter. It is his third solo album since he switched to singing in Swedish in 2016. Stagman sings in Swedish with a distinct Stockholm dialect. Musically he is not miles off what Swedish artists such as Magnus Uggla have built great careers on. Not least the wonderful 1980s-sounding keyboards make me think of Noice and similar bands that were big in Sweden in the early 1980s. Both Uggla and Noice were essentially pop acts, but they had somewhat of a punk attitude. As a youngster in Sweden in the 1980s, I adored Zinny Zan and Easy Action. Now, both Zinny and I have grown up. I really dig the mature and toned-down rocker that Zinny Zan has become.
Stagman's single "En mil i mina skor" will be released on 16th October via GMR Music.