Album review: In Aphelion "Moribund"
Excellent black metal from a new band formed by veterans of the Swedish extreme metal scene.
"Moribund" is the full-length debut album from the new Swedish black metal band In Aphelion. But behind this new, and, I am pleased to say, terrific band, we find two veterans of the Swedish extreme metal scene. In Aphelion, formed in 2020, is led by Sebastian Ramstedt (ex-Nifelheim, Vojd) and Johan Bergebäck (ex-Nifelheim, Vojd, Dismember). Both gentlemen are also currently guitarists in blackened death metal band Necrophobic, a band co-founded in 1989 by the legendary Swedish black metal musician Blackmoon (RIP). In Aphelion is glorious riff-based black metal with some touches of NWOBHM and thrash metal. Dutch drummer Marco Prij (from the band Cryptosis) completes the band's line-up. Sebastian Ramstedt plays both guitar and bass and handles lead vocals. Presumably, the band will need to recruit a bassist for any future live shows. His lead vocals are exceptional. Not that he isn't a great guitarist, but why the hell has he hidden his vocal talents until now? The band's debut full-length studio album contains ten excellent songs. While they largely stay within the boundaries of modern black metal, they do manage to squeeze in a fair bit of variety in the music on the album.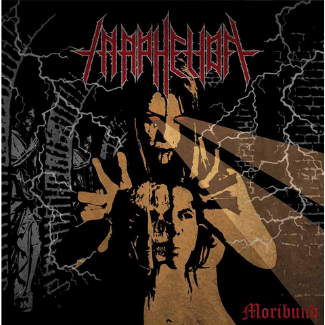 "Draugr" is a solid sinister song covering the subject of undead creatures in Norse mythology. "Let the Beast Run Wild" is a massive song overflowing with dark energy and ill winds blowing all over it. It is gloriously dark and has excellent guitars. The album continues in the same tone. What a debut album! The only bad thing about this album is that it sets the bar so high that it will be hard for the band to improve on this with the next album. On many of the songs, it sounds as if it perhaps is the NWOBHM and thrash metal influences that shine through down to the dark black metal and give this sub-genre a much-needed lick of paint. It gives the music an overlay of bits and pieces that we don't hear in all old-school black metal, not least some of the splendid thrashy guitars. And on a track like "Luciferian Age", the band uses acoustic guitars very effectively in a high-energy and sweaty song that has an excellent groove to it. "Sorrow, Fire and Hate" has an Iron Maiden-smelling intro (think a cross of "Hallowed Be Thy Name" and "Dance of Death") before the black metal mayhem kicks in. The result of In Aphelion's take on black metal is magnificent and feels like somewhat of a fresh take on the genre. An exquisite album of extreme metal by a band that is just getting started.
In Aphelion's debut album "Moribund" will be released on 11th March via Edged Circle Productions.