Album review: Hardcore Superstar "Abrakadabra"
Gothenburg's feel-good hard rockers Hardcore Superstar return with a fab new album.
The band Hardcore Superstar was founded in Gothenburg, Sweden in 1997. They released their debut album "It's Only Rock'n'Roll" in 1998. "Abrakadabra" is the band's twelfth studio album. Their trademark feel-good party rock is definitely still present. But on the new album, the band pushes the boundaries a bit with some grittier, dirtier and darker feelings here and there on the album.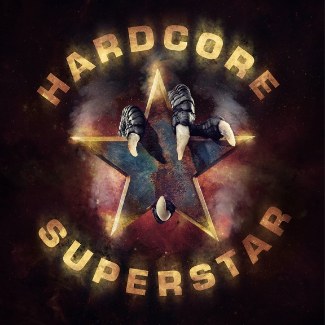 They are subtle, but they are there. The bulk of the album is LA-influenced sweaty, high-energy party hard rock. We get this in songs such as "Catch Me If You Can", "One for All" and "Throw a Brick". "Weep When You Die" comes with the catchiness and the cool guitars but also a massive choir that makes this song stand out. That the band is evolving can be heard in several areas. "Influencer" is a great tune that comes along with some social commentary. "Dreams in Red" is a more serious song that manages to combine classic metal with some contemporary touches. The result is quite possibly the album's best song. The album's title song, "Abrakadabra", is the best of the party rock songs. "Fighter" is a terrific acoustic song. It's almost power ballad-like with some late 80s LA metal scene vibes. This album should keep the existing fans happy while also getting the attention of new listeners. The band is still fronted by vocalist Jocke Berg and he is backed up by Martin Sandvik on bass, Adde Andreasson on drums and Vic Zino on guitar. Well done, lads. Another solid effort.
Hardcore Superstar's new album "Abrakadabra" will be released on 25th March via Gain.