Amaranthe – massively addictive
When melodic Swedish rockers Amaranthe recently toured Japan for the fifth time in four years, Roppongi Rocks' Stefan Nilsson decided to sit down with Jake E and Elize Ryd, two of the band's three vocalists, for an update on the success story that Amaranthe is.
I have followed Amaranthe very closely ever since I experienced their first gig in Japan, at the legendary Astro Hall in Harajuku, Tokyo in July 2011. Their wonderful mix of heavy metal with pop hooks, great riffs, heavy drums, keyboard landscapes and no less than three vocalists is very catchy…and massively addictive.
A couple of months after they released their debut album in 2011, they arrived in Japan and the land of the rising sun has had a love affair with this band ever since. It was Japan that really kicked off Amaranthe's international career. They have twice played the all-important Loud Park festival which helped to put them on the map for Japanese fans.
"Japan has always been very important to us, especially in the early stages of our career," says Jake E as we sit down at Shibuya O-East in Tokyo a few hours before the band's gig. "If it hadn't been for the early success in Japan, I think the record company may have lost interest in us. We sold a lot of albums in Japan. Now that has changed a bit where Japan is one of many important markets for us. Now the US is where we sell most albums. However, Japan overall remains very important and it is always fun coming here. The record company, the fans and everything is awesome here. Everything is so well organised. Some people talk of German precision and efficiency. But they have nothing on Japan. They would get their asses kicked by Japan any day!"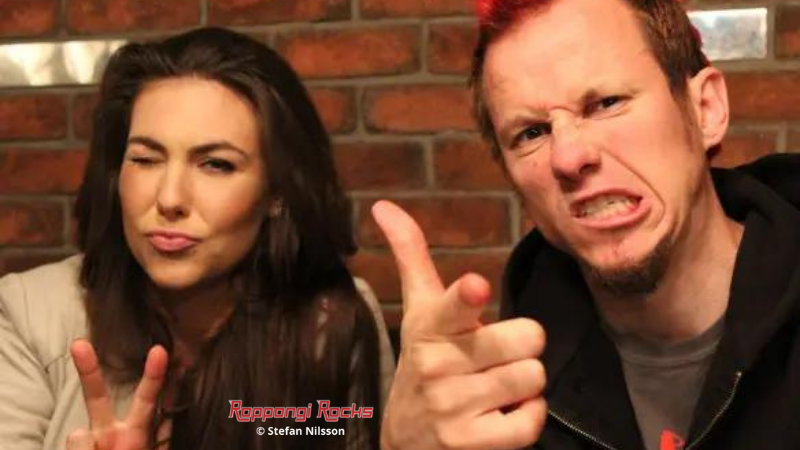 Amaranthe is a hardworking band who is also a great live act winning over new fans with every gig they do. And playing gigs they do. The band has basically been on a non-stop tour for the past four years. "If you have chosen to be an artist then you want to be up on stage. You want to develop and you want to have an audience. Then you have to tour and perform," explains Elize Ryd. "It is also a must if you want to survive as a band. I don't know what would happen if we ever took a break because we have never tried that. Haha! Someday maybe I get to rest for a bit."
Jake continues: "It becomes harder and harder to keep touring. Some band members start families, have kids, get girlfriends, relocate or whatever. It gets harder to motivate everybody that we should constantly be touring. But we have to continue. If you take too long of a break some other band will run past you and take your place. That's how it is. It is very competitive. Our goal is to become a bigger band, to be able to play for bigger audiences and have a bigger show. To get there you have to do the tough early years."
The band has firmly established its trademark Amaranthe sound but it continues to evolve with every new release. On each of the three albums they have released so far one can clearly follow how the band's sound keeps developing. Thus, what can be expected from the next Amaranthe album? "We won't know until we sit down and start writing new songs really," says Jake. "We haven't really started to write for the next album yet although we have our formula of how Amaranthe sounds. We have established our sound." Elize continues: "We want to continue to develop in the same direction as we have headed over the past two albums. We want to continue to develop our sound. We want to be more pop and at the same time much heavier. Yeah, more of everything!"
All three of Amaranthe's albums have been produced by Jacob Hansen in Denmark. Hansen, who has worked with Volbeat, Pretty Maids, U.D.O. and many more, had experience of working well with a few of the Amaranthe members on other projects and bands and thus he became an easy choice for the band. "He really understood us and what we wanted to achieve," says Elize. "He is so quick when he works in the studio. I don't know if we would dare trying to work with someone else. He has got to know me as a singer, my voice." Jake agrees: "He's great. He really understands us. He gets what we want to achieve. Sometimes I feel that we perhaps should try a different producer. Perhaps give Rick Rubin a call and say 'Do you want to record us?' but it isn't safe to assume that the result would be better with a better known producer who has worked with bigger bands."
Most of Amaranthe's song writing is done by Elize, Jake and Olof Mörck. But with the band constantly touring, when do they get time to actually write new music? "We do a lot of it when we're home. Record ideas on our PCs or mobile phones. During the tour before heading into the studio for the last album we brought studio equipment with us on the road and actually composed new stuff during the tour," explains Jake.
With three vocalists in the band with three very different vocal styles, how does that impact the creative process? "We have no limits," says Elize with a big smile and explains that where other bands sometimes have to limit what they can do with a song due to one vocalist's limited capabilities, Amaranthe can run wild as between the three vocalists they can do pretty much anything. "We can be as crazy as we like. Because we know that, we probably open our senses even more."
While the band is still relatively young, Amaranthe has already created quite a back catalogue of great songs. How do they choose what to include in their set lists? "We are really lazy," says Jake. "Because we are always doing gigs we never ever really get to rehearse anything new. There is never any time to rehearse new songs. There are many, many songs I'd like play live that we have never played live."
While Amaranthe is a well-functioning unit that is on a roll, they have during several tours had to deal with unavailability of some members who have needed to be temporarily replaced to keep the show on the road. Most recently it was vocalist Henrik Englund Wilhelmsson who took time off as he was becoming a father while Amaranthe toured North America with Olle Ekman (Deals Death) as a temporary replacement. "The individuals are never bigger than the band. Thus the band will keep rolling even if someone breaks a leg. If that happens someone else will step in and the machine will keep working," explains Jake the band's approach to keeping the show on the road. "Soon none of us will still be in the band!" jokes Elize. "Jokes aside, I wouldn't want to see somebody else stand up there on stage singing songs that mean something to me. I want to do it myself. But perhaps if I become a mother sometime in the future, if I don't work myself to death or become sterile, then I have to be away for a while and the band would tour without me."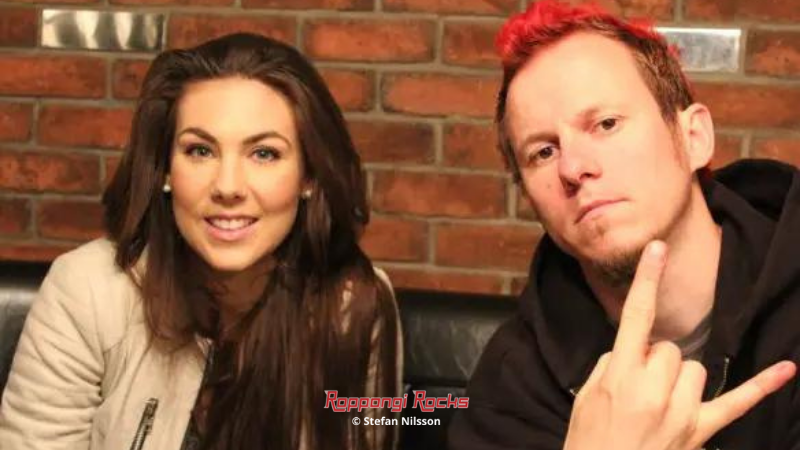 Ever since the release of the first single "Hunger" Amaranthe has produced a number of rather entertaining and action-filled music videos to go with their music. "We've always wanted to make our music videos to be like mini movies. Sort of like trailers to an action movie," says Jake. "The videos reflect our personalities quite a lot. We are quite playful, like to perform, do some action stuff, fight the evil side. Hahaha! That's how we are!" says Elize with another of her frequent big smiles.
Amaranthe not only produces great albums and funny music videos, they're also a great live band. Will we see a live album or DVD at some stage? That's been missing so far. "We miss it too," says Elize. "It'll happen in the future. Perhaps as some kind of bonus to an album. I don't know if it will happen for the next album or later but at least there are some plans," says Jake.
Following their successful fifth Japan tour, Amaranthe are touring in Europe again. What's next for this hardworking rock band? "We will actually do another US tour in October-November," says Jake and Elize adds that they hope to also be back in Japan before too long. "Then we will start to write new music," says Elize.
No rest for the wicked. Amaranthe will no doubt keep rocking the world with their catchy melodies for many years to come.
Amaranthe – band members
Jake E – vocals
Elize Ryd – vocals
Henrik Englund Wilhelmsson – vocals
Olof Mörck – guitar
Johan Andreassen – bass
Morten Løwe Sørensen – drums
Albums
Amaranthe (2011)
The Nexus (2013)
Massive Addictive (2014)