Gig review: Dynazty finally rocked Tokyo
With five albums below their belt, Swedish melodic rockers Dynazty finally came to play for the band's Japanese fans. And what a Japanese live debut it was.
When Swedish melodic metal band Dynazty brings its live show to Japan for the first time, we get an hour and a half of pure energy. The band has the talent, the songs and the stage presence to claim a place in the Japanese fans' crowded metal hearts.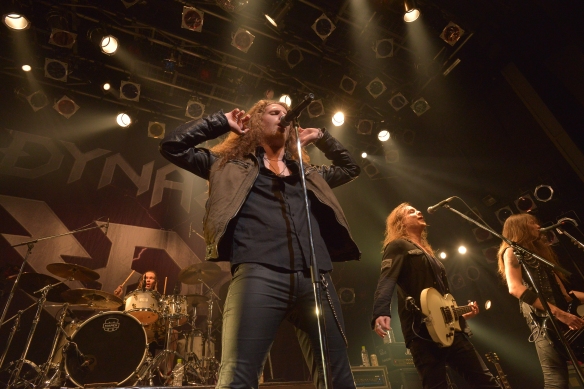 The band formed in Sweden nine years ago and the lads have released five studio albums to date. All the albums have been released in Japan which has helped in creating a loyal following for the band.
The band opens their first-ever gig in Japan with "Run Amok" and follows it with "The Northern End". The "Titanic Mass Tour: Tokyo Showdown", as the evening is billed, is built around songs from the band's latest album, the eminent melodic metal album "Titanic Mass" from 2016 and its predecessor, 2014's "Renatus". This is no coincidence as the band's sound has somewhat changed to become a bit heavier than the music on the first three albums. Dynazty is also a bit heavier live than on record. This evening we do, however, also get two favourite songs from the band's 2009 debut album, "Bring the Thunder", as well as a couple of other earlier songs. Dynazty's music has echoes of other bands here and there, including Europe, H.E.A.T. and even, at times, HammerFall. But they have used these and other influences to make their own signature sound.
The evening's show reminds me quite a lot of the gig that H.E.A.T. performed at the same venue in 2015. Dynazty not only shares the same Japanese record label with H.E.A.T., they also share much of the same audience here in Japan. The Japanese fans have always liked the combination of melodic and heavy music that so many Swedish acts offer.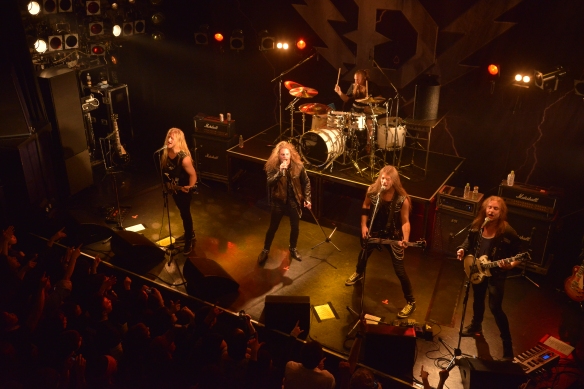 They finish a great evening of melodic metal – call it power metal, melodic hard rock or something else – by playing the fabulous "Starlight" as an encore.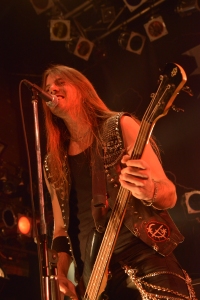 The band members are all skilled and tight, with bassist Jonathan Olsson sticking out as the most talented of the bunch. Vocalist Nils Molin, an obvious centre of attention, personifies a fabulous mix of a young Joey Tempest of Europe and Sebastian Bach of Skid Row at his best.
Dynazty – Tsutaya O-West, Shibuya, Tokyo, Japan – 15th February 2017 – set list
Run Amok
The Northern End
Raise Your Hands
Roar of the Underdog
Free Man's Anthem
This Is My :Life (Anna Bergendahl cover)
Lights Out in Candyland
Bring the Thunder
Drum solo
The Beast Inside
Incarnation
Salvation
Guitar solo
The Human Paradox
Titanic Mass
Starlight