Interview: Conrado Pesinato | Escaping from Alcatrazz to get Out Of The Woods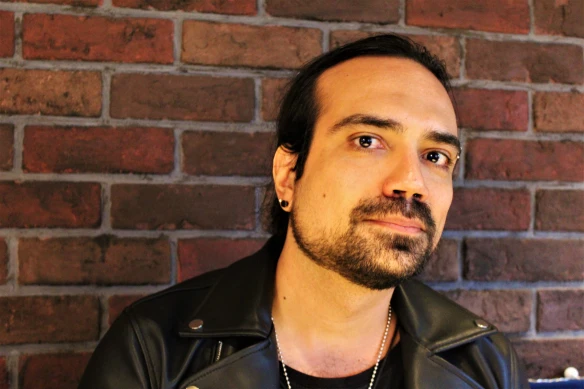 He made a name for himself as lead guitarist in Graham Bonnet Band and also sitting in for the Alcatrazz reunion of 2017 when he filled in for Yngwie Malmsteen and Steve Vai (as documented on the live release "Parole Denied – Tokyo 2017"). Now Brazilian guitarist Conrado Pesinato is hard at work with his new band, Out Of The Woods in Los Angeles. When he recently visited Tokyo again on tour with Marco Mendoza, Roppongi Rocks sat down with Conrado at his hotel in Roppongi to talk about his career.
Conrado Pesinato played with bassist Beth-Ami Heavenstone in Hardly Dangerous, an LA rock band fronted by Tomirae Brown, the widow of James Brown. In 2015, Beth-Ami subsequently brought him into the Graham Bonnet Band which she was forming with the legendary Rainbow, MSG and Alcatrazz vocalist. In GBB, Conrado played a significant role as guitarist, songwriter and producer of the band's 2016 album "The Book". He toured Japan twice with GBB. First in 2015 when GBB opened for Michael Schenker's Temple of Rock (when Michael Schenker and Graham Bonnet reunited on stage for the first time since their brief time together in MSG). In 2017, GBB did a headline tour of Japan which also included the terrific Alcatrazz reunion with Graham Bonnet, Jimmy Waldo and Gary Shea reunited on stage in Tokyo.
You've done two Japan tours and now you're here for the third time. "That's right! The first time was 2015 and…2017, yes. It seems to be the pattern, every two years I am back" says Conrado with a big smile as we sit down at his hotel a few hours after he has landed in Japan. 
What's your best Japan memory so far? "Too many. Too many! Ah, Jesus. Where do I even start? The first one was really special. It was my first time in the country. It was my first time experiencing all the excitement about rock music that the Japanese fans have. It spoils the whole thing for you and anywhere else you play after that. It's not quite the same. And seeing Graham and Michael for the first time together, being a fan, that was cool. But the second time was really special too because that time we were headlining."
Is it different for you as a guitarist to step into a band like Alcatrazz compared to playing your own music? "Yeah, that was a lot different, for sure. I'm a lot more comfortable… I think I excel as a songwriter and doing my thing. I think I did a decent enough job honouring those songs in those performances. But, by all means, I was never to do that, playing Yngwie note for note. That's just not the kind of player I was. So, it was challenging. A lot of growth for me, I learnt a lot trying to make justice to those songs. It was challenging because I was never that type of dude that sat down… I can definitely count on my fingers the number of solos I've learnt note for note. I have always tried to find my own voice and that's always what I prefer to do. As much as I had fun and I felt honoured to be part of that, especially being a guitar player… At the same time, I was a lot more excited to play the songs we wrote back in the day on the album that we just released, 'The Book'. I was a lot more excited about the response of people from those songs, because those were my babies, than doing the whole Alcatrazz thing. Then, of course, there was a little bit of guitar ego there. 'Yay! Look at me playing in Alcatrazz!' It was good. It was fun."
On the Graham Bonnet Band album "The Book", Conrado not only played the guitar, he wrote songs and produced the album which also featured Beth-Ami Heavenstone, Mark Zonder and Jimmy Waldo. "I co-wrote 'The Book' with him. It was mainly me and him and Zonder did a lot of good ideas. Great drummer, great guy. We co-wrote the songs and I ended up producing. I was wearing many hats in that band. That was one of the reasons that that band was very challenging for me too, other than all the legendary guitar stuff. I was always so busy with everything else, helping with arrangements and recording and writing. I produced the album, but I didn't mix or master, but I engineered the whole thing. I'm proud of it. It's a good album."
Now you're here in Japan for two gigs with Marco Mendoza's trio with Marco and British drummer Kyle Hughes. These are your first-ever gigs with Marco. "That was an invite that came through my good friend Kyle. I knew of Marco and I think we spoke a couple of times previously on different occasions. Kyle was like 'Hey, we need a guitar player for Japan'. I was like, wow, that will be fun! I love Marco's material. I think, even me as a guitar player, I'm a lot more comfortable with that kind of classic rock-funk-bluesy type of thing instead of the neoclassical stuff. I think that is a lot more who I am as a guitar player. It's my first gig with them so that's definitely exciting."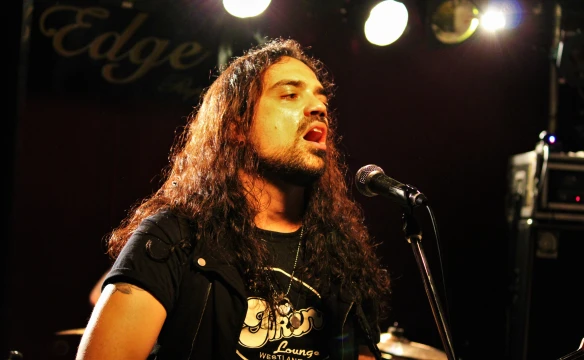 Marco and Kyle have come straight from a European tour and you flew in from LA. Have you had any chance to rehearse together as a trio? "No! Haha!! So, we'll see how it goes. We have not, but they have been very solid together. They are the rhythm section and the front men together. I just have to sit in and do my part. I think we will be alright. It's gonna be a good time, no doubt. At least for me! Marco is such a legendary musician, playing in such legendary bands like Thin Lizzy and Whitesnake, which I love. Thin Lizzy is one of my favourite bands of all time. Even his solo material has so many guitar players, like Richie Kotzen and Steve Lukather and all these kinds of guys. I have to do justice to those songs at those gigs. It's an exciting part of the process. Yeah, it will be a fun time!"
Recently Conrado formed a new contemporary rock band in Los Angeles called Out Of The Woods together with vocalist Zach Jones and drummer Tomas Slemeson. The sound is quite different from the classic rock we normally hear Conrado play. "Yeah. The way I see it is… I would call it modern American rock radio. Bands like Bad Wolves and Bring Me The Horizon, that kind of stuff. It's a whole different thing. I co-write everything with the guys and I help with a bit of the production. I don't do the full production, but I do a little bit of it. That's kind of exciting, to not be the guy that does everything. I use a seven-string guitar, which is something I don't use in the most classic rock sound bands that I do. Seven-string guitar, I try to do more effects, I try to do beats and samples and things like that. It's different stuff. That's the beauty of it. I like it all. From The Beatles to extreme death metal to ABBA to whatever, you name it. Linkin Park and Ramones and whatever else. I dig songs!"
Out Of The Woods has done some gigs in the US and released its first song. "We have one single out and finishing an EP. We're excited about it. We're shopping it around with some labels for that type of music. It's nice doing something different. It's definitely refreshing." Out Of The Woods is Conrado's main focus now. "There's a couple of other things I am working on, but, for sure, Out Of The Woods will be it. We have this EP coming out. I am trying to get busy. I like to do it all. I was even making beats for hip-hop artists! I just like to be busy and collaborate with creative people with a good heart." 
Keep an eye (and both ears!) on Conrado Pesinato. He likes to stay busy and there will no doubt be more interesting music coming our way from this creative musician.