Album review: Belphegor "Totenritual"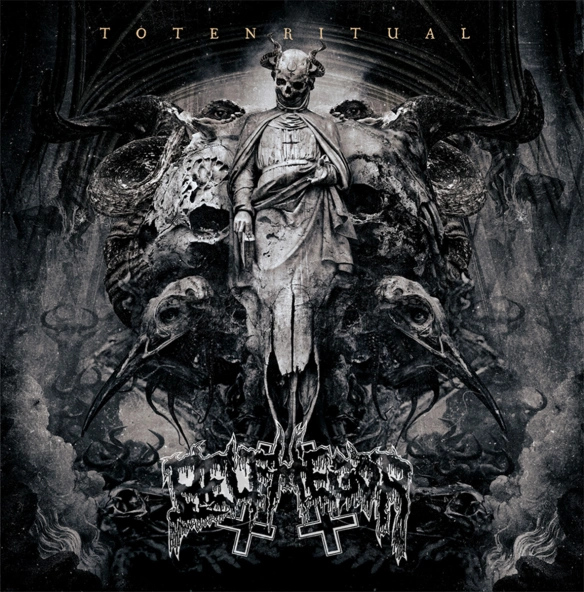 Helmuth Lehner, Austria's master of dark ceremonies, is back with gloriously heavy and dark extreme metal on the new Belphegor album.
With 2014's "Conjuring the Dead", Austrian extreme metal masters Belphegor set the bar sky high. Now the follow up is here and Helmuth Lehner's done it again. On "Totenritual" we get glorious mayhem! If you like your metal extreme and from deep down the abyss, this is for you.
This album is trademark Belphegor: dark and very heavy metal but with some fabulous melodies interwoven with the mayhem. It is blackened death metal with plenty of doom with tuned-down guitars and some thrash and speed metal influences here and there. Call it whatever you want, it's fabulously good music.
The album, the band's eleventh studio album since forming in the early 1990s, opens with "Baphomet" which closely resembles the songs on the last album. But already on the second track, "The Devil's Son", we get some nuances to Belphegor's sound. This album clearly is related to its predecessor, but Belphegor has not made a "Conjuring the Dead II". The band has evolved and on this new album we can hear some new sides to one of our absolute favourite extreme metal bands.
Over the years, Belphegor has developed a very distinct style of music. However, they don't just stand still. They keep pushing the limits in different directions within the framework that defines Belphegor. Helmuth's obviously the brain and engine here, but bassist Serpenth, who has been in the band since 2006, has also put his mark on the band's output.
The album is consistent and rock solid: all tracks are of the highest level. Immediate favourites include "Swinefever – Regent of Pigs", "Apophis – Black Dragon", "Totenkult – Exegesis of Deterioration" and "Spell of Reflection". The short spoken sound bites inserted here and there on some of the tracks nicely add to the haunting horror flick-feeling of Belphegor.
For the last album, the band recorded with Erik Rutan in Florida. This time they have recorded closer to home, in Germany and Austria, but the album has been mixed in Florida by Jason Suecof (Trivium, Death Angel, Deicide, Whitechapel, The Black Dahlia Murder).
Following "Conjuring the Dead", I expected nothing short of a masterpiece from Belphegor this time and that's what I got.
Belphegor's "Totenritual" is out on 15th September via Ward Records in Japan and Nuclear Blast internationally.