Interview: Marco Mendoza | Returning to Tokyo with "Viva La Rock" shows in May
Former Whitesnake and Thin Lizzy bassist Marco Mendoza is rather busy with The Dead Daisies. But he still makes time for his exciting solo project, "Viva La Rock", which he will bring to Japan in May.
Having been a wingman to David Coverdale, Scott Gorham, John Sykes and Ted Nugent, in his "Viva La Rock" solo project, bassist Marco Mendoza takes centre stage. When he recently was here in Tokyo for a performance with Nozomu Wakai's Destinia, Roppongi Rocks had a cappuccino with him in Shinjuku to talk about his solo project which will tour Japan in May. We're meeting a day after Marco's "Metal Souls Live" performance with Nozomu Wakai's Destinia, which also featured Ronnie Romero (Ritchie Blackmore's Rainbow) and Tommy Aldridge (Whitesnake, Ozzy Osbourne, Thin Lizzy, Gary Moore, Ted Nugent). "We had a blast and I think the audience loved it, man! They really dug it. They sang all the songs!" It is obvious that Marco enjoys playing with the up-and-coming Japanese guitarist Nozomu Wakai. "He's hungry and he's very talented. I'm always into tapping into that energy. Being a little older myself…"
Marco Mendoza made a name for himself as a reliable bassist for Thin Lizzy, Whitesnake, Blue Murder and Ted Nugent. In recent years, The Dead Daisies has been his main gig, but he still has time for side projects. He has been performing in Japan with many bands and artists over the years. In May he will return as a solo artist and do two special club gigs in Tokyo.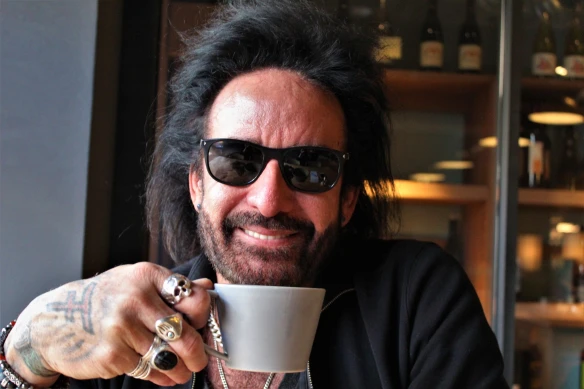 When Marco performs with "Viva La Rock", he does it with a powerful trio. The importance to Marco of establishing chemistry between the musicians is very clear and this is true both on stage and in the studio. "There's chemistry and magic that happens when we play together. This is a part of the business I am not too keen on, the digital thing. Where's the human factor?" asks Marco Mendoza about the current practice of musicians recording their parts of a song in their home studios rather than get together to create music together. "I was talking to Soren Andersen, who produced. I said, 'Bro! If I do my next album, I gotta get in the studio with the cats and play.'" Marco also rejects the idea of recording at home. "The attempt at having a studio at home… I did it a couple of times and it just doesn't work. Because when I get home, I want to be with my wife and my kids. Be a dad, be a husband. To try and work, when my kids were younger, you can't. When I do work at home, I wait until everybody crashes."
"When I'm with the bigger projects, if I have a little bit of time, I always keep myself busy, which is where my solo project comes from and other things. I am working with Neal Schon. Neal Schon and Gregg Rolie and Deen Castronovo in the Journey Through Time project. I'm really busy with The Daisies. That's my first priority and there's some cool stuff happening there. Very, very cool stuff. Between The Daisies, Neal Schon and my solo project 'Viva La Rock', I'm pretty busy."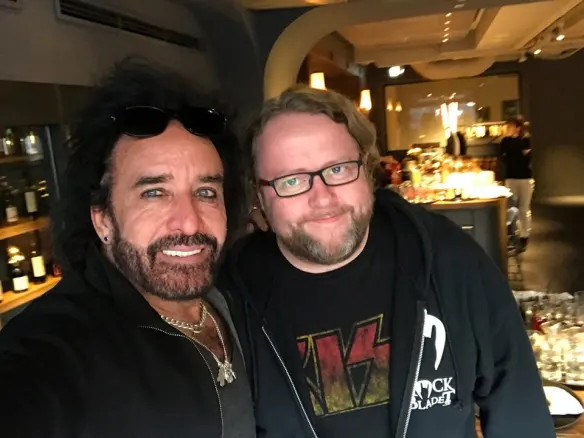 The Dead Daisies have been very active but the band is now on a short breather. "We've been touring constantly for the past four-five years. Four albums, one EP, a lot of tours with KISS, Aerosmith, Lynyrd Skynyrd, Bad Company, to name a few. A lot of arena tours, festivals. We just did some things with Guns N' Roses because of our connection there with Richard and Dizzy and Frank." (GNR members Richard Fortus, Dizzy Reed and Frank Ferrer were previously playing with The Daisies). "It's a lot of stuff. Whitesnake! We supported Whitesnake. That was so fun, man! We decided: we've done a lot of work, we need to just take a few steps back, make a strategic plan that's going to elevate the project. I think we're pretty established now. We're on the map, we're on the radar. Our fanbase has grown and we're getting invited everywhere and so we could very easily keep going. But the idea is to elevate it to the next level, wherever that level is."
As busy as Marco remains with all his bands and projects, it is obvious he is enjoying doing his solo stuff as well. The solo album "Viva La Rock" was released in 2018 by Mighty Music internationally and Ward Records in Japan. (Read Roppongi Rocks' album review here.) A follow-up solo album is already being planned. "I have to do my second album at the end of this year!" says Marco with a big smile on his face. Unlike in most of his other musical endeavours, with "Viva La Rock", Marco takes centre stage. "I think, not to blow smoke up my own butt, but I think the sign of a true artist, a true musician – I don't like the rock star thing, I consider myself a musician – is to constantly push the creative thing. To constantly test yourself and not be afraid of failure, because those are your best lessons," says Marco as he sips on his cappuccino.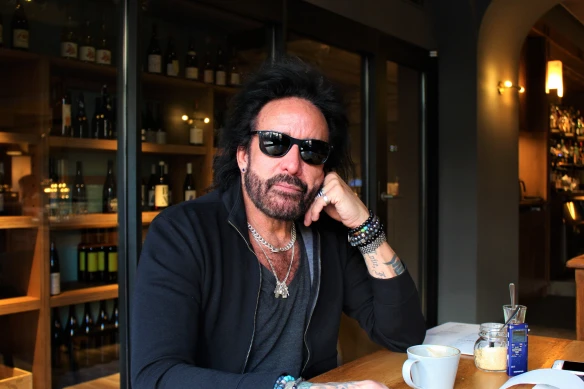 Marco Mendoza will perform with his trio at Club Edge in Roppongi on Friday 17th May and at Shinseikai in Nishiazabu on Saturday 18th May. For more information and tickets: Metal Justice Tokyo Viva La Rock
www.facebook.com/marcomendozaofficial
www.facebook.com/marcomendozajapan