Interview: Derrick Green and Eloy Casagrande of Sepultura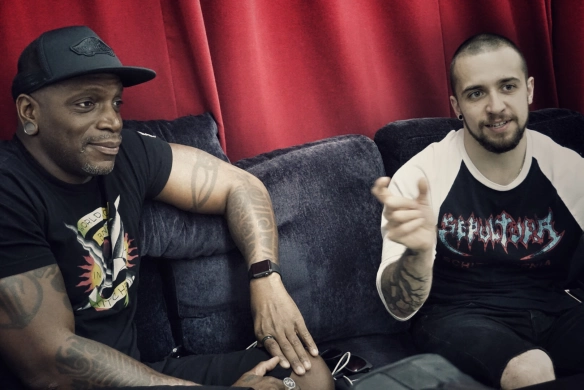 When Brazilian metal giants Sepultura returned to Japan after a 17-year absence, Roppongi Rocks' Stefan Nilsson sat down with the band's Derrick Green and Eloy Casagrande for a great conversation about creativity and quite a few laughs along the way.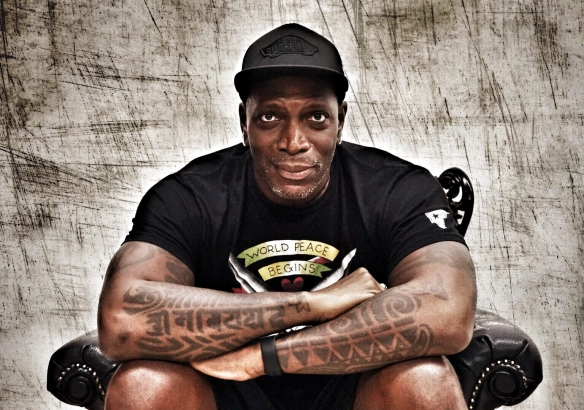 Sepultura, formed in Brazil in 1984, debuted in 1986 with the full-length album "Morbid Visions". Sepultura's current lineup – American vocalist Derrick Green, guitarist  Andreas Kisser, bassist Paulo Jr. and drummer Eloy Casagrande – released the band's latest album "Machine Messiah" in 2017 on Nuclear Blast internationally and Ward Records in Japan.
Welcome to Japan. It's been a long time since Sepultura played here in Japan. "It feels great to be back," says vocalist Derrick Green. "It's been 17 years since we've been here. Way too long! We're looking forward to the show. Actually, we have a lot of material we want to play. We're touring on the album 'Machine Messiah'. Fantastic album! We wanna see everyone there. We're gonna be playing classic songs as well, so definitely something not to be missed." Drummer Eloy Casagrande continues: "Oh, yeah. Exactly! It's my first time here playing with Sepultura and I can't wait to feel all the energy from the Japanese fans. I've heard it is amazing so I can't wait for that."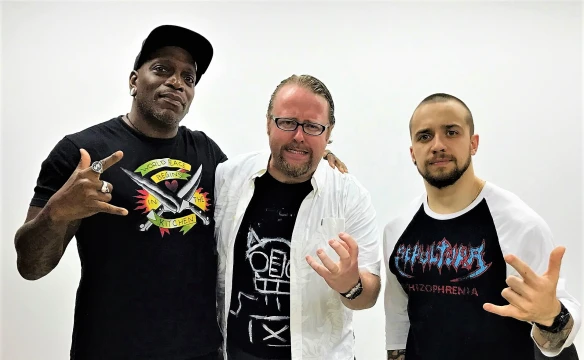 You have both helped to create great new music with the band. But when it comes to old songs that were written prior to you joining the band, do you try to make them your own when it comes to drumming and singing or just stay true to the originals? "I think it is a little bit of both," says Derrick. "For us, we grew up listening to it, being fans of the band. So, there are elements that we wanna hear in those songs that I think a lot of fans want to hear. At the same time, it's impossible not to make it your own, because you're putting your stamp on it, your energy. You're touring the world doing those songs. And you truly believe in those songs, because, as a fan, you believe in those songs. But being in the band, it's even something more. It really is! You get down to having your own impact on it and how it comes off. It's a big responsibility and a lot of fun, I have to say. It's great because it never really gets old. Even doing those old songs over and over and over again. It's always different though. Each crowd is different. Each scenario is different. Everything is a little bit different, so you're going after that energy that made you fall in love with music each time you're on stage."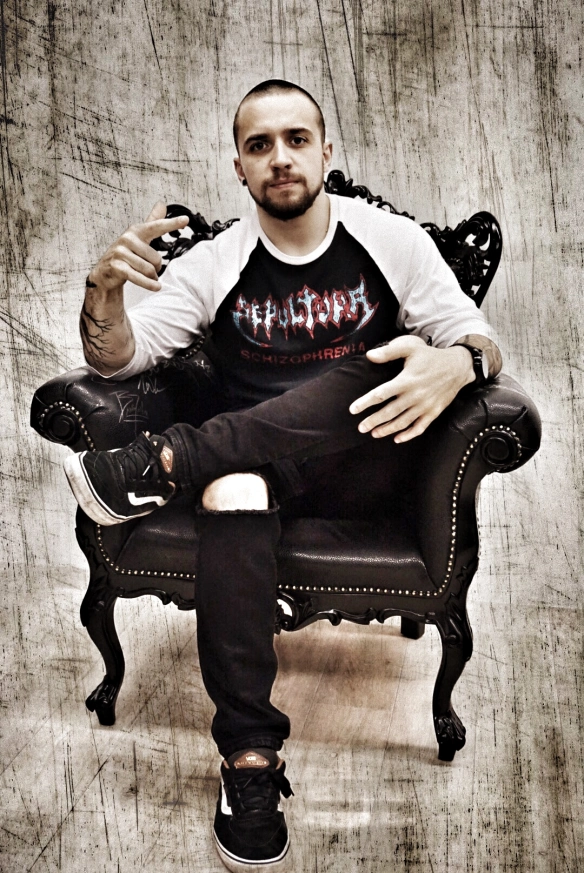 "I have the same impression," adds Eloy. "I hear from a lot of friends that are musicians that play metal music – they say they want to play the same thing every night. They want it to be perfect every night. I don't agree with that. Every day you are a different person, you are a different musician, so you have to play it differently in my opinion. If I play every show the same, it gets boring. You need to do it differently. You are always involved with the music."
Derrick – you are an American who moved to Brazil in the 90s to join Sepultura. New country, new language, joining an already established band. Was it a tough task? "It was mind-blowing! I didn't know what to expect, but at the same time, I've been playing in bands and doing music and wanted and desired to play in a band that's together, that has an opportunity to play in front of a lot of people and to communicate. So, I didn't want to let that go. OK! This is the time! So, I have to really step up and really happy that the band were open enough to give me the ability to do what I want and also give positive feedback, to grow with them. Because I knew it would take some time for a lot of fans to be accepting of everything. But also for us as a group to get to know each other as bandmates and friends. They had that development for so many years before. I wasn't expecting it to happen overnight, I wasn't naïve to that fact. But I was willing to do that process because my whole life up until then has been kind of working for something like that, but I didn't know it would be Sepultura."
Legend has it you had some stiff competition for the frontman position in Sepultura from people like Chuck Billy of Testament. "I think that was one thing that really stuck out. I wasn't trying to do what the last singer had done. I was really doing my own thing. I think I even had some almost-singing parts on the demo that I sent to them. That was something that they felt they could evolve with so they could be different. One person at the label thought I would be a great match for them because I wasn't trying to imitate somebody that was there before, which would never work. You can't do that. Fans would know and I would feel that too. It would just be false and fake."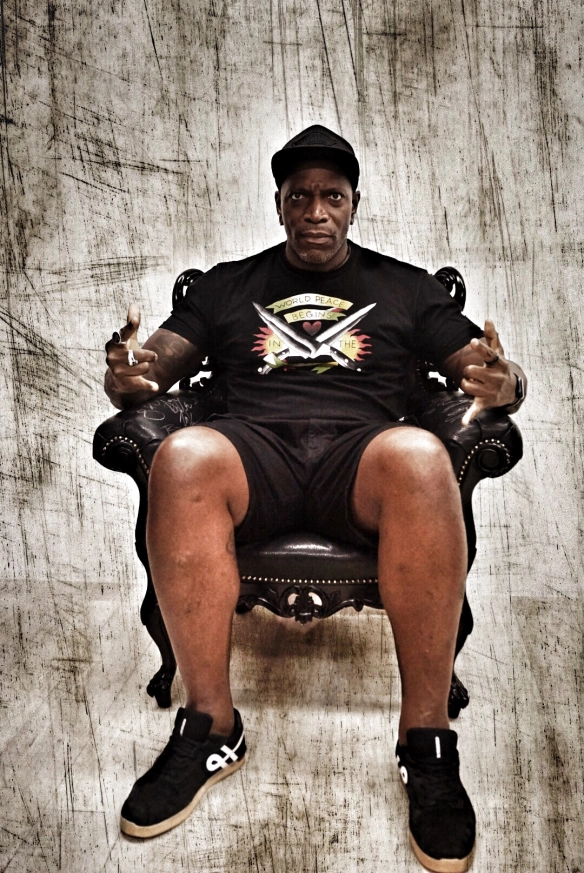 Eloy – you were only 20 when you joined the band in 2011. Was it tough to join a legendary band at such a young age? "Yeah. In the beginning, it was very difficult. I had a lot of pressure on my back! To replace those guys – Igor Cavalera and Jean Dolabella, they are incredible musicians, incredible drummers. I was a big fan of Sepultura before I joined the band. It's impossible to play metal and especially to live in Brazil and not be a fan of Sepultura! So, I was a huge fan of them and when I was invited to the audition, I was totally in shock! To be in the band, it felt amazing and feels amazing until today. This style of music is what I like to play. In the beginning, it was really difficult with the fans, those more 'true' fans. Through the years, with the shows and the new albums, I think that I now have 100% respect and support from the fans. That's really good to have. I also put myself in the position of the guys. They put trust in – almost – a kid. I was like: 'Hey, guys! Are you sure what you're doing?' It's a normal concern. You always have a little self-doubt."
How would you describe Sepultura's current sound? It has evolved and includes so many different influences. You are often touring with thrash metal bands, but I'd say that you are much more than just thrash metal. "I think you're right," says Derrick. "It's hard to really put a label on it. I definitely would like to push forward toward other types of bands…" Eloy suddenly shouts "Country music!" before a laughing Derrick continues: "Something we've never done before. Something that is really open as I think that we are. I definitely don't see us as only a thrash metal band. But I think that's the beauty of it. I'm glad that we've had that ability to branch out and to not be stuck in one mould, which would be horrible! I don't like when bands get stuck in that mould. Some bands like to be in that, you know, kind of define themselves through that."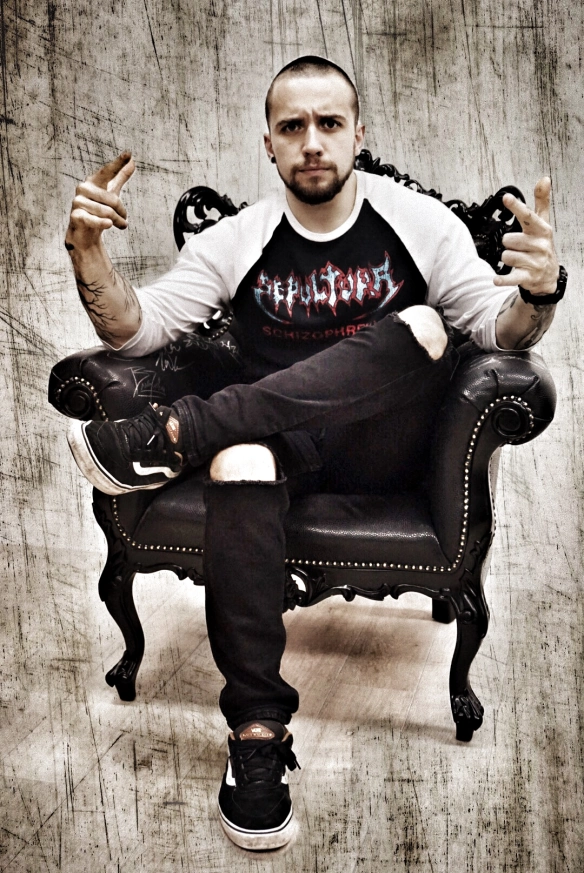 Do you feel any restrictions when you write new music? That you have to fit in with what's expected of Sepultura? "No. I don't think so at all," says Derrick. "Especially with this last album. For example, the first song being 'Machine Messiah', being a song that has singing on it. We've never done that before. To put that out there, I don't think we had any idea of the reaction. But you know what? This is how we feel. This is how we're gonna do it. I think that people have to respect that and they do. You can't go on in fear. It's something that we love to do, so why be fearful of trying new things? Of course, it can go back in your face, but still, it's a fight, I think, to do this style of music. It's something you have to stand up for and really stand behind or not do it at all." Eloy continues "Yeah, it's hard. You have to do what your feeling at the time when you're doing it. Many bands are always searching for what they were in the past or what they wanna be. We're just living. We just do what we wanna do. If people are gonna like it or not, that's not our problem."
Let's talk about your creative process. How does the band write music? Together or separately? "I think a lot of things come from Andreas and Eloy at first," says Derrick. "Andreas has riffs and Eloy has beats that he's doing at home and then coming to the studio and going over those ideas. Me sitting there and hearing it, thinking of vocal melody. Sometimes Andreas will send me stuff. Really, throwing things out in the studio. They're playing something and I start screaming, there's no lyrics or anything, but trying to think of patterns. Actually, a lot of great things come from that, because it's just a moment. It's like: 'Wow! What was that?' or it is like 'Oh, that was horrible!' Haha!! We can go both ways, but there are so many good things coming out of that. It's really putting yourself out there, which is hard for a lot of people to do. They have to understand that it really is opening up, being vulnerable. I think it's a great process that really works well. I think it is growing with us. I wanna go with vocal ideas and just come up with that without hearing any drums or guitar. Or vice versa. It's really great to switch off but this last album and the album before was primarily starting with beats with Eloy and Andreas' riffs, then putting it together and then me coming on top of that. And then Paulo coming into the mix and it's slowly building songs. A lot of it has to do with communicating about what the topic of what's gonna be written about. That adds to the feel of it too. This is ridiculous what's going on in Brazil right now when we were writing. The politics and the split between different people. How it's hard to talk to people. Having that energy and expressing that in the music. Little elements of that too that is added to the creating of a song."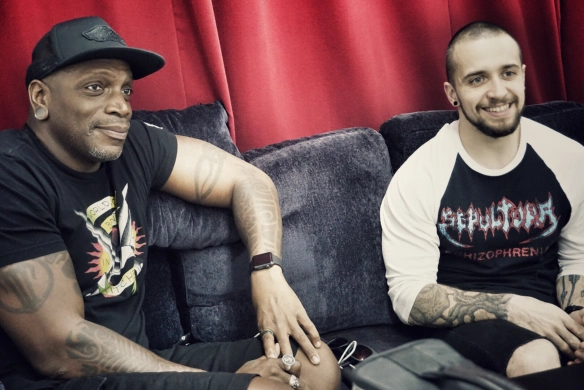 In Sepultura's lyrics one can find some big topics and issues. Existential issues. Do you always think about writing about important themes or is it less planned and just happens? "A lot of it is from reading a lot of different books or seeing certain documentaries or movies and discussing it," explains Derrick. "Communicating with Andreas, I think the whole concept of 'Machine Messiah' came about. We were talking about technology and he was like: 'Technology is evil, it's separating us, and robots'. I was like 'Ah!' Trust me, you don't want to be living in the Stone Age.' There's a lot of technological advances that's helped humanity. With technology, humanity can be even better. At the same time, humanity has to look within itself before reaching out into other fields. There's a lot of repair that needs to be done within ourselves. Certain things came about, like 'I am the Enemy'. Usually, we are the worst enemy of ourselves and it's hard to admit that. It's hard to look at yourself and go: 'I'm the one that's fucking shit up!' Even though there's always people pointing fingers. But it all starts with: Wait a minute! Let me look at myself first and see what am I doing? That's like an idea of a song coming about  Trying to find that balance between technology and humanity, is really where it's at. Hopefully we can get there. A lot of times it is manipulated by military means. You have this great technology and smart minds creating things that kill each other or the planet. I think we can put that energy in another way. Technology can be great: feeding the planet, feeding people, fresh water. There is a balance."
Your latest album "Machine Messiah" is one of the band's best ever. It was recorded and produced by Jens Bogren (Opeth, At The Gates, Dimmu Borgir, Soilwork, Kreator, Paradise Lost, Amon Amarth) in Sweden  How big of an impact did he have on the outcome? "Pretty big impact!" says Derrick. "I think it was a mixture of both. We were at a stage where we gave him the demos and a lot of it had already been written before he got hold of it. But his influence was really crucial. He just wasn't giving us like fillers or things. It was things that really brought the songs to a higher level. He really listened to it, he really felt that this is going to work for the song, completely confident and we believed him. 'OK, let's go with it because he knows what he's talking about.' He's a very technical person, I liked this about his past production. Very clean. The sound is so heavy and clear. I felt this would be a change from the last album that we did. I was speaking with Eloy and I was: 'Man! These producers from Sweden are just so awesome!' The sound that they are coming out with is so fresh and new. We really should go in that direction on this new album. All that raw energy we had on the last album and creating that into a different sound with somebody on the other side of the world and different views…"
The album was recorded in Sweden. "Yes, it was, in Örebro and Stockholm," says Derrick. Eloy continues: "He's a really nice guy. He's a perfectionist. Everything, each note. Something I really liked as well, he let us do what we want to do. He was never going to change the musicians that we are. Some producers really try to… 'Oh, I don't like the feel, I don't like the way you're singing that!' No, he was always trying to achieve the perfection but in your way, the way you are as a musician. I didn't change any drum parts, which is something I thought was really cool." Derrick adds: "The input that he gave me was really crucial  As a native English speaker, his pronunciation of certain words and things like that was fascinating. 'Push this through. It should maybe be said in this way'. It was great to get really deep with him because he was 100% there all the time. And at a time when he wasn't, it was: 'Family time. Shutting down shop. I gotta go home!' Then he would come back and it's work time in the morning, which we didn't like. 'We were like: 'What? We're starting at nine in the morning?' It was a great recording experience."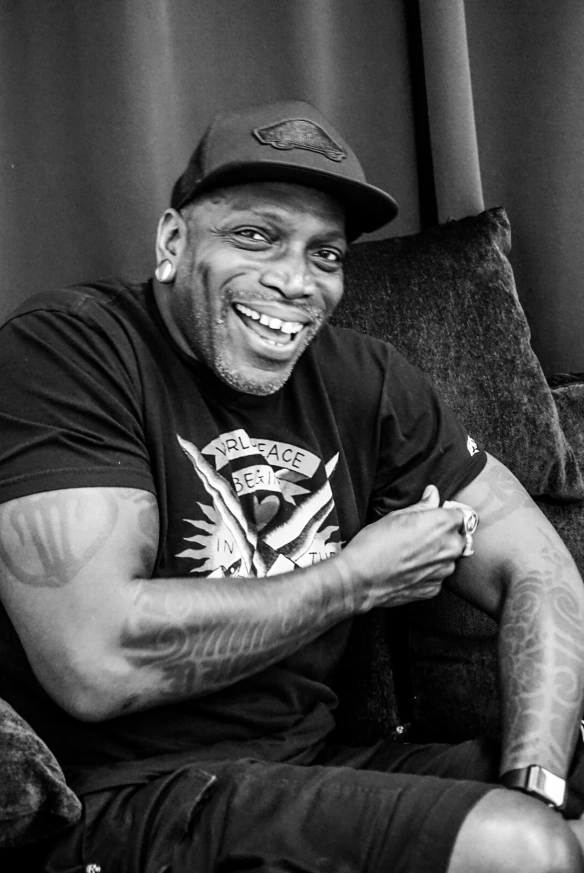 It seems that songs from the new album dominate the set list on this tour. Is it hard to find a balance between the new exciting material and the old classics? "It seems to have worked out pretty well," says Derrick. "A lot of people love hearing the new stuff. It's like a new exciting Sepultura set, instead of "Ah, I kinda knew what they're gonna play'. I think it's challenging for us to always play new songs. It's really difficult at first because we're putting so much in the studio, we have that moment where we: 'Oh, holy shit! We did it. It's done!' OK, we gotta see how this is going to work in the set list. But it's been working brilliantly. I think it has these moods in the set. It's great to play that many songs."
On the album, you have a cover of a famous Japanese anime song, "Ultra Seven no Uta", as a bonus track. What's the story behind you recording that cover? "I think it came from the past we had growing up with that," says Derrick. "I know in Brazil it was very big. And in the US it was kind of big as well. It was something that we wanted to really experiment with. It was definitely a challenge. I never sang in Japanese before in my life. But we had somebody that was going to the university there, in the city of Örebro. He's from Japan and we had him come to the studio, Jens arranged this so we could go through all lyrics and everything. It became the most frustrating song by far. I was like: 'Nah, this is gonna be easy to do!' Oh my God! But it was a cool challenge and it was something that we wanted to put on. We always do like a cover and we like to do covers that are really interesting, that people can never guess."
You now have a 14-album back catalogue. Do you ever feel that there is no point in releasing new albums and to just tour the back catalogue as some bands do nowadays when it is tough selling records? "It's a lot of fun to write new music," states Derrick. "There's always ideas that are coming in our heads. Until that stops, we'll continue creating music. We are artists and I think it's important as an artist that we continuously create new work. That's the whole point of even being a musician! When it's done, it's done, kind of. Let's move on. It's how you learn. As long as it's fun and we are really into it and there are things coming."
This summer, Sepultura will play some summer festivals in Europe, then there will probably be more touring in South America. The touring cycle will wind down at the end of this year before work on a new album is likely to start. Sepultura's current record label is Nuclear Blast and they hope to stay there. "It's been great working with them," says Derrick. "I think it is perfect for us there. They really believe in us. It's been a while since we had a steady label that's been backing us 100%. We definitely have that feeling with them."