Album review: The Leather Nun "Vive La Fete! Vive La Révolution" | Glasnost, Soviet tanks and rock'n'roll in Estonia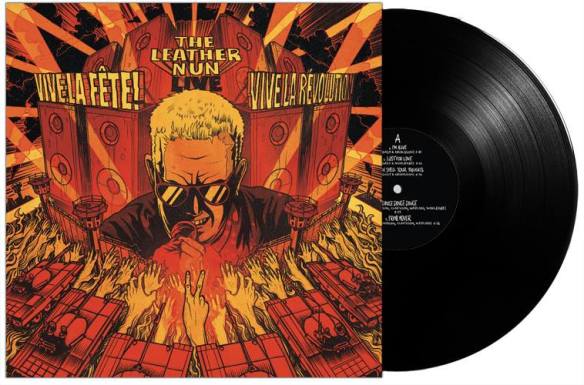 Back in 1988, Swedish garage rockers The Leather Nun helped bring down the Soviet Union. Now you can add this piece of history to your record collection.
Ever wondered how the mighty Soviet Union came crumbling down? It all seems to the fault of a bunch of Swedish rockers. Rock'n'roll power.
In August 1988, Swedish cult garage rockers The Leather Nun played at Glasnost Rock '88, the first-ever international rock festival in the Soviet Union. The massive three-day festival's headliners were Johnny Rotten's Public Image Ltd and Big Country, and on the bill were other acts such as Steve Hackett, Leningrad Cowboys and Sky High.
Now The Leather Nun's gig at the festival has been released as a live album. What we get on this album is a bunch of Swedish rockers rocking Tallinn, Estonia as the Soviet Union starts to crumble around them. Soviet tanks were present outside the festival grounds, adding a bit of nerve and excitement to this historic event.
The Leather Nun came to perform in Estonia following a successful US tour. Finnish state television filmed the festival and now fans can hear The Leather Nun's historic gig. The gig features the best of the band's output at that point, including "I'm Alive", "Prime Mover", "Lust for Love", "I Can Smell Your Thoughts" and "Jesus Came Driving Along". The Leather Nun plays dirty garage rock far removed from any trends or fads. It's a bit like Elvis Presley jamming with Motörhead. Like a hungover Billy Idol in slow motion. Or Johnny Thunders before his morning coffee.
The Leather Nun's "Vive La Fete! Vive La Révolution" is out now on Wild Kingdom/Sound Pollution Distribution.