Interview: Crazy Lixx | "We try to position ourselves 30 years back in time"
When melodic hard rock band Crazy Lixx from Sweden recently came to Japan to perform, Roppongi Rocks' Stefan Nilsson met the band in Tokyo to talk about its music, the importance of bringing fresh blood into the band, the impact of working with Pretty Maids' Chris Laney and much more.
Swedish melodic hard rockers Crazy Lixx, founded in 2002, has had a following in Japan ever since they released their debut album in 2007. But they never toured Japan until 2019. Co-founders Danny Rexon on vocals and Joél Cirera on drums are joined in the current line-up of the band by Jens Anderson on bass and the two guitarists Chrisse Olsson and Jens Lundgren.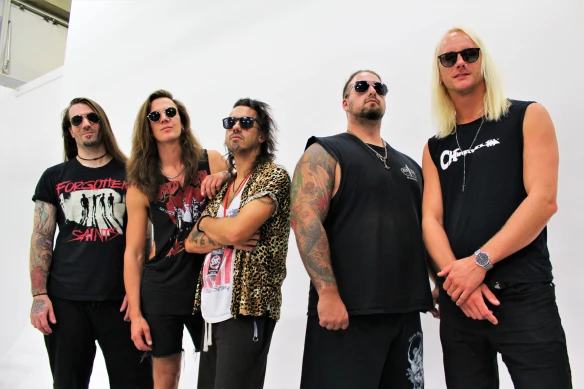 Coming to play in Japan has been a dream for the band that now finally has become a reality. "Requests started to come after 'New Religion'. I think we sold more of that album in Japan than in the rest of the world! That's nine years ago, so it's been a long time coming," explains frontman Danny Rexon. Drummer Joél Cirera continues: "We've been on our way to Japan before, but a tsunami came between us and Japan when we were in advanced discussions."
Crazy Lixx's signature mix of melodic yet riff-happy metal is part of a proud Swedish tradition that the Japanese fans love which was very obvious during the band's first-ever Japan tour. It's feelgood party rock with hints of glam and sleaze metal, AOR and melodic hard rock. "It's a mix of where we all come from and what we listen to. This is the sound that we want, kind of end of the 80s, the big productions," says guitarist Jens Lundgren as we meet at King Records, the band's Japanese record label. "We try to position ourselves 30 years back in time, and it's '89 we're at now," explains Rexon. Lundgren continues: "I don't think any of us is inspired by sleaze. That's almost a little dirty word. I think it's more melodic hard rock. More Bon Jovi, Aerosmith and Whitesnake rather than Pretty Boy Floyd!" Rexon adds: "I do like the somewhat negative term 'hair metal'. Many of those bands around 1989-91 produced a lot of great stuff. That's where we're trying to be sound-wise."
Crazy Lixx is closely associated with "Uffe" Larsson, better known as Chris Laney, the Swedish keyboard player and guitarist in the Danish band Pretty Maids, who is also a producer and engineer at the centre of the recent melodic hard rock wave in Sweden. Danny Rexon explains the importance of Laney for the Crazy Lixx sound: "One of the first sounds I reacted to was the Zan Clan album which Chris Laney produced. It wasn't until we came into contact with him that I feel we started to create something that sounded decent. We had done a few demos before that. Was it in 2005 that he mixed the 'Heroes are Forever' single? That was recorded somewhere else and then we sent it to him. It was around the same time that he started to produce Crashdiet. That's when we felt – that's the sound we want! It's the same sound that he has used with Zinny Zan and such. There was a revival of sorts. I think he has been really important when it comes to the sound of the Swedish bands that appeared around that time." Cirera continues: "He lifts us. He takes whatever is there and lifts it. He produced our first two albums together with Danny. We used to work with him over a longer time period. Going up to Stockholm to record in Polar Studios and staying there for two-three weeks to get the albums done. But lately, with smaller budgets than before, we've had him involved to do the mixing. But even so, we notice how much he still contributes to our sound, even if it's now done in cooperation with Danny as the producer of the album."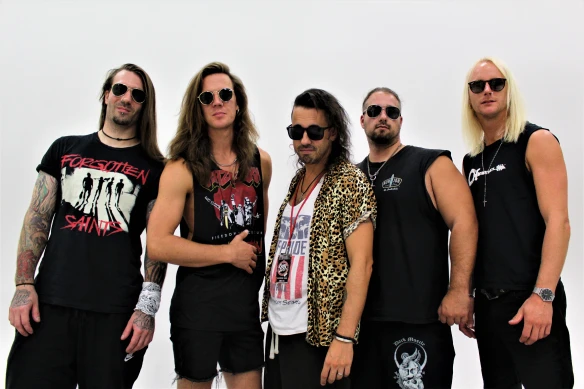 Rexon continues: "I think to myself: 'What does Uffe want from me?' I remember when we were recording background vocals on the first album. I thought he was joking when he said: 'Sound like a drunk!'. If you want it to sound like a choir of drunk football hooligans, which it does in a lot of hair metal, then it has to be like that. I'd never thought about that. It was more like, let's record as many takes as possible until it sounds right. No! If you sing clean and proper every time then it won't work. You have to add something more deliberate. There are many of those small tricks of the trade that I still use. He's definitely, as a producer in the beginning and now still as someone doing the mixing, a mentor."
In the early days, the band, which was co-founded by guitarist Vic Zino who would later leave them for Hardcore Superstar, spent a few years honing its craft by gigging as much as possible in its native Sweden. Cirera, Rexon and Zino had played together in various local bands before they founded Crazy Lixx. "Us three played together long before that," says Cirera. "Danny got an idea: 'Fuck this! Now I want to play the kind of music I liked when I was young.' An important reference point at that time was Skid Row, especially the 'Slave to the Grind' album. Then after two-three years, we realised that there were other bands also doing the same thing. Crashdiet were definitely pioneers. They were the first band to release an album properly," explains Cirera how a new generation of bands in Sweden emerged around that time.
Bassist Jens Anderson, who joined in 2012, continues: "I wasn't part of the band in the beginning, but I listened to them as a fan. From my point of view, I noticed that Crazy Lixx played a lot of gigs. They travelled around in a van in Sweden and played gigs. They were on the road playing gigs all the time. That's how they got really tight and good. From a very early stage, Crazy Lixx was one of the local bands that sounded better than the others." Cirera takes over: "We've done the dog years! All the boys have done it in the bands they've played in previously, but we've been working really hard with Crazy Lixx. Sometimes we drove 2,000 km in three days to do three gigs for gas money with ten people in the audience who would then hopefully tell their friends."
"Young people today ask: how can we do it?" says Rexon. "I don't think that this way of doing it works any more. We did it and it worked relatively well. We thought we had a bit of a slow start as we didn't release an album until 2007. We had members come and go. Get into a van, hit the road and play gigs! What?! Nowadays there are hardly any venues to play. I think we were among the last bands that could kind of force it in this way." Jens Lundgren, who joined in 2016, says: "The songs you released as demos were very good. Some of the demos also sounded really good, perhaps even better than what many today compile and release as a five-track EP. A good song will always be a good song. At some stage, people will get to hear it. I think it has a lot to do with the fact that you had great songs already back then in the beginning."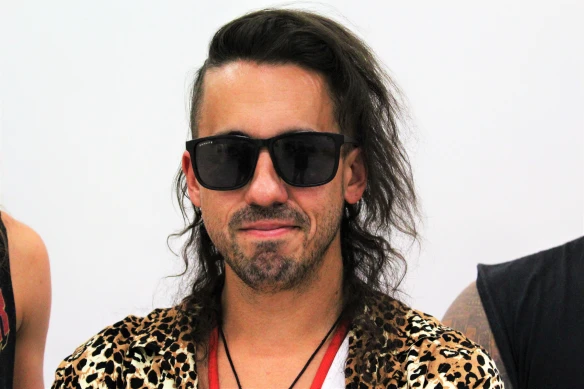 While Rexon and Cirera have been there from the start, Crazy Lixx has seen a number of members come and go over the year and yet the band has managed to keep its musical identity and sound. "The foundation has always been with Danny," says Cirera. "It was Danny who started the project. It was his vision. Danny has been the main songwriter through all the years and thus the Crazy Lixx core has remained." Rexon continues: "I've always looked up to bands that have managed to keep most of the line-up intact. That's how you want it to be. But there are so many factors outside of your control impacting this. Many people look at the old bands and say 'Aerosmith – they've been together for a long time!' Yes, but there's been a financial incentive in a completely different way. We have to force ourselves to get through this. The financial resources for this are very small. Do we have the strength to do it? We've only really fired one member. The others have left for various reasons on their own initiative."
"One advantage now", says Lundgren, "is that perhaps my and Chrisse's musical tastes are in line with Danny's. The predecessor guitarists did perhaps push quite a bit to do more 70s rock on a certain album, more riff-based and it was perhaps not that well received by the fans. We don't push for anything else. We want the same." Rexon takes over: "There the songwriting changed. We felt rather quickly when they came on board that we had confidence in them. We are a bit closer to each other." Cirera adds: "Every change in the line-up has led to something. When Vic left, we completely understood him. Hardcore Superstar! He got a chance to skip the van and get on a tour bus instead. And perhaps even make a living from it as well. We understood his decision fully. But because of that, we brought in Adde who was a really good guitarist and we did 'New Religion' where everything worked very well and the album was well-received. Then Jens joined the band and took us up a notch. It has led to something and with these two guys coming in", says Cirera pointing at Lundgren and Olsson, "we've noticed that we have a completely different kind of union. We have felt that over the past three years we have a whole different way of hanging out and a different kind of communication. We're happier to rehearse and the skill level is as high, if not higher, than previously. When Adde and Edd left the band, we sat down and wondered if we should continue or not. Jens had been a stand-in for some of our earlier guitarists." Anderson continues: "Yeah, you weren't too keen on starting to hold auditions for new members. Me, as the youngster in the band, just thought that this can't be the end!"
You play feelgood, party rock. It's music as entertainment, but you never cross the line like, say, Steel Panther does. How do you ensure you don't become too comical? "For us, humour is very important," says Anderson. "We're always having fun together. We mess around with each other but we do care a lot about the music being extremely well-made. But it's not about us taking ourselves too seriously. Just take a look at our music videos! They're always a bit funny. We're trying to do something cool because that's how we are. The music that we listen to – many of those artists, if you look behind the scenes, they're just fun guys that happen to have long hair and are great musicians."
Do you feel that you have to stay within certain parameters when you write new music? To live up to the expectation of what you're supposed to sound like? "The record label never gets involved!" says Rexon. "We are held very loosely by them. We just give them the final product and they release it. I guess they might have had some opinion in case we were extremely… Soon we will start playing grunge! No, it's more us who are a bit strict with ourselves. When we really think that we are pushing the musical boundaries, in reality, we aren't. Our music is quite narrow. However, on the new album, I think we have broadened ourselves a bit. There are a few songs that are more pop than anything we've done before and there are more keyboards than previously." Lundgren adds: "An album with all the songs exactly the same falls flat. You need some dynamics – in both directions, some a bit tougher stuff as well as some softer stuff."
The band's latest studio album, "Forever Wild", was released as recently as May 2019, but the band is already thinking about the next album. "We are very slow when it comes to recording albums," explains Rexon. "It takes more or less a year for us. For the most recent album, when we started to record the first few songs, we didn't even have all the songs written. Therefore, we need to start thinking about things now. If we want to have an album out in 2021, then now is the time."
In 2020, Crazy Lixx will continue its world tour in support of the "Forever Wild" album with gigs in Australia and Europe.