Gig review: Marco Mendoza "Viva La Rock" Japan Tour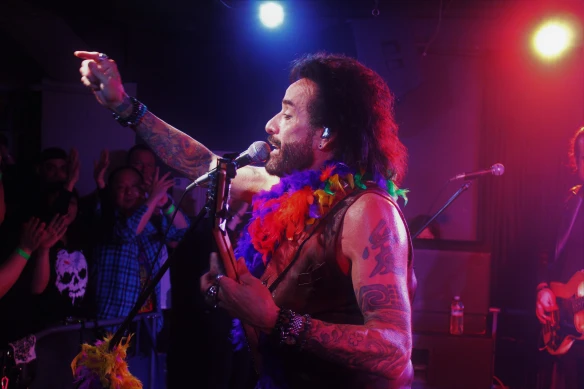 The former Whitesnake and Thin Lizzy bassist Marco Mendoza returned to Japan as a solo artist and wowed his Japanese fans with a couple of terrific shows. Viva La Rock!
Marco Mendoza at Club Edge, Roppongi, Tokyo on 17th May 2019 and Shinsekai, Nishiazabu, Tokyo on 18th May 2019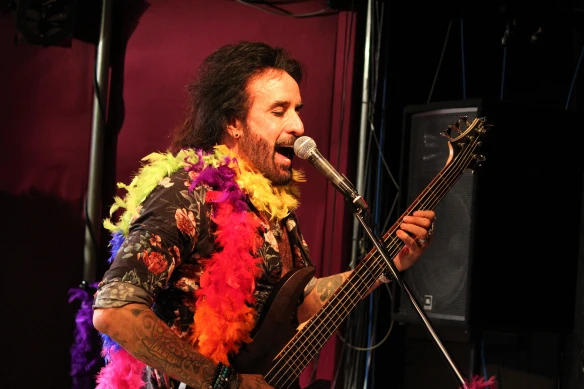 Marco Mendoza has made a name for himself in the music industry, playing bass with artists such as Whitesnake, Thin Lizzy, Blue Murder, Ted Nugent, Neal Schon, Nozomu Wakai's Destinia, The Dead Daisies and many more. He has toured Japan many times, but this is the very first time he is performing in Japan as a solo artist. And what an introduction to the solo artist Marco Mendoza these Japanese shows were!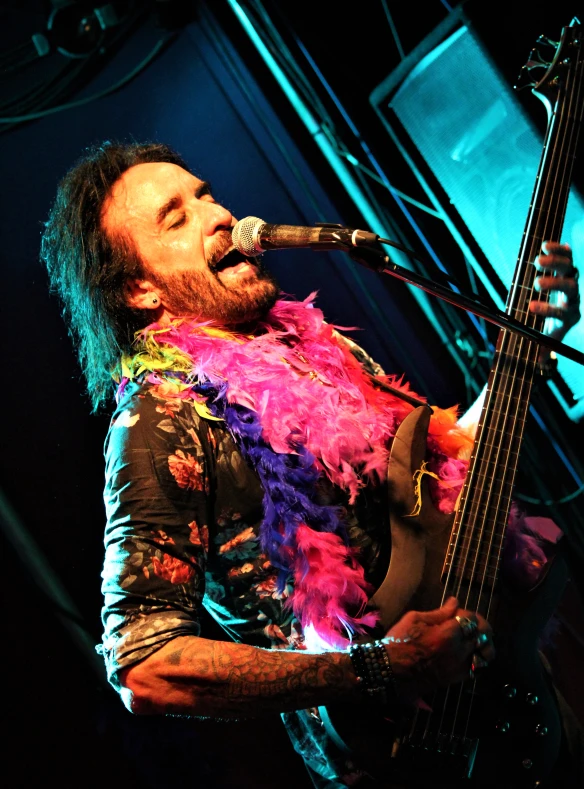 Mendoza, draped in a colourful feather boa, performs these shows with a splendid rock trio set-up: himself on lead vocals and bass, Conrado Pesinato (Out Of The Woods, ex-Graham Bonnet Band, Alcatrazz, Hardly Dangerous) on guitar and Kyle Hughes (Bumblefoot) on drums. English drummer Kyle Hughes has been touring internationally with Mendoza for the past year, but these Tokyo shows are the first-ever performances with Brazilian guitarist Conrado Pesinato as part of the trio. It works a treat. While it is the first time for Hughes to perform in Japan, Pesinato has already toured Japan a couple of times in the past with Graham Bonnet Band and Alcatrazz.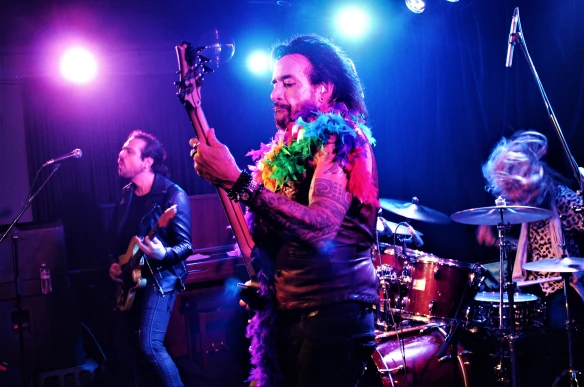 During this Japan visit, Mendoza and his trio perform two terrific and intimate club gigs in Tokyo. They open both shows with the classic Cream song "Sunshine of Your Love". The focus of the shows is on Mendoza's solo material, not least from his most recent solo album, "Viva La Rock", which was released in 2018. From this album, we get to hear "Sweetest Emotions", "Hey Baby", "Rocket Man" and the splendid title track. From Mendoza's debut solo album, 2007's "Live For Tomorrow", we get "Look Out for the Boys" and "Your Touch". But there are also other goodies in the setlist. The Thin Lizzy fans get to hear "Chinatown" and "Jailbreak" (with Hughes taking over lead vocals from Mendoza on the second song), while fans of The Dead Daisies get to hear that band's best song, "Mexico". We also get Neal Schon's "Hole in My Pocket" and Stevie Wonder's "Higher Ground". On the second night, Mendoza also gives us a beautiful and emotional version of the Billie Holiday classic "God Bless the Child". The shows are a well-balanced mix of Mendoza material, classics from some of the artists he's played with and some of his own favourites. Both shows finish on a high with great versions of "Viva La Rock". Mendoza is a world-class entertainer and audience participation is a big part of his shows. During both shows he several times leaves the stage in order to play his bass from the audience. He knows what the fans want and he makes sure they get it. These shows left all people present wanting more from Mendoza and his trio. We hope to see more of the terrific solo artist Marco Mendoza here in Japan. Viva La Rock!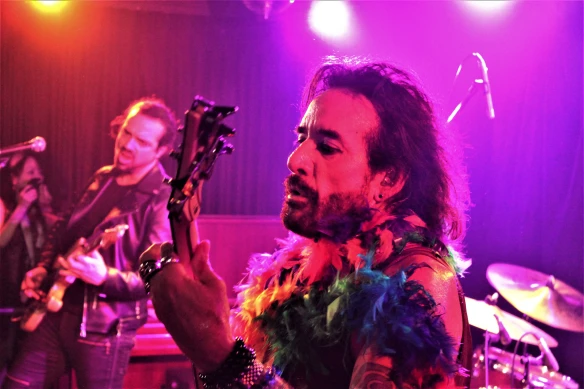 www.facebook.com/marcomendozaofficial
www.facebook.com/marcomendozajapan