Gig review: CTA featuring ex-Chicago members Danny Seraphine, Bill Champlin and Donnie Dacus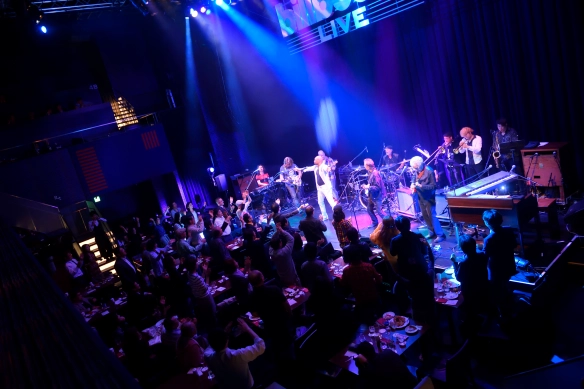 A fine evening of grown-up rock at Billboard Live with former Chicago members Danny Seraphine, Bill Champlin and Donnie Dacus reunited in CTA.
CTA at Billboard Live, Roppongi, Tokyo, 19th April 2018
American rock band Chicago's original band name was Chicago Transit Authority. When original drummer Danny Seraphine created a new band he paid tribute to his legacy by naming the band CTA – California Transit Authority. In CTA, Seraphine (who was Chicago's drummer from 1967 until 1990) has reunited with two of his former Chicago band members, Bill Champlin and Donnie Dacus. Champlin sang and played guitars and keyboards with Chicago between 1981 and 2009, while Dacus had a shorter stint as a guitarist and vocalist with the band in 1978-79. In addition to his stint with Chicago, Dacus famously starred in the 1979 movie "Hair" and was a member of Badfinger.
In addition to the three former Chicago men, CTA features some serious firepower and musical pedigree in the form of guitarist Marc Bonilla (Keith Emerson, Glenn Hughes), keyboardist and pianist Edward Roth (Glenn Hughes, Sebastian Bach, Rob Halford, Impellitteri), bassist Travis Davis (Keith Emerson) and vocalist Tony Grant. They are complemented by a fabulous three-person Japanese brass section dubbed the Banzai Brass.
Just like Chicago was at its best, CTA is a terrific grown-up classic rock band with elements of jazz, blues, soul and funk weaved into the mix and with an elaborate use of the brass section as well as keyboards and piano. With a ten-member band, we get no fewer than four people singing lead vocals on various songs, providing great variety in musical style. This evening we obviously get some classics from the Chicago back catalogue, such as "Saturday in the Park", "You're the Inspiration", "Look Away", "Take Me Back to Chicago" and "25 or 6 to 4". The highlight of the evening is no doubt the rocker "Turn Back the Pages" with Donnie Dacus on fire on the guitar and also providing lead vocals. This is a song Dacus originally wrote and recorded with Stephen Stills and then also performed with Chicago. Fabulous!
But it is not all Chicago, we also get things such as "Turn Your Love Around", a song co-written by Champlin for George Benson, here turned into a great jazz-rock jam by the band. Champlin's voice is intact and sounds as good now as it did in the 80s while Seraphine shows us that he is still a world-class drummer. "We're 70 and still rocking!" he says between a couple of songs and he is right. These veterans are still relevant and they sound great. What a fine evening of grown-up rock music.
Billboard Live is a terrific intimate venue where the artists have to walk through the audience in order to get up on stage. With tiered seating, everybody in the audience has a great view and the sound quality is superb.