Album review: Hellsingland Underground "A Hundred Years Is Nothing"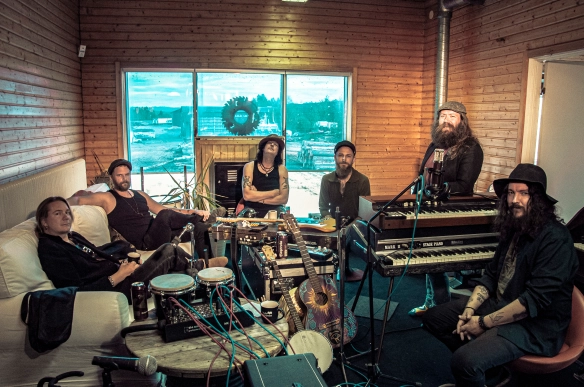 Sweden's Hellsingland Underground is back with the band's fifth studio album. This time with a more mature and bigger soundscape with lots and lots of keyboards and piano mixed in with the guitars and Charlie Granberg's terrific storytelling. The end result is magic.
Known as a terrific and high-energy live band, Hellsingland Underground has always also delivered in the studio. They released their self-titled debut album in 2008 and all their five studio albums are great. Having started off with a combination of Swedish melancholic folk-rock and Southern Americana rock, the band's sound has evolved on every album. Nowadays they seem to have few if any, musical limits. "A Hundred Years Is Nothing" is the follow-up to 2016's "Understanding Gravity" and here we can hear the band creating great music without worrying about fitting into any specific genre. The band's current line-up consists of Charlie Granberg (vocals), Peter Henriksson (guitar), Jerry Ask (guitar), Thomas Pettersson (keyboards and piano), Martin Karlsson (bass) and Patrik Jansson (drums and percussion).
I could write about the band's evolved soundscape where David Bowie now seems to have moved into Neil Young's garage right next to John Belushi, Joey Ramone, Ray Manzarek and Jon Lord…and Scott Gorham's guitars still standing there. 
I could write about the smart and beautiful use of various forms of piano, organs and keyboards by what is essentially a guitar band.
I could write about how frontman Charlie Granberg has lifted the band with his production of this set of exquisite new songs. It's a very cool production where a more mature Hellsingland Underground emerges, with no musical limits. There is a great atmosphere to the songs that without being rushed get some space to breathe. Somehow, the songs still manage to retain that excellent raw energy that drives the band. The main focus remains on the songs that live in a wide musical range stretching from dusty rock via pop and bluesy country rock to I don't know what. 
I could write about how the background vocals of new guitarist Jerry Ask have added a great dimension to the atmosphere of the songs. 
I could write about very diverse new songs such as "Carnival Beyond the Hills", "Strangelands", "Pig Farm", "Elephant", "Rainbow's Gold", "The Blessing and the Curse" and "Bloodlines".
I could write about the splendid "Criminal Summer", one of the most beautiful and best songs of the year so far (The piano! The guitars! The genius "tarararara-oolalalala-ratatatata" vocals!).
I could write about how I grew up in the same neighbourhood as frontman Charlie Granberg and how, in the 1980s, we played in the same rehearsal studio. (Well, "studio" might be too fancy a word to describe the shabby rehearsal space in the attic of the by-then closed-down Fenix cinema in Ljusdal, Hellsingland.) He was a heavy metal drummer back then, but It was always obvious to me that this was a driven man who would choose his own path and make a success of it.
But no. I am not going to do that. I am just going to sit here, with a big smile across my face and enjoy the masterpiece that "A Hundred Years Is Nothing" is. The music speaks for itself. I love this band. You should too.
Hellsingland Underground's new album "A Hundred Years Is Nothing" will be released on 30th August via Wild Kingdom/Sound Pollution Distribution. 
www.facebook.com/hellsinglandunderground