Interview: Mats Karlsson of 220 Volt | One of Sweden's best melodic hard rock bands turns 40
As 220 Volt turns 40, guitarist Mats Karlsson talks to Roppongi Rocks about the band's sound, the current line-up, what the plans are for the anniversary year and much more. 
In 2019, 220 Volt, one of the best Swedish melodic hard rock bands of all time, marks 40 years since its foundation. While the band has seen a number of line-up changes over the years, founding guitarists Mats Karlsson and Thomas Drevin are still in the band together with long-term drummer Peter Hermansson (who joined in 1982). They are joined in the current line-up by bassist Mats Vassfjord and vocalist Göran Nyström. 220 Volt has always been known for great live shows. I still have great memories from some of the band's high-energy gigs in Sweden in the 1980s. 
Having released their self-titled debut album in 1983, their most recent full-length studio album was 2014's "Walking in Starlight". The band called it quits in 1992 but reunited in 2002. "In 2002, when we started to play together again, it was to mark the 20th anniversary of our debut single. At that point, I, Thomas and Peter had already played together for a few years. We wanted to do the reunion with the original line-up and that's what we did."
Apart from the veterans in the band – you, Thomas and Peter – the band now features two newer additions – bassist Mats "Vasse" Vassfjord (Impera, Scaar, Laney's Legion) and vocalist Göran Nyström (Twinspirits, Majestic Dimension, Paincraze, Silent Call). "We have known Vasse for a long time. He's experienced and is an easygoing person. Thus, it has worked very well. We were looking for a vocalist for a long time. We got many recordings sent to us and did a few auditions. We wanted to find somebody with their own personality and not necessarily somebody that sounds like our previous vocalists – who all have had rather characteristic voices. After a while somebody mentioned Göran. He's been flying a bit under the radar in Sweden's hard rock scene as he has mainly done things in Italy and such. We liked what we heard and it turned out he was also available. We also realised that he, like us, was from the county of Jämtland in rural Sweden and so we had something in common there."
At the beginning of the band's career, you managed to create some kind of Swedish version of NWOBHM which later got merged with more melodic hard rock and even some power ballads. How would you describe your sound? "We like to call it classic hard rock and melodic metal. We have never really started to work on an album with a set musical focus in advance. We just try to write as good songs as possible, which is why the albums are quite different from each other. That's something I always loved about, say, Deep Purple, Rainbow, Black Sabbath and all the old classic bands – you never really knew in which direction they would head next. I have had that as a bit of a guiding star. However, what we have decided ahead of the next album is that we must not shy away from trying things we haven't done before, without becoming a thrash metal band. We want to a heavier album. That's the direction we're heading in." 
In the mid-1980s you toured with Nazareth and AC/DC. How much did those support act slots mean for the band? "Obviously it meant a lot. Many more people got to see us live than what we could have achieved on our own. With AC/DC we played what was at that time the largest indoor arenas in Scandinavia and all the gigs were sold out."
In the 1980s you were part of a wave of Swedish hard rock bands that emerged around the same time, including bands such as Europe, Treat, Heavy Load, Madison, Easy Action, Torch and so on. Many of you were friends, but was there some rivalry and dirty tricks between the bands as you fought for the same fans, record deals and tours? "There was a certain rivalry, but it egged us on. We managed to avoid the dirtiest tricks. We got a bit of a breakthrough already with our first album. That gave us a platform to stand on and we had an organisation in place. It was tougher for the smaller bands."
Backed by major label CBS, 220 Volt also got to work with some top industry pros, including British record producer Max Norman (Loudness, Ozzy Osbourne, Savatage, Megadeth, Death Angel).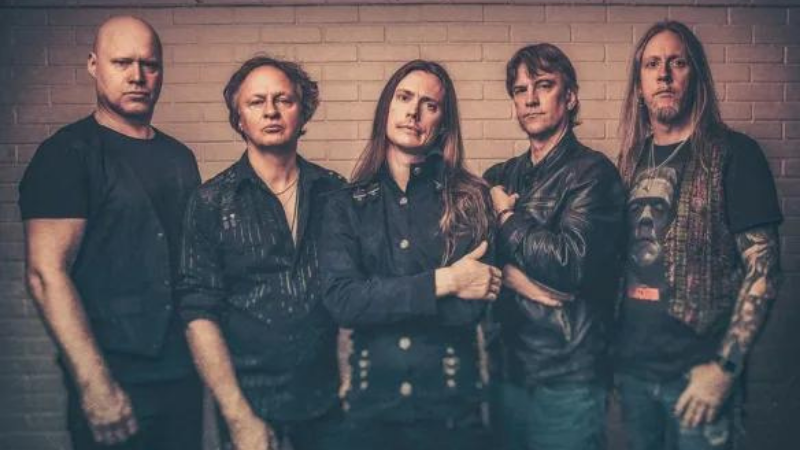 Rock artists and Christmas songs are often not a great combination – there are numerous examples of terrible songs in that music category. But your cult classic "Heavy Christmas" is actually a very good song. What was the thinking behind you releasing this back in the day? "It was originally an idea by our A&R guy at CBS/Sony. He was visiting the studio and mentioned the idea to us. It didn't take us long to compose the song. If I remember it correctly, I came up with the riff and a rough chorus before he even left the studio. According to Dee Snider, who we played with recently, we made the first proper metal Christmas song! He knew which year it came out and everything. His brother apparently worked at a radio station on Long Island at that time and, apparently, they played our song frequently."
Despite a number of line-up changes over the years, 220 Volt's musical output has always managed to keep an even and great quality. Have you always been the driving force behind the creative process? "Thank you for the kind words. I have always had a lot of ideas, but have not been the sole songwriter. We have had different roles within the band through the years. In the beginning, it was me and Thomas that came up with guitar harmonies and riffs. He's very good at arranging things. Peter is good at melodies and so he was important then and now doing that. Today, it can, for example, be a riff from Peter that kicks off things and then I step in with the melody. We had it as a requirement that our new vocalist should be able to contribute to the songwriting and Göran is really doing that. Thus, nowadays all of us get involved in most things, which is great."
Your latest studio album was released in 2014. Can we hope for a new studio album sometime soon? "A new album will be released. We're working hard on new material. We've had some personal issues to deal with. Illness, hospitalisation, death and such sad things that have taken up a lot of time for us. But now we're making good progress and my feeling is that all the material for the new album can be ready within two or three months. I am hopeful that we can release an album this year, at least an EP followed by a full-length album soon thereafter."
In 2019, in addition to writing and recording new material, 220 Volt has some gigs already announced, including some international festival appearances. The Swedes are still relevant, vital and no doubt will keep giving us great melodic hard rock. 
www.facebook.com/220voltofficial