Album review: Cradle of Filth "Cryptoriana – The Seductiveness of Decay"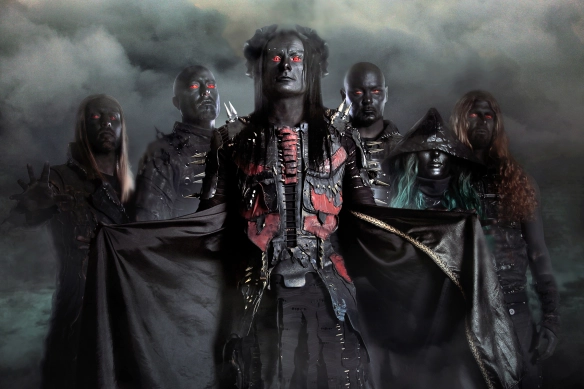 Dani Filth and his Cradle of Filth are back with a hard-hitting album full of drama as well as bombastic and fabulously twisted metal.
If you, like me, enjoy the weird and wonderful and especially dramatic, extreme and bombastic music, this is an awesome album. English shock rockers Cradle of Filth take their public image seriously. It plays an important part of the package. But there is much more than just image and surface to Cradle of Filth. This is a talented and skilled band that still got it. They are able to perform at the highest level once again.
The "Cryptoriana – The Seductiveness of Decay" album consists of melodic extreme metal with an overload of bombastic, dramatic and, at times, symphonic music. There are plenty of nods and references to horror-flick music here. We get some haunting church choir-like (and "Omen" smelling!) bits and pieces throughout this varied album.
Only band leader Dani Filth remains from the original line-up. Apart from drummer Martin Skaroupka (who replaced Adrian Erlandsson in 2006), the current line-up consists of relatively newer additions. But it is clear that Dani Filth, despite all the people coming and going in the band over the years, has managed to assemble a bunch of great musicians in the current line-up.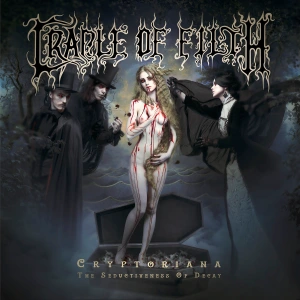 I didn't really have any big expectations on this album. Having now listened to it intensely for a number of days, all I can say is: what an insane gem of an album! Dani Filth sings as if he were possessed, like a deranged horror-movie villain with an attitude and a sinister sense of humour. It somehow reminds me of the band name of one of his early bands: Carnival Fruitcake. His voice, combined with very strong songwriting and some fabulous arrangements, make this a great album. The constant twists and turns and tempo changes keep it interesting. It seems like a never-ending magical journey through the sewers of some horrible, dark and damp city.
"Achingly Beautiful" is a standout track with fantastic vocals (which often sounds possessed by some kind of wicked demon) and dreamy, sinister choirs. Fabulous! Sheer joy for the ears. On "The Seductiveness of Decay" we get a whole bunch of great stuff. What a track! They even manage to throw in some Iron Maiden-esque guitars in the mix (who would've thought?). "You Will Know the Lion by His Claw" is, for the most part, straight-forward extreme metal which works great, especially when embedded among the other more varied songs. "The Night at Catafalque Manor" is an epic piece of metal while the splendid cover of Annihilator classic "Alison Hell" has a bit of a King Diamond-feel to it.
I think this is a terrific album that takes its listeners on quite a fantastic journey. Due to its bombastic nature, no doubt there will be listeners out there that won't get it, that will hate it. But they're wrong. This is great stuff. The Cradle of Filth gang is back on top. They're creating great, twisted dark music.
Cradle of Filth will perform in Japan at the Loud Park festival on 15th October. The album "Cryptoriana – The Seductiveness of Decay" will be released on 22nd September in Japan via Ward Records and internationally via Nuclear Blast.
www.facebook.com/cradleoffilth