Dregen is back with a new Backyard Babies album and tour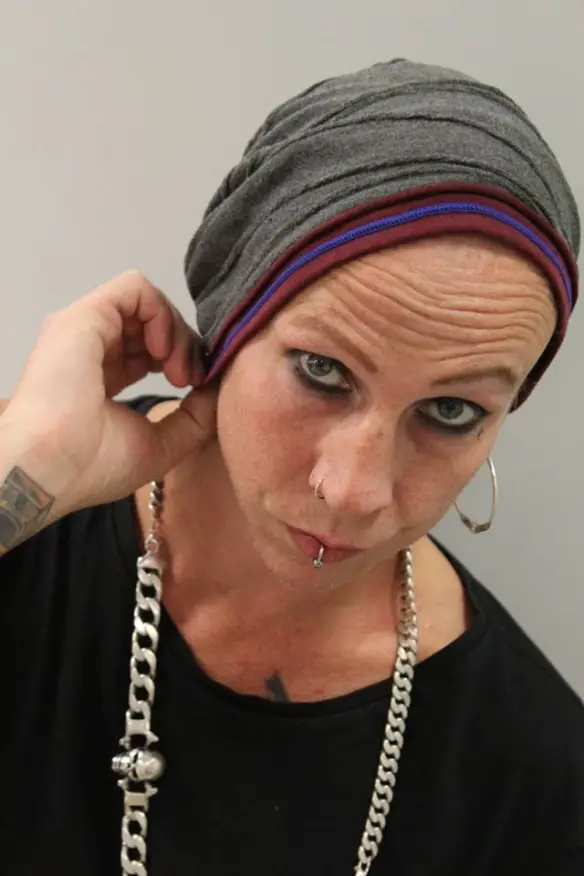 After a five-year break, Backyard Babies are back. They have a new album out and touring the world yet again. Roppongi Rocks' Stefan Nilsson caught up with guitarist and singer Dregen backstage at the Loud Park festival in Japan.
In March 2010 Backyard Babies finished off their 20th anniversary tour with a few gigs in Japan and then they went on an extended break. Now they're back in full force. A new album is out and a summer tour of European festivals has been completed. While in Japan for a few days, their schedule is full: they're playing the major Loud Park festival, they're doing a signing session for fans, they're recording a new music video for the track "Bloody Tears" and there's a lot of promotional work. "It never gets busier than in Japan. They really cram things into the schedule. I don't even have a second off," says Dregen as we meet backstage at Saitama Super Arena where the Loud Park festival takes place.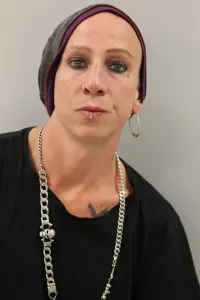 With Backyard Babies now back together after a five-year break, is it "same old" and "business as usual" or do you feel it's different this time? "The great thing with this band is that it actually is 'same old'. The break we had was a musical break. To make great music it is really important to put in a 100% effort. But sometimes you need to make it 101% to make it work. We were really exhausted before the break," explains Dregen.
During the break the band members got the time to work on various musical projects. Dregen toured both as a member of Michael Monroe's band and as a solo artist. He also released a great solo album and wrote an autobiography. In addition to musical projects, the members had time to pay attention to their private lives. "A lot of everyday stuff came into our lives, things that we had avoided or didn't have time for as we were constantly out on tour. We are somewhat late bloomers – when we were 35 or 40 years old we bought houses and apartments, became parents, got married, a lot of that kind of stuff," says Dregen.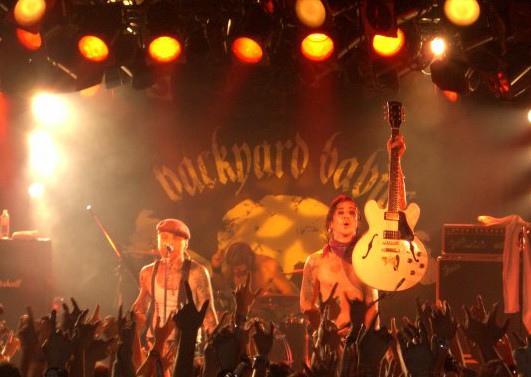 In 2014 Dregen played some solo gigs in Japan which kept some Backyard Babies fans satisfied while waiting for the band to reunite. "We are extremely eager" says Dregen about the band playing together again. "It's so much fun playing with Backyard Babies again. We've started talking about the next album and that kind of stuff, the future. At the same time, my solo thing wasn't like 'been there, done that, won't do it again.' I'm hooked. I think we're in a great position now with Backyard Babies as some kind of mothership. I think I'll do another solo album at some stage. I like to do both. As a singer you are sort of married to the mic, you have to stand there. As a guitarist I have more freedom to move around," explains Dregen his different roles as a solo artist and as a guitarist in a band.
Backyard Babies have toured Japan many times and Dregen has also toured here with Michael Monroe and as a solo artist. Japan is special to him. "It might be unfair to other countries, but Japan is somehow the only place where, when I land at Narita airport, I get that first-time feeling with butterflies in my stomach. I think it is great to go to Hamburg to play and Madrid too, But I've been there so many times. Japan is very special to Backyard. In all other countries, including the US, we first came there and played for 25 people and a dog. Then we came back and played for 50 people and you build up an audience from the ground. But in Japan, already when we came here for the first time in 1998, the gigs were sold out. The only country where Backyard has had instant success. I only have great memories from Japan," says Dregen with a big smile.
Now Dregen is considering taking his relationship with Japan to the next level. "I actually have some plans. This is just inside my head so far, but I am considering to come here for a longer period sometime and perhaps even record some music here in Japan. There are almost no Westerners who have done that," explains Dregen.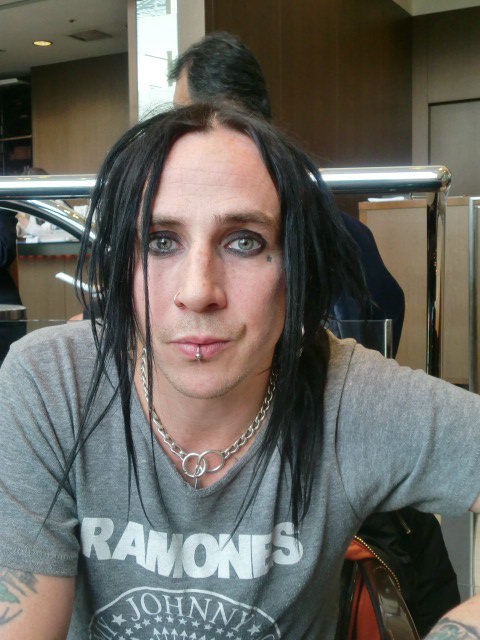 Dregen rarely stands still when his on stage and he is seldom away from the stage for any longer period of time. Sometimes he plays small local clubs in his native Sweden and sometimes he's on a mega stage like the one he's performing on this day in Tokyo. "I think these big shows are fantastic but I also like the smaller stages. For me, a stage is a stage. It doesn't matter if it's a local gig in rural Sweden or if it's Saitama Super Arena. The stage is there to be performed on!" declares Dregen. "This is the last gig on these gigantic stages. We've been out playing festivals with lots of big audiences. Now I am ready to go and play the clubs again. Then I'll get tired of that and start wanting to do summer festivals again."
With Backyard Babies reunited again, a new album out ("Four by Four") and some touring happening, what's next? "We've got a European tour during November and then we kick off a Scandinavian tour in January-February. We will do Sweden, Norway, Denmark and Finland. Then in the spring it is not impossible we'll come back here to Japan for a club tour. And South America and the US. Then we've got festivals again. The last gigs we'll do with Backyard Babies for the 'Four by Four' album will be festivals in 2016. I think one will have to travel to Scandinavia to see us perform. We're not going to go all over Europe again. It will probably be smaller festivals. Then we will start working on new music and I'm thinking about another solo album. We've got a lot of things to do," says Dregen. "I don't know if it is some kind of midlife crisis, but I'm really excited about doing new music!"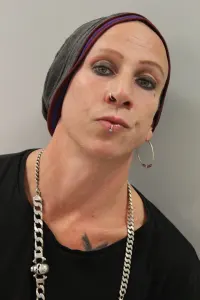 A few hours after our interview, Dregen performs with Backyard Babies on the main stage at the Loud Park festival, a gig they kick off with "Thirteen of Nothing" from the new album "Four by Four".
Backyard Babies – band members
Nicke Borg – vocals, guitar
Dregen – guitar, vocals
Johan Blomquist – bass
Peder Carlsson – drums
Studio albums
Diesel & Power (1994)
Total 13 (1998)
Making Enemies Is Good (2001)
Stockholm Syndrome (2003)
People Like People Like People Like Us (2006)
Backyard Babies (2008)
Four by Four (2015)
www.dregen.se / www.facebook.com/dregenofficial