Interview: Michael Schenker – a guitar legend on a mission to rock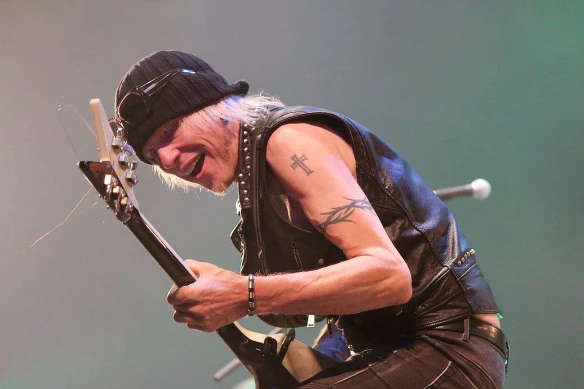 Michael Schenker, one of the most legendary hard rock guitarists of all time, tells Roppongi Rocks that he plans to release a new Michael Schenker's Temple of Rock album in 2017. He also talks about his impact on today's guitar heroes, his MSG reunions, his brief stint with glam rockers Ratt and what happened with Graham Bonnet in a brand new interview.
Michael Schenker made a name for himself in his teens. He played guitar for two legendary rock bands, Scorpions and UFO, before continuing his career with his own band, Michael Schenker Group. For the past five years his main focus has been on Michael Schenker's Temple of Rock, a group full of familiar names which has toured extensively and released two studio albums as well as two live DVDs. This year Schenker has been doing a number of celebrated MSG reunions, some under the Michael Schenker Fest name.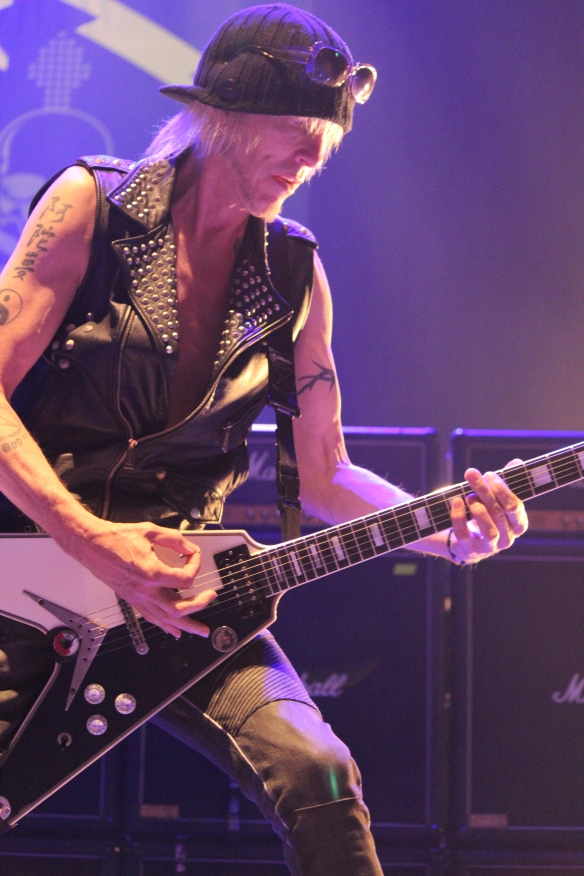 Michael Schenker, who has been a major influence on many of today's successful guitar players, is in a great mood when Roppongi Rocks calls him up for a chat ahead of his forthcoming return to Japan with Michael Schenker Fest in August.
"My life, if I look back now, comes in three sections," explains Schenker. "In the first section I did some things that had such an impact on the rest of the world, but I was never aware of it. I was just happy playing guitar and being myself. I intuitively stayed away from copying other music since I was 17. I stayed away from listening to music and I just simply had fun playing guitar. In my first section, all the way up to 'Lovedrive', that was basically my development section. I did not know what I did. I had no idea that I had such an impact on the rest of the world. That was all created completely unconsciously in the 70s. Then people in the 80s and 90s, and even now… In metal music people are using what I created. So, basically I became a trend maker without knowing it."
"In the 'middle years', I withdrew from the whole scene and I just focused more on getting things out of my system: experimenting with music, instrumental stuff, all stuff in my own taste without any compromises. Just completely wild, music that I couldn't have done in any commercial band. The middle years were a lot about personal development. I think that the middle years…they needed to be there in order to understand what I did in my first period. Now in my third period, I can consciously enjoy what I unconsciously developed in my first part."
"Today, if I look back, I can understand more about what happened to me in the beginning of my musical career. Now I'm just kind of enjoying and being present. I have an understanding now and I feel more comfortable with myself and with the world around me. It's so much fun! I'm really comfortable with my position in this point in time."

In 2015, Schenker reunited with former MSG vocalist Graham Bonnet (ex-Rainbow, Alcatrazz) for a successful Temple of Rock tour of Japan with Graham Bonnet Band as a supporting act and Bonnet as a guest on a couple of songs of the Temple of Rock set. This year, Schenker and Bonnet has continued to do some reunion shows. Bonnet's first stint in MSG was infamous and very brief with Bonnet leaving the band during the first gig (before that he managed to finish the recordings of MSG's superb "Assault Attack" album). Legend has it that Bonnet was fired after having drunkenly exposed himself on stage at the gig at Sheffield University.
"No, I didn't fire him! You know what happened? We were on stage together and 15 minutes later… I was focusing on my music and…Hehehe!…all of a sudden there are no vocals. I'm looking and there's no Graham! I have no idea of what he did and I never saw him again! Apparently, he did something weird on stage and he just disappeared. So, we had to get Gary Barden back to help us out for the Reading Festival. Graham just disappeared. I have no idea of what happened to Graham."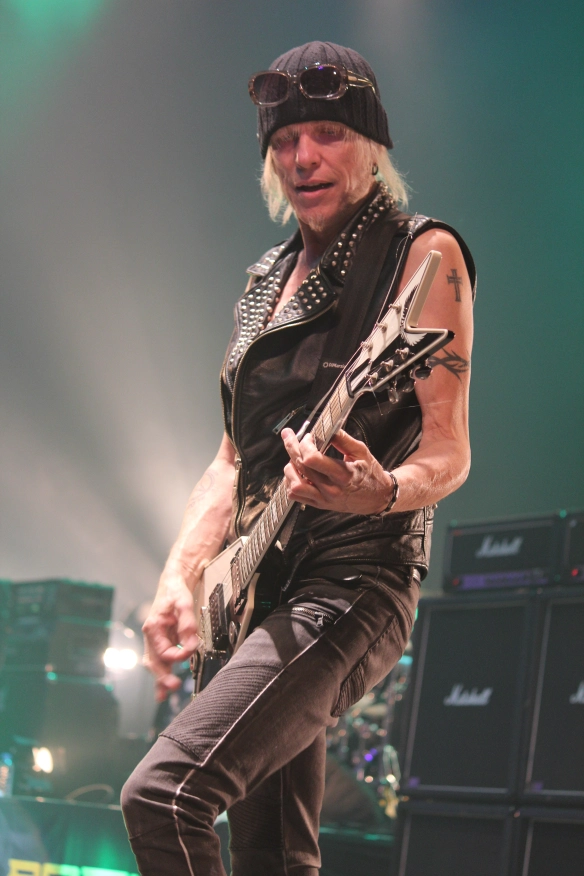 "With all the other musicians in the past, I never really fired anybody. Every time it's time for a new record I have to look around if the old members are still available. Sometimes they join other bands because they have to earn money. So, I somehow ended up with different musicians all the time. But I guess that is also part of my life design. Today, I have a chance now to enjoy all my past. I can embrace everything – Graham Bonnet, Gary Barden, Robin McAuley, and all the musicians. I have a really big world all of a sudden and it is a lot of fun. I can take off in any direction. I can go out with Graham Bonnet If I choose to, I can go out with Gary… The advantages of all these different formations, it's not all the same. Then there's Temple of Rock, where Doogie is basically singing my past and my current. That is a completely different concept again."
"It's a great opportunity to come out all the time. I'm very energetic, more than ever. I can go out and always come out with freshness, fresh surroundings," explains Schenker who clearly likes where he is at with his career now and all the choices he has.
While the various MSG reunions are keeping him busy this year, Temple of Rock – featuring Doogie White (ex-Rainbow, Yngwie Malmsteen), Wayne Findlay (ex-MSG, Vinnie Moore) and former Scorpions members Herman Rarebell and Francis Buchholz – is still very much alive. "I'm planning to make a new Temple of Rock album in 2017. A new Temple of Rock album, the third one, will be recorded."
With the current Scorpions line-up containing only three members from back in the day, Temple of Rock now almost has more legendary Scorpions members than Scorpions does. "Hahaha!!! Equal!" laughs Schenker about the three-person Scorpions reunion within the current Temple of Rock line-up. The former Scorpions drummer Herman Rarebell got involved at an early stage together with bassist Pete Way (UFO, Fastway, Ozzy Osbourne). "Pete Way got sick and then I asked Herman 'Why don't you ask Francis – we play so many Scorpions songs – if he wants to do it?' And he was more than happy. When Francis and Doogie joined, that's when it clicked."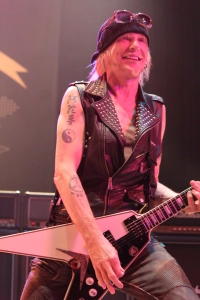 Japan has had a love affair with Michael Schenker since the beginning of his career. Over the years he has done many successful tours and recorded live albums and DVDs here. Last year he toured Japan with Temple of Rock and in August he will be back with Michael Schenker Fest.
"You know what? I live in the now. I only have good memories of everything. I'm a positive person. Japan has been a fantastic audience for me over the years. They always understood what I was doing, more than people in Germany did in the beginning, but they are catching up. And the rest of the world is catching up. 50 years of AC/DC and… I think people are ready to hear a bit deeper music than that. I think that in my middle years, I was able to withdraw and let bands like Scorpions and so on use what I created and made it in a more simplified way for their wider audience, in a nice packaging, for people to understand. I think my assignment was to create something like this and then other people's assignment was to use it and present it in a commercial way. I think now it's time to come out and take everything I started in my first part of my life – taking it to the next level. That's what I'm excited about and that's what I am looking forward to do."
With a ridiculously great back catalogue from a four-decade career, Schenker has a pleasant problem in putting together set lists for his gigs. Typically one can expect a nice mix of the best of the old and the best of the new when Schenker comes to town.
"I don't want to play music that most people who come to the concert haven't heard yet," explains Schenker his thinking. But he's not just sitting back and playing purely old favourites. "When we'll make our third album, Temple of Rock is actually even capable of going out touring without even having to play any past material. Because by that time, Temple of Rock has already developed its own classics. I want Doogie to be the original singer of Temple of Rock. That's his place. Eventually, maybe he doesn't need to sing my past any more, but I can still make it available as he does a really good job with it."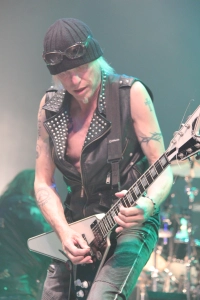 All the different touring line-ups and set lists is what sets Michael Schenker apart from other acts from the 70s and 80s on the touring circuit. "It's always a freshness there because it is not a band that has been touring on and on and on for 50 years and playing the same set. There are so many ways I can make it sound fresh depending on who I show up with. It's a lot of fun, I tell you!"
While he is famous for his multiple stints with Scorpions and UFO, Schenker has also played in a few other bands, including American glam metal band Ratt.
"Warren DeMartini is a Michael Schenker fan and he became kind of a friend. We hung out together. We were at the same management in Los Angeles. I was having a break with Robin McAuley, I had an off period. It was the same time I did the Contraband. Warren asked me if I could help out. We were hanging out any way. I just did it as a favour." Contraband was a short-lived super group with Michael Schenker and members from Vixen, LA Guns, Shark Island and Ratt.
In a year full of reunions involving Schenker, some fans are dreaming of Schenker reuniting with Phil Mogg in UFO or Klaus Meine in Scorpions. What does Schenker have to say about this?
"Phil can join me or Klaus can join me. I have no interest in joining them," says Schenker.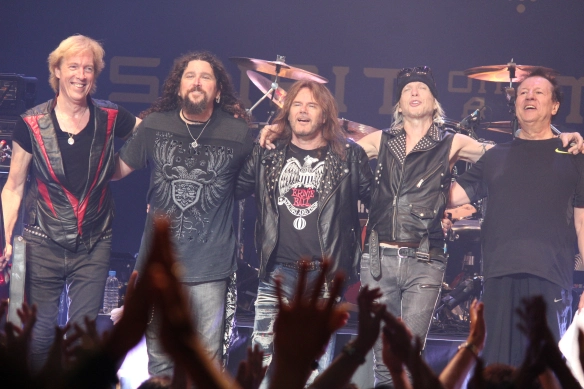 Temple of Rock has a new live DVD out ("On a Mission: Live in Madrid") and Schenker is touring in Europe and Japan this summer. What's next?
"I'm working on taking 'The Fest' wherever I can. I'm working on taking it to the UK. We're doing the shows in Japan – I'm very excited about that one – and we're continuously developing it. What it was in Sweden, it won't be in Japan. It will have developed by that time and it's becoming a bigger show. The next obvious place would be the UK. I like to take it to Spain too, that has become a very happy market for us. And France too. Other European countries…and then we will see if we can take it to America. Then a Temple of Rock tour at some point. That's what I'll do until the next Temple of Rock album."
Busy, busy. No time to relax for one of the hardest working men in rock.
"This is relaxing for me! This is the whole point. It is so much fun, it is actually a recreational activity for me!" says Michael Schenker.
(Read Roppongi Rocks's gig report from Michael Schenker's 2015 Japan tour here.)
www.facebook.com/michaelschenkerrocks / www.michaelschenkerhimself.com