Album review: Lucifer "Lucifer III"
Johanna Sadonis, Nicke Andersson and the rest of Lucifer are back with a third album that is pure magic.
Lucifer is a band that never disappoints me. They always deliver. Formed in Berlin in 2014, Lucifer has evolved to become a Swedish band fronted by a German vocalist. Lucifer's new album, its third full-length studio album, is as good as I had hoped. Having collaborated with Cathedral's Gaz Jennings on the first album, the band's founder and leader Johanna Sadonis has in recent years formed a tight and creatively awesome relationship with Nicke Andersson (Entombed, The Hellacopters, Imperial State Electric). The couple married in 2018 and on this new album they continue their terrific musical partnership. In the current line-up of Lucifer, they are joined by Linus Björklund and Martin Nordin on guitars and Harald Göthblad on bass.
Lucifer's third album is a continuation of 2018's "Lucifer II" which was quite different from the debut album. Nicke Andersson's influence is obvious. Nicke on his own is splendid and when you combine his talents with Johanna Sadonis' qualities, you get magic. The Lucifer soundscape is dreamy, the doomy and a bit hazy with nods and hints to the rock of yesteryear. It is a wonderful mishmash of rock from the 70s while still sounding relevant here and now. "Lucifer III" is a bit less immediate and not as accessible as its predecessor, but that's also why it's even better. It isn't music you just put on in the background while you're washing dishes or doing the laundry. This is a fab rock music that demands – and deserves – your attention. By all means, you can have it on in the background while you're grilling meat on the barbeque in the garden, but you risk screwing up the dinner. This is music you should ideally listen to in absolute darkness.
As often is the case when Nicke Andersson is involved, this is world-class music with heaps of playfulness and fun stuff in the mix. Song titles such as "Leather Demon", "Coffin Fever", "Flanked by Snakes" and "Cemetery Eyes" hint at the wordsmith qualities of Lucifer. Lucifer is a band that consists of educated musicians, people who know where their roots are and how you take such inspiration to create something new. Few people in the music industry are as clued up as Nicke. When I interviewed him here in Tokyo during Lucifer's Japan visit last year, he summed up Lucifer's sound as: "I think the easiest way, a kind of shortcut, is to say it's a mix between Black Sabbath and Fleetwood Mac. Done!" He also noted that "there's quite a bit of ABBA in Sabbath!" which sums up his analytical mind rather well. He knows his stuff, but at the same time, he lets playfulness be a central part of his music creation. Whatever led the paths of Nicke and Johanna to cross, we are forever grateful.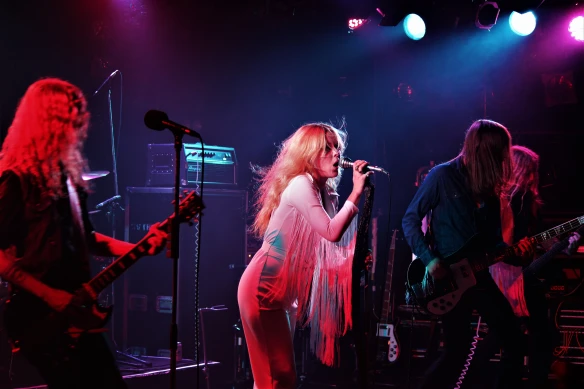 Lucifer's new album "Lucifer III" will be released on 20th March via Century Media Records. The Japanese version is being released by Trooper Entertainment.