Album review: Megadeth "The Sick, the Dying…and the Dead!"
Megadeth serves up a smashing new riff-happy thrash metal album. It's nothing short of a modern thrash metal masterpiece!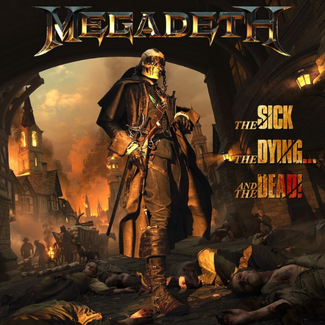 Wow! Exquisite! Megadeth main man Dave Mustaine is not holding back on the band's new album. Having battled throat cancer during the early part of the process of creating this album, the band's 16th studio album, he comes out fighting like a champion. His vocals are the best they have ever been. I love his characteristic voice, but on these studio recordings, he has somehow stepped it up a couple of notches. He's giving it his all and it shines through the music. Guitarist Kiko Loureiro is on fire and has established himself far ahead of most of the competition when it comes to guitar heroes in the thrash metal genre. Recruiting the Brazilian guitarist from power metal band Angra was on paper perhaps not an obvious move. But, boy, it certainly was the right move. Kiko has been a critical vitamin injection and his guitar playing fits so well with Mustaine's. Kiko's technical skills are obviously world-class and I think that his power metal background has helped shape him into a terrifically well-rounded player that what we normally don't hear in thrash metal. His guitar work on this album, his second with Megadeth, is career-defining. And Dirk Verbeuren! Dirk's presence behind the drum kit is awesome and takes this to another level. The former Soilwork drummer has been in the band for six years now, but this is his first record with Megadeth. I don't think that drums have played such a vital part in Megadeth's music since Gar Samuelson's days in the band. The band has always had great drummers, but here the drums are more varied and more prominent than we have heard in a long while. Dirk really makes his own mark on the album. What a drummer he is and I am so glad he has been given the room to add his musical talent to the songwriting and the studio performance. After the album was recorded James LoMenzo rejoined the band as its new bassist. Playing session bass on the album is the phenomenal Steve DiGiorgio, known for his work with bands such as Testament, Sadus, Death, Obituary and Autopsy. Steve is far more than your typical session bassist. A great choice by Mustaine. Mustaine knows he has a killer band and, while he is the undisputed leader, he knows that by letting his bandmates add their ideas and talents to Mustaine's band vision, the band and the album come out stronger. I absolutely love the frequent and sharp jumps from full-on thrash attack to more melodic parts. The songwriting is above and beyond expectations. The album gives us a bucket load of exquisite thrash metal of the best kind. But this is Megadeth, and thus we get quite a few twists here and there. They keep things fresh. The sound is firmly rooted in 1980s thrash metal, but the band builds on that and brings in new influences, soundbites and soundscapes. The end result is pure magic. The album opens with a hit to the face in the form of the ferocious title track. Rapper Ice-T makes an excellent guest appearance on the terrific single "Night Stalkers". "We'll Be Back" is a classic and relentless thrash metal freight train of a song. "Soldier on!" is a smashing Dave Mustaine song while "Life in Hell", co-written by Mustaine and Verbeuren, is my favourite song on the album with its runaway riffs and constant pummelling as well as terrific lyrics ("I am a disease and I am addicted to myself"). "The Dogs of Chernobyl" starts off as a slightly slower song, while still being heavy, but it significantly increases its speed in the second half of the song. This album is overflowing with excellent music. The bonus track "Police Truck", a Dead Kennedys cover, is a good-fun nod to thrash metal's punk-rock roots. The album has been co-produced by Dave Mustaine and Chris Rakestraw, a Nashville studio engineer and producer. The duo also produced 2016's "Dystopia". The Grammy-winning "Dystopia" was a terrific Megadeth album, but "The Sick", recorded at Mustaine's home studio in Nashville, is even better. What a fantastic album! One of my favourite bands in top creative form! My expectations were sky-high, but Megadeth manages to beat them. Thank you for the Mega-music!
Megadeth's new album "The Sick, the Dying…and the Dead!" will be released worldwide on 2nd September via UMe/Universal Music.