Album review: Unearthed Elf "Into the Catacomb Abyss"
Unearthed Elf: Arctic Sleep's Keith D is back with an epic fantasy power doom metal project.
An elf on drugs writing and recording a solo album down in a crypt? Yeah, that sounds like a good start to me getting to know Unearthed Elf.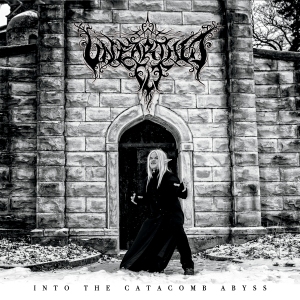 The debut album by Unearthed Elf is a beautiful and emotional record. At times it is stunningly beautiful in a dark, spooky kind of way. You can almost touch the loneliness and boredom that seeps out from the music. This is one sick elf who needs help…and company. But if he creates this great music when his lonely, perhaps we should keep him locked up down there…
Unearthed Elf is a one-man project from Milwaukee, Wisconsin in the US by Keith D, a co-founder of progressive atmospheric doomsters Arctic Sleep. Keith D plays all instruments as well as doing the vocals on this album. The Unearthed Elf project is the result of Keith D suffering a severe knee injury in 2015, which forced him to cancel a planned Arctic Sleep tour and spend weeks home alone, unable to walk and with a body full of narcotic painkillers.
Keith D labels Unearthed Elf's music as "epic fantasy power doom metal" and that description does it. There are slow and heavy doom elements, including extended instrumental parts on this album. There's also some progressive touches in this epic sound landscape. It is quite different from your regular doom metal. More doom and less metal for the most part. It's got a lot more of a folklore feeling to the whole package. It has a dark, somber tone of hopelessness to it. That probably comes from the soul-crushing boredom of being stuck alone in a house with a body full of narcotics, one would assume. Well, the druggy elf makes great music.
The short but brilliant instrumental piece "Gauntlets of Volcanic Doom" is one of my favourite tracks on the album, while "Candles in the Crypt" is another great instrumental track. "Vial of Holy Water in an Ancient, Cobweb-Laden Mausoleum" effectively makes use of some great choral parts mixed in with the guitar riffs. "Lighting the Mummy on Fire" is almost catchy with its great melody. It is the album's absolute highlight. Love it.
Unearthed Elf's "Into the Catacomb Abyss" album will be released on Halloween, 31 October. You should go down the spiral staircase to the crypt and listen to this album in a damp, dark, lonely place down in the catacombs. The druggy elf will not disappoint you.