Album review: Dust Bolt "Trapped in Chaos"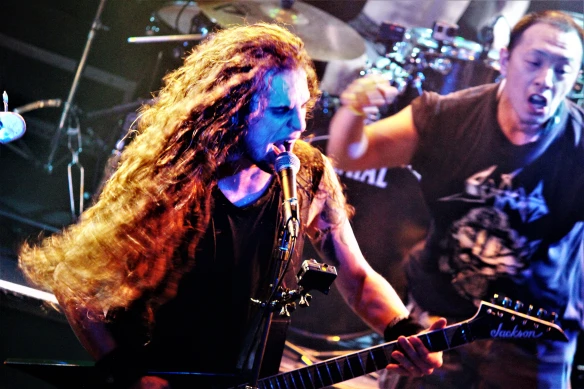 The young Germans in thrash metal band Dust Bolt are back with a fab new album.
Germany has a great new generation of heavy metal bands that are starting to make noises internationally. One of my current favourites is thrash metal band Dust Bolt. Following a great show in Tokyo in December, they are now back with a great new studio album called "Trapped in Chaos". 
Dust Bolt formed in 2007 and released their debut album "Violent Demolition" in 2012. "Trapped in Chaos" is their fourth full-length studio album. It's overall a terrific thrash metal album that no doubt will win the band plenty of new fans. For the most part, this is very much an old-school sounding album created in the tradition of American-style Bay Area thrash metal. But there's some variation, most obviously in the form of the song "Another Day in Hell" which is far from straightforward thrash. It is perhaps best described as Dust Bolt's answer to Metallica's "One". Call it what you like, it's brilliant. It really is a power ballad, but somehow it manages to be that without losing the band any of its street cred. The album's opening track, "The Fourth Strike", also opened the band's recent Tokyo show. It sounds like it has been written to open shows and my guess is that it will survive for many years to come in the band's live set. One of the absolute highlights of the album is the fantastic track "The Bad Ad". It is a track with great aggression, smart melodies and terrific guitars! Dust Bolt has indeed great songs. They manage to both deliver top-level quality music and somehow still retain a kind of underground sound. Love it! Thrash metal isn't supposed to be too polished. There should be a certain degree of grittiness to the songs. Dust Bolt knows that and they deliver accordingly.
Dust Bolt's "Trapped in Chaos" will be released on 18th January via Napalm Records. A Japanese edition, including live recordings from Tokyo in December, will be released later via Metal Justice Tokyo.