Album review: Nordic Union "Animalistic"
Nordic Union's third album combines sweet melodic rock songs with some very tasty guitar riffs normally found in heavier music.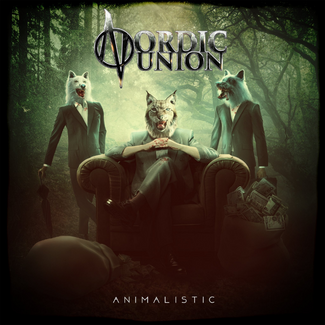 Danish vocalist Ronnie Atkins is a busy man. Best known for fronting heavy metal band Pretty Maids, he is also performing with Avantasia. Ronnie has released two new solo albums in 2021-22 and he has done some solo gigs. On top of all that, and an ongoing cancer fight, Ronnie has somehow found time and energy to put together a new album with Nordic Union, the melodic hard rock project he has together with equally busy musician, songwriter and producer Erik Mårtensson from the Swedish band Eclipse. Both gentlemen bring their pedigree and skills to this project which started in 2015. The chemistry between them is obvious and the resulting music is somewhat familiar but this is different from both Pretty Maids and Eclipse. Different but as good. The two complement each other well and with the new album "Animalistic" they have a top-class melodic hard rock record. The only thing that bothers me with this kind of project is that due to the members being busy with their main bands and solo careers, this project will always take a back seat. As always, I prefer the rockier songs on the album, such as "On This Day I Fight", "In Every Waking Hour", "This Means War" and the title track "Animalistic". But the slower and softer songs such as "Riot" and "Last Man Alive" are also great. Nordic Union has managed to find a good balance. Therefore, this album should appeal to both hard rock fans and more mainstream AOR listeners. I especially like how they combine sweet melodic rock songs with some very tasty guitar riffs normally found in heavier music. The album features appearances by guitarists Fredrik Folkare (Unleashed, Dead Kosmonaut, ex-Firespawn, Eclipse, Necrophobic) and Thomas Larsson (ex-Baltimoore, Glenn Hughes) and Henrik Eriksson on drums. The Japanese edition of the album includes an acoustic version of "Scream" as a bonus track.
Nordic Union's album "Animalistic" will be released on 5th August via Marquee/Avalon in Japan and internationally via Frontiers Music.